At twenty-seven Dan Pearson exhibited for the first time at the Chelsea Flower Show. He'd been gardening since he was five, always deeply fascinated by gardening catalogues and the plant kingdom, followed by horticultural training at the Royal Horticultural Society's garden at Wisley, the Royal Botanic Garden Edinburgh and the Royal Botanic Gardens, Kew, and plant exploring in Spain and the Himalayas. The press was astounded to find such a young exhibitor who was both presentable and personable, knowledgeable and articulate. Opportunities to appear on television and to write articles for publication followed.
In Pearson's early years of schooling, a thoughtful teacher, recognizing his deep interest in plants, had introduced him to the world of garden literature. Immersing himself in wonderful word pictures, Pearson developed his own evocative writing style. Later he was invited to write the gardening column for London's Observer newspaper (a role once held by English poet and garden designer Vita Sackville-West) and many of his landscape observations found there are truly memorable.
On hiking in Greece: "I feel like we were walking in a dream – our days were spent scaling the mountainsides, following goat tracks into disused olive groves and boulder-strewn hillsides.
The sea was a constant companion, glinting silvery blue in the corner of my eye … An inky oak tree with a dark pool of shade drew us in from time to time … Out in the sunshine, just a stone's throw away, Cistus were blooming, their papery flowers of carmine pink fluttering in the breeze."
On a bicycle in London's Richmond Park: "The light from the west was sliding through the trees, and as I cycled I realized that I had a grin fixed on my face that was entirely involuntary … I was lost in the moment, racing through pockets of air scented by bracken that had been heated in the sun and plunging into hollows made cool by the shade of ancient oaks. The meadows were standing tall, still green … and the trees were heavily laden and untarnished. It was the summer at its most luxuriant, the high season teetering on the equinox."1
Pearson had early thoughts of being an artist and reveals remarkable skills as a writer. But gardening and garden design were to prevail. His earliest garden experiences came when his parents acquired a house enveloped by a wild garden or wilderness, and the family set about bringing a semblance of order to its environs. This experience, and insights provided by a neighbouring plantswoman into field flowers and unusual plants from the wild, gave Pearson a fascination for nature and natural landscapes. In essence, his work seeks a credible expression of nature in an increasingly urban world.
Pearson explores the green background found in nature, with lower plantings enlivened by textures and tints, and with subtle flowers branching upward toward the sun. Neat yew hedges give geometric definition to soft, informal plantings. In London, his approach can be clearly observed in the Maggie's Centre that adjoins the Charing Cross Hospital at Hammersmith. Approached under a canopy of old plane trees, this landscape in miniature is designed to give a sense of serenity and sanctuary to visitors, specifically people being treated for cancer. The thoughtful, subdued landscape tempers the hurly-burly of a busy road and the bold orange walls and dramatic roof canopy of the building. A south-facing courtyard is overhung by a feathery Albizia julibrissin, with star jasmine and pelargoniums scenting the air. Similarly, the Garden Museum at Lambeth creates a miniaturized landscape, centred on a verdant cloistered courtyard, burial place of the famous early nurserymen of the Trandescant family and of William Bligh, here celebrated for his connection with the breadfruit tree, but better known elsewhere for the mutiny on the Bounty and for being deposed as Governor of New South Wales. The Tradescants' interest in exotic plants is reflected in the use of rare hydrangeas, cannas and fatsias.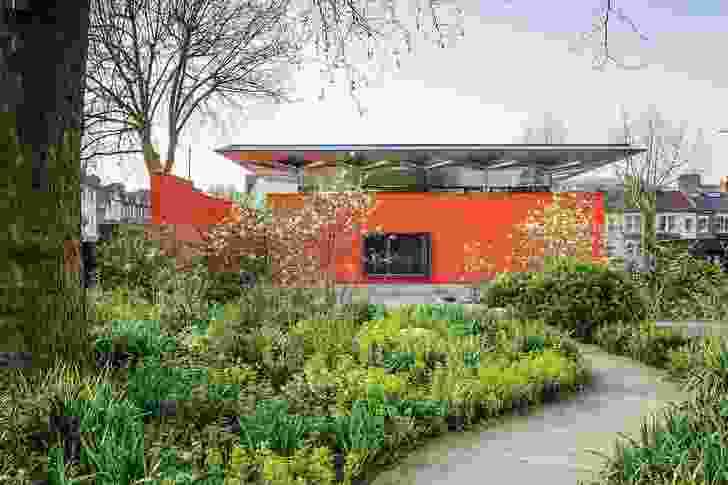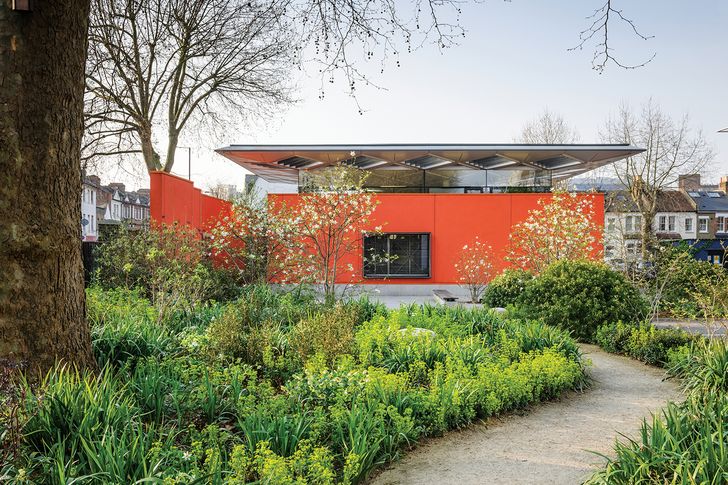 Above the main line tunnels just north of London's King's Cross Station, a whole new urban precinct has been created. The Central Saint Martin's art school is housed in a historic granary and, along with new shops, eateries and apartments, enjoys attractive landscapes created by Pearson. Open plazas with pulsing waterspouts and a grove of clipped trees contrast with intensively planted raised beds, with pockets of shrubs and perennials divided by hedging. It is immensely popular and intensively used; excellent management and maintenance are clearly in place here.
In the far north of England, near the Lake District, Pearson has given new life and purpose to the stark ruin of Lowther Castle. The bones of a vast landscaped estate can be gleaned, its most intensive form only evident in the eighteenth-century engravings of Jan Kip and Leonard Knyff. Prior to World War II Lowther Castle was a great country house, but a decline in the family's fortunes saw the castle vacated and unroofed in 1957 and the grounds turned to intensive agriculture. The current generation of the Lowther family has stabilized the ruin, whose dramatic stone skeleton provides a vivid backdrop to the place, with a character far more powerful than that of the once-occupied house. Pearson has reworked the stable yard as a welcoming place of entry with a grid of clipped hornbeams, has tidied the formal vistas south of the house as expansive lawns and has introduced a truly distinctive modern parterre before the garden elevation of the house. This is set between gravelled paths and clipped yew hedges with informal plantings of waving grasses (Panicum virgatum "Rehbraun" and Calamagrostis x acutiflora "Karl Foerster"), the strong purple accent of Actaea simplex "James Compton" and the long waving arms of the daisy-flowered Cephalaria gigantea. Particularly evocative are the garden rooms created within the lofty shell of the old castle, with lacy ferns and white campanulas edging gravel paths and Vitis coignetiae and clematis creeping up the massive stone walls. Another garden room is planned within the castle walls, focused around a dark central pond.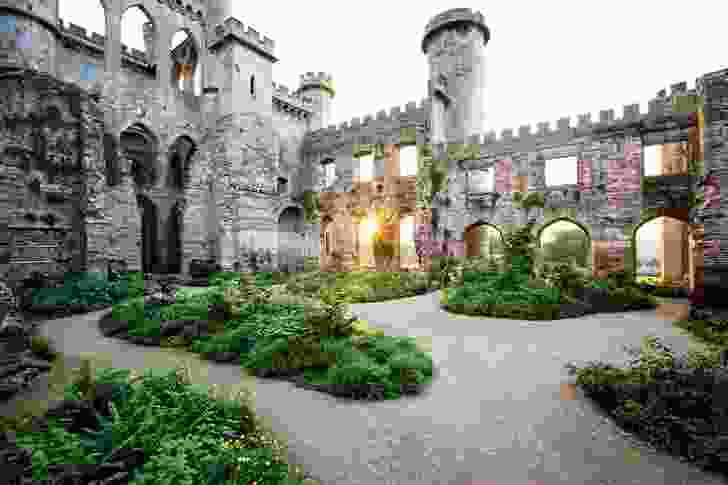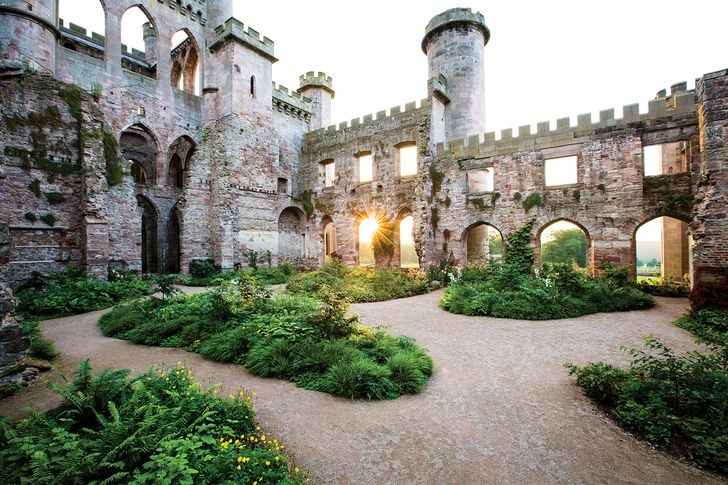 Pearson's profound interest in regaining the natural has attracted attention in other intensively developed countries. On Hokkaido in northern Japan he is working with Fumiaki Takano on the Tokachi Millennium Forest. This is an area where the land was cleared for agriculture around onehundred years ago. It edges forested mountain areas, infested after logging by bamboo, which is now being eliminated to regain the essence of a natural forest floor. The concept is of an ecological park where visitors can experience a sense of the landscape before large-scale human intervention. Pearson's role has been to enhance the visitor experience along the walking trails by mounding the landforms, forming clearings and thus creating points of visual beauty, which he refers to as "honey pots" in the landscape. A mixture of native and introduced plant species was selected for interest and harmony, and 35,000 perennials planted. As Pearson says, it's "making a place out of no place."
A huge landscape venture in mainland China is also coming to fruition. Some years ago a Chinese entrepreneur named Ma Dadong learnt that the historic landscape of his youth – comprising Ming and Qing dynasty villas and ancient camphor trees – was to be lost through the creation of a huge reservoir. He acquired a large site on the outskirts of Shanghai and commissioned an Aman hotel to incorporate these elements, with architecture by Kerry Hill Architects and landscape design by Pearson. More than ten thousand camphor trees were savagely pruned, root-balled and transported 700 kilometres cross-country on army tanks. They were then nurtured in a special nursery adjoining the site, awaiting positioning by Pearson, who introduced other characteristic Chinese trees selected for their colour
and flowers.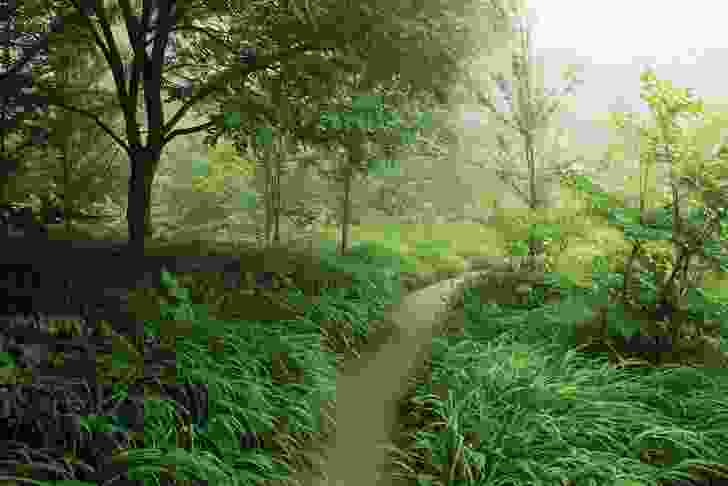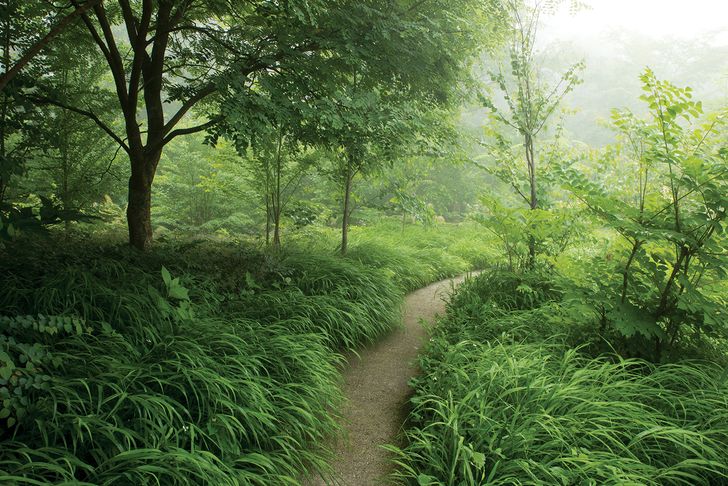 Pearson's elegant and understated approach to landscape design is appreciated widely, as evidenced by the diversity of his projects' locations. The sympathetic nature of his plant selections and designs ensures a sense of serenity and of sanctuary in the modern world, readily transferable to different locales where the ideal of a natural order prevails.
1. Dan Pearson, Natural Selection: A Year in the Garden (Faber and Faber: London, 2017)