A new 14km cycleway will allow bicycle commuters from Melbourne's western suburbs to travel express to the CBD under a plan released by the Victorian state government this week.
The cycleway includes an elevated 2.5km "veloway" above Footscray Road between Shepherd Bridge in Footscray and Dudley Street in Docklands. The veloway will provide a safe crossing at the Moonee Ponds Creek trail, currently one of the busiest intersections for cyclists in Melbourne, as well as busy Whitehall Street in Footscray.
The existing shared pathway along Footscray Road will be retained and upgraded.
According to a statement released by the government, cyclists and pedestrians will be separated from cars and trucks for the entire journey from Werribee to the CBD.
Architects Wood Marsh and landscape architects Tract Consultants formed part of the John Holland and CPB Contractors-led consortium that was chosen to build the project.
"The veloway design came about from an integrated design process with the engineers to locate a veloway under the roadway," said Deiter Lim, managing director at Tract Consultants.
"We were able to demonstrate its viability, which meant that the we were able to maintain existing landscape verges to protect trees as well as have the space to plant new trees rather than build more concrete infrastructure."
According to Lim, the project will deliver almost 9 hectares of new public open space by rehabilitating former industrial land along the route.
"These new open spaces and creek and river crossings also allow us to celebrate the cultural values of the area – Indigenous, colonial and maritime – which will be integrated with the rest points, wayfinding, interpretative signage and integrated artwork," says Lim.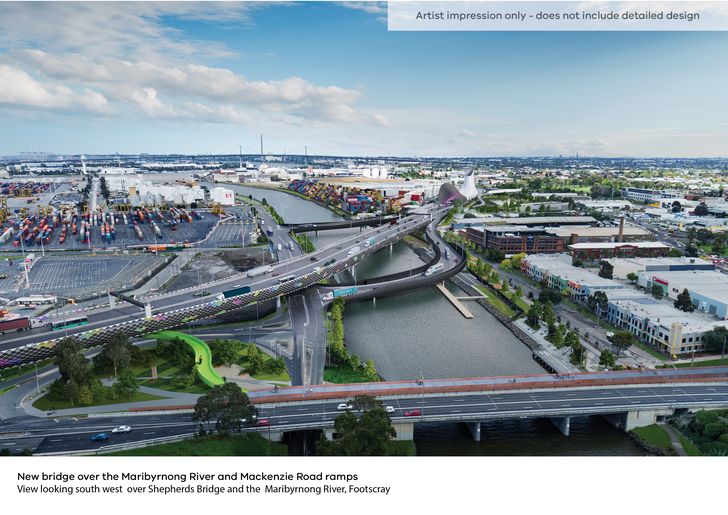 Dr Marieluise Jonas, senior lecturer in landscape architecture at RMIT University, is supportive of the project and says that veloways are a great way to encourage less experienced cyclists to take up bicycle commuting and can help to build a more inclusive culture around cycling.
But Jonas points out that there are still many bottlenecks and dangerous dead ends in Melbourne's bicycle network that see riders thrust into dangerous situations around intersections and roundabouts, and more attention needs to be focused on connecting and upgrading existing routes.
"The safety aspect has prevented me from cycling in areas that I used to. A few close calls have reminded me that a clear separation of cyclists and vehicle traffic is a necessary first step to encourage safe cycling."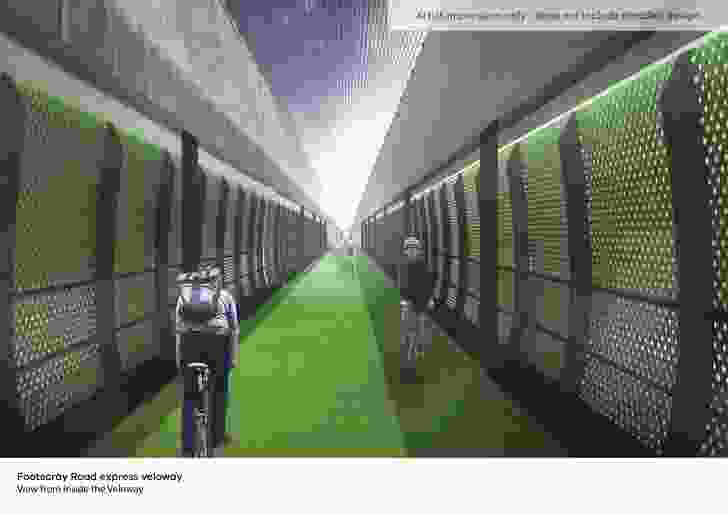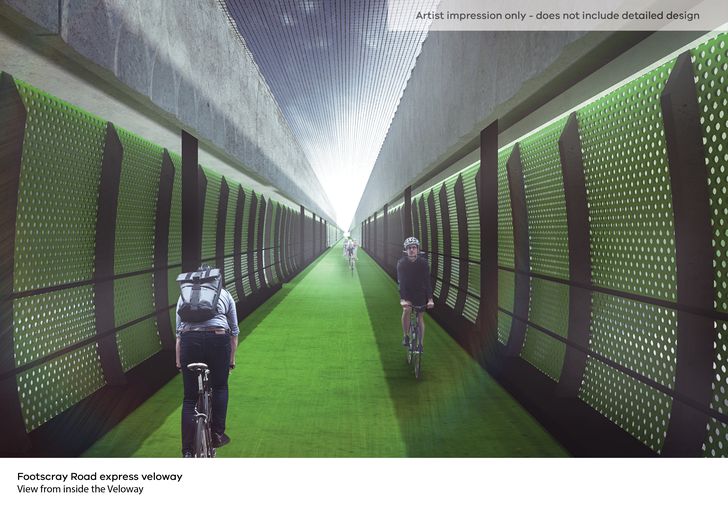 This is not the first time an elevated veloway has been proposed for Melbourne. In 2014 a group that included LAB Architecture unsuccessfully proposed a bicycle path that would have been "clipped" to the railway viaduct between Flinders Street Station and Southern Cross Station.
Veloways are a relatively new concept and a number of schemes have been proposed for cities across the world.
In 2014, a massive 220km network named SkyCycle was put forward for London by architect Norman Foster, while in Auckland, a disused motorway off-ramp was transformed into a magenta-coloured walk and cycleway by architects Monk Mackenzie and landscape architects LandLab in 2015.
Henry Crothers, director at LandLab, believes that design has an important role to play in transport infrastructure projects and says that the engaging user experience that the Nelson Street Cycleway and Lightpath provides to cyclists is an essential part of its success.
"Creating bold and distinctive cycling infrastructure is relatively straightforward when compared to the expense of similar vehicular infrastructure.
"More than just [providing] connections, these interventions contribute to the promotion of cycling through their convenience, engaging user experiences and design contribution to the city," says Crothers.
Investment in transport infrastructure is badly needed to keep up with Melbourne's booming population and traffic congestion woes.
Between 2014 and 2015, the City of Wyndham in Melbourne's west had the largest growth in Victoria, adding 10,202 persons to its population, and Point Cook, also in the west, was recently ranked as the fifth fast growing suburb in the country.
The cycleway forms part of the $5.5 billion West Gate Tunnel Project (also known as the Western Distributor), an unsolicited project put forward by toll-road operator Transurban and adopted and expanded by the current Victorian state government.
Controversially, Transurban will receive a 12-year extension on its toll concession on CityLink to help pay for the West Gate Tunnel Project and Veloway.
Related topics