A jewel in the cycle network
The Nelson Street cycleway will transform an area of Auckland that was previously reserved for cars only, providing a crucial link between Upper Queen Street and Nelson Street, where a separated cycleway is currently being built.
The transformation of the old off-ramp into a shared walking and cycling path is one of the network of cycleways being delivered in partnership by the New Zealand Transport Agency, Auckland Council and Auckland Transport.
Dean Mackenzie and Hamish Monk of Monk Mackenzie Architects, in collaboration with Henry Crothers of LandLAB, are behind the modern, eye-catching design for the cycleway. At the project's commencement, the team undertook detailed research into how the project could be made into something truly special that would have impact at both the individual level and from a city-wide perspective; a piece of art when viewed from the air.
Dean Mackenzie comments, "We wanted to do something with the deck surface that would be simple but strong. It needed to have longevity and be slip-resistant. We decided a custom colour would be ideal, something that went well with the black of the Canada Street bridge, and we ended up with a bright pink. It's whimsical, fun and bold, a high-risk strategy, but one that we are happy with!"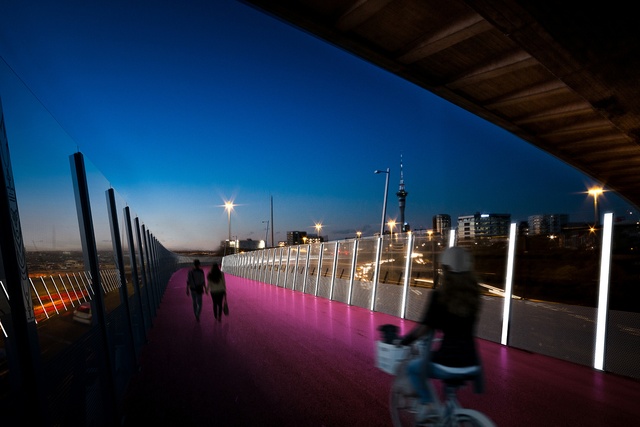 The interactive LED light installation along the eastern side of the cycleway is another element of the project that Mackenzie is proud of. "We wanted to work with the safety barriers rather than try to ignore them, so we have installed over 300 LED light strips on the urban side of the cycleway that looks back over the city. This digital art installation is elegant and simple, and can be controlled and programmed in many ways to create different types of patterns," he says.
Monk Mackenzie and LandLAB worked with iwi artist Katz Maihi for the cycleway's artwork. Māori patterns and narrative form a core part of the design, with a six-metre pou at the northern end and engraved black steel plates with Maihi's designs every 20 to 30 metres along the bridge. The artwork is simple but effective, and works well with the light installation and magenta deck surface.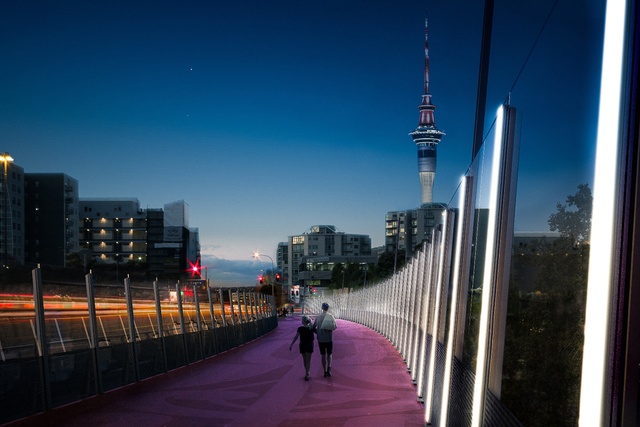 The Nelson Street cycleway will be finished in early November and will open early December, providing the lower Nelson Street cyclelane is finished. The off-ramp was closed a decade ago and transforming it has received strong support. Barbara Cuthbert, Cycle Action Auckland chair, says, "This cycleway will be the highlight of all the new projects we've seen in the city so far. It'll be a beacon attracting people to walk, cycle and delight in the views."
Dean Mackenzie goes a step further and hopes that the cycleway will in fact become more than a pure transport link; that it will be used in a myriad of ways. "We hope that this will become a louder urban space, and that people will use it for events such as fashion parades or mardi gras, not only for cycling and walking."
"Both the Canada Street bridge and the Nelson Street cycleway are great urban renewal ideas. Apart from having amazing views over the city and harbour and creating a much-needed link between uptown and down, we hope this jewel in the cycle network will become a genuine urban space that people can use in a variety of ways," Mackenzie summarizes.
See below for a timelapse of the Canada Street bridge and a video that demonstrates how the lights on the Nelson Street cycleway can pulse and interact.