Fulfilling the potential of planting design can be a challenge for landscape architects and this is nowhere more confronting than in green infrastructure projects, such as green roofs and roof gardens, green facades and living walls. In these instances, the variables are seemingly too complex and difficult to pinpoint. The issue reveals the disconnectedness between the design and the management of planting. The aim of this article is to capture some of the missed opportunities in green infrastructure project processes that could contribute to more successful planting design outcomes.
In the current wave of densification in Australia's major cities, demand for marquee "green buildings" is driven by developers and architects. The idea of "living architecture" is intensified by the expectation that the planting design will be supported for the duration of the building's lifespan, up to fifty years. Technological innovation in architecture, engineering and horticulture has rapidly improved the way green facades and vertical and roof gardens are integrated into buildings. Moreover, the increased use of data has spawned specialist consultants who design, install and manage green infrastructure systems.
So, what is to stop the client from altogether bypassing the landscape architect in these projects? The following points make a case for the benefits of engaging landscape architects for green wall and roof garden projects.
Firstly, design responses by landscape architects ideally embed multiple functions and values. Although aesthetics is often foremost on the client's agenda, the design should also address functions including thermal or acoustic insulation, water recycling or filtration, ecological effects through biodiversity and a reflection of social values. Researcher Leigh Staas from Sydney's Macquarie University highlights how a green roof or wall becomes "truly alive" when a diversity of species are planted to attract birds, insects and reptiles. Locating flowering species across different building levels and profiles strategically connects the building to nearby street or park trees and reinforces the urban ecology.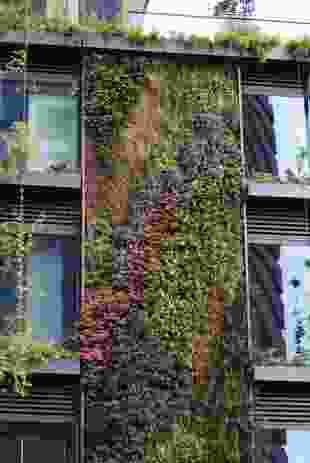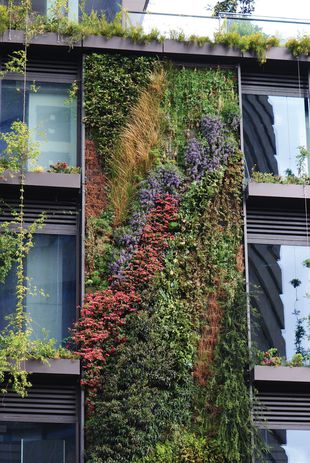 The site analysis stage determines planting design parameters. Designer Matthew Mackay's (now Aspect Studios) experience working on Hassell's Medibank Place in Melbourne attests to the value of engaging with precise building and environmental data, such as materials, wind and light. From the outset of the project, digital information models issued by engineers and architects allowed the landscape architecture team to fully engage with the project, integrating as many green spaces as possible through a combination of modular planter boxes, roof gardens and green facades. A grasp of regional climate patterns is fundamental at this stage. This becomes all the more important at the project procurement phase, especially when discerning information and specifying the best possible system for the site context. The challenge can be convincing clients and subcontractors to substitute inferior or untested systems.
The rapid rate of technological developments, commercial competition and the mass of conflicting information is overwhelming and causes confusion, says Erik Van Zuilekom, botanist and garden designer at Fytogreen, a specialist green infrastructure company. Many factors need to be weighed up when designing a planting system – this includes considering the benefits of hydroponic versus soil-based systems and modular versus non-modular systems, remote management of irrigation and varying insulation properties. Structural considerations further narrow the options, as with roof garden substrates (growing media), where the composition varies between brands and a lack of clear performance specifications makes comparisons difficult. Each system poses other issues, such as intellectual property rights and risks, which have all sorts of implications for the design and management of the planting lifespan.
Planting design is an iterative and highly collaborative process. Aspect Studios' Warwick Savvas has worked extensively on the largest and technically most complex green roof in the southern hemisphere, on the plant site at the Victorian Desalination Project. According to Savvas, methodical and regular reviewing with specialists – including botanists, horticulturalists, ecologists, engineers, architects, material technicians and maintenance contractors – is essential. They provide critical appraisal of the design from the preliminary stages through to development and design documentation. Consistent matching of plant traits with the project performance criteria informs the fit-for-purpose plant selections. As high-quality information sources, the plant specialists augment the knowledge of landscape architects about plant growth and types. Designers need to strike a balance between aesthetic patterns of planting layouts and the distribution of plants based on tolerance and exposure, and move beyond representations of green roof meadows from Europe and the USA.
Finally, design needs to consider the maintenance and management phases of a project, particularly clarity around what is required to sustain the design outcomes, including plant life cycles. Apart from the economic benefits to the client, the designer is vested in the success of the planting. John Rayner, director of urban horticulture at Burnley Campus, the University of Melbourne and specialist green infrastructure consultant, emphasizes the importance of management feeding accurate information about available resources and costs back to designer, so as to inform major design decisions in the future. He cites some current green infrastructure projects that are reliant entirely on potable water as being at risk in future spells of water restrictions.
There is a need for more performance data about plant growth and environmental variables. Technologies that integrate information, such as BIM software, are not yet versatile enough to grapple with living systems. Ultimately, it is incumbent on landscape architects to advocate planting design values and skills, as is done in professional associations like the American Society of Landscape Architects. Formidable local precedents include Hassell's Burnley Living Roofs project, publications like Melbourne's Growing Green Guide, and the forthcoming interactive online tool to be released as part of Horticultural Innovation Australia's "Which plant where, when and why" project. Backed by such resources, landscape architects in Australia can begin to more rigorously engage with planting design in green infrastructure, enabling them to stake a strong claim in – and add their voice to – this demanding area of design.
Source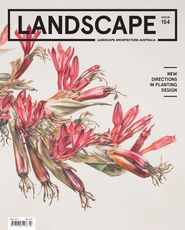 Issue
Landscape Architecture Australia, May 2017
Related topics