Concepts of the picturesque and of what is natural are challenged by our desire to inhabit and conserve landscape. These landscapes can become highly contested spaces. Our many teleological constructions of landscape bound, embed and locate the built form and work on it over time. Our conception of landscape is a potentially resilient thing, emerging perhaps out of displacements (our need to quantify the distance and direction as we move from place to place and in turn communicate this journey). Our desire to hold on to an aesthetic of landscape and survey our Eden is strong. Perhaps this desire is a wrong turn in itself, if we are to adapt to a rapidly changing environment as a result of global warming.
Our understanding of the world being constructed of "natural ecosystems with humans disturbing them" is outdated. Landscape is constructed of "anthropogenic biomes with natural ecosystems embedded within them."1 We need to engage with the re-evaluation of the grand narratives of nature and wilderness that are occurring and develop design tools that embed biodiversity and resiliency within practice.
What we are learning from Aboriginal Australians is that our historical Australian landscapes are just that: moments in time, fluid and subject to change. Bill Gammage in The Biggest Estate on Earth: How Aborigines Made Australia (2011) posits "there was no wilderness" but a managed landscape. This narrative by Gammage and others proposes complex seasonal horticultural and land-forming interventions in Australia's ecosystems across most landscape types for millennia, which shaped landscapes and vegetation communities. It seems to me that to not engage with this narrative is at best churlish and, at worst, exposes the profound racism latent in Australian culture. The idea of the hunter-gatherer treading lightly on natural landscape now seems a much-compromised view.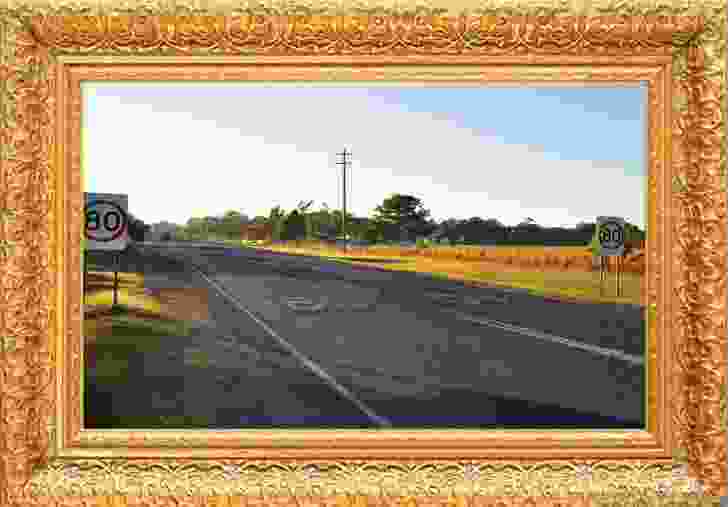 The landscapes of the Far North Coast of New South Wales comprise remnant vegetation of pre-settlement ecosystems isolated within dominant swathes of "novel and hybrid ecosystems,"2 populated by invasive species and regenerating native plant alliances, moving through deforested pasture.
The protection of views and landscape character are the battlegrounds of recent arrivals to this part of Australia. Seeking to relive the nostalgia of summer holidays, many have spent big on a piece of paradise and returned to the Far North Coast, only to find that development is crowding their peripheral vision like pesky eye-floaters heading for outright cortical cataracts. With the Byron and Tweed Shire areas expected to experience population growth in excess of 20 percent by 2031,3 the cultural wars will escalate around development within the coastal, pastoral and plantation landscapes and their social interface with the urban edge.
If the literary, sophisticated traveller of the nineteenth century had a greater appreciation of the picturesque than the casual admirer of a bucolic sunset, then the landscape architect's professional, nuanced assessment of the scenic value of a contested patchwork of twenty-first-century landscapes should hold sway over the Facebook and Instagram braggart's siren call to settle in the scenic idylls of foreign climes.
This is both truth and a lie: truth, as a trained professional should have a heightened sense of visual context and nuance – formal and cultural; a lie because visual experience is emotional and lived.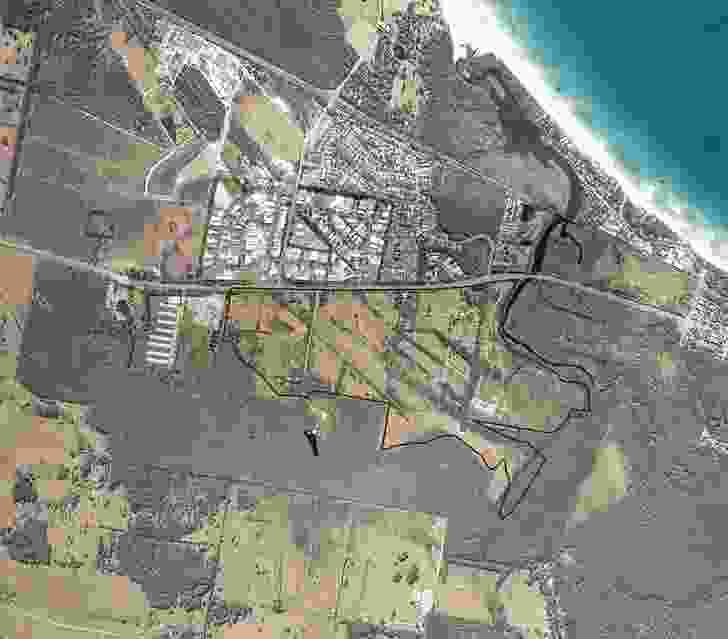 The contested space of pre- and post-settlement landscapes managed by hierarchies of scenic beauty and ecological value has created tensions in the community. The irony here can't be missed: that as we legislate the control of environmental weeds and conceive development control plans to maintain and increase biodiversity, we celebrate heritage landscapes and rural vistas populated by invasive plant species.
West Byron is a proposed development that has divided the local community (my practice, Ennismore Field, has provided landscape architecture and consultancy services on this ongoing project). It has it all – State Significant Site status, endangered ecological communities, "cuddly" koala habitat and smelly, noisy, Hendra-virus-carrying grey-headed flying fox. Both fauna are listed as vulnerable under the native species act, yet they elicit very different responses and interest from the community.
The vegetation communities surveyed within West Byron Urban Land Release Area are more novel than historical. Regrowth within the past thirty years is the result of poor management practice around drainage and fence lines. We need to design for diversity and change, bringing successfully regenerating plant species into spaces used by people; we need designed landscapes that evolve over time. In so doing we avoid stymieing opportunities to enhance the overall resiliency of "patched" landscapes,4 escalating the flowering of these ecologies into agricultural, urban, private and public landscapes. A more nuanced or feathered edge to retention, restoration and stormwater treatment areas within urban edge development would avoid the relegation of biodiversity to the bottom of the paddock while fighting the novel landscape closer to home.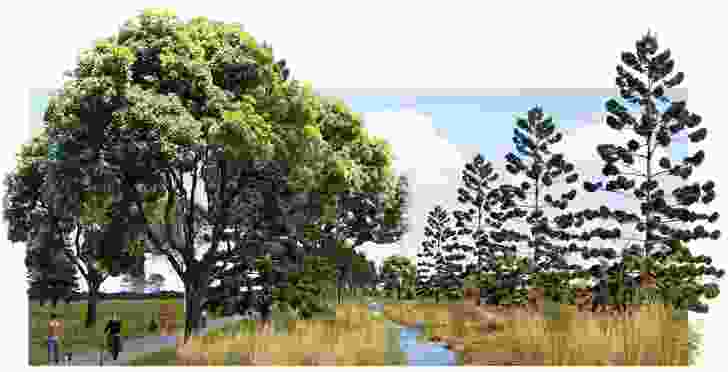 Rural residential properties on the Far North Coast are in a continual state of regeneration and degradation. They rely on regular clearing and spraying to enable access and to manage the growth of vigorous pioneer species as pasture transitions to forest – all undertaken as self-interest and financial means allow. Weemala is a model for the immediate future (an ongoing residential project inland of Byron Bay, on which my practice has also consulted). It relies on extensive analysis of geomorphology, species alliances and risk assessment to inform strategic landscape planning and design.
The history of resource extraction of the area's natural assets has left less than 1 percent of the pre-European settlement subtropical rainforest. Cinnamomum camphora (camphor laurel), spread by frugivorous birds and bats, is listed as a Class 4 noxious weed in the area. In some urban settings it is seen as having amenity and heritage value and permission is required for its removal. It is a dominant player in local novel ecosystems in a state of succession, re-establishing canopy over a deforested landscape. It is the dominant player at Weemala.
The strategic plan for Weemala relies on an understanding of natural systems to design land-forming interventions that are stable over time and anticipate increased incidence of extreme rain events and periods of drought. Concept development links the design for a picturesque garden with the restoration of natural systems through the design of novel ecosystems. In the subtropics, on rich basalt soils experiencing high rainfall, we either have canopy or we slash and weed. Gardens have increased resiliency when constructed beneath canopy. Gardens conceived as canopied forest offer protection from increased warming and extreme weather.
The plan at Weemala is for a biodiverse rainforest flora bank, leveraged by maintaining a high percentage of species suitable as rainforest cabinet timbers, with potential harvesting of select specimens from fifty to three hundred years. Bush tucker plantings will establish a local resource. A land-forming concept that enables the appreciation of the picturesque qualities of the property and surrounding landscape is proposed to provide access to the property's ecological assets. Forest gardens that privilege shade, shadow, walkability and rest are also planned. This landscape will be a pleasure garden for the twenty-first century that retreats out of the glare of climatic unpredictability and gifts a legacy landscape underpinned by biodiversity and scenic beauty.
We can understand novel ecosystems of invasive and endemic species as adaptive ecosystems of opportunistic alliances that express a deeper ecology. This ecology is one of a natural response to disruption leading, over time, to landscapes with unfamiliar alliances, which allow for new complexities that maintain and increase biodiversity. Our regional landscapes are changing. The resilient ecosystems of th e future are unlikely to be what is at once familiar and nostalgic.
An extended version of this essay was presented at Kelowna, British Columbia in March 2017 at the BCSLA Annual Conference.
1. Erle C. Ellis and Navin Ramankutty, "Putting people in the map: anthropogenic biomes of the world," Ecological Society of America: Frontiers in Ecology and the Environment , vol 6 issue 8, 2008.
2. Richard J. Hobbs, Eric S. Higgs and Carol Hall, Novel Ecosystems: Intervening in the New Ecological World Order (New Jersey: Wiley Blackwell, 2013).
3. Infrastructure Australia, Population Estimates and Projections: Australian Infrastructure Audit Background Paper , April 2015.
4. Justin P. Wright, "Linking Populations to Landscapes: Richness Scenarios Resulting from Changes in the Dynamics of an Ecosystem Engineer," Ecological Society of America: Ecology , vol 90 issue 12, 2009.
Source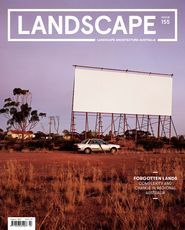 Practice
Published online: 11 Dec 2017
Words: Mark Perkins
Images: Courtesy of National Library of Australia, Ennismore Field
Issue
Landscape Architecture Australia, August 2017
Related topics