Paddington Reservoir Gardens by JMD Design, Tonkin Zulaikha Greer Architects and City of Sydney
Client: City of Sydney
Jury comment
One of Sydney's newest public spaces, the Paddington Reservoir Gardens, situated on Oxford Street in the heart of urban Sydney, is quickly gaining national and international recognition for its unique blend of historic ruin and contemporary urban park design. The site has evolved over a period of 140 years, hosting a number of disparate uses, including twenty years as a water supply reservoir, the original use, through to council depot and workshop, petrol station and more recently a simple grassed public park. With the collapse of the roof structure in 1991, the site was closed to public access. The decision not to simply cap off the site and make another grassed lawn triggered an opportunity to explore the possibilities of revealing and working with the ruins. The result is this engaging, multi-layered urban space that allows visitors to move through and among the spaces and be immersed in the heritage of the reservoir.
The jury admired the rich interplay of elements – built and natural – that express and interpret the site's diverse heritage, conserving it for contemporary use and for use by future generations. The success of the project clearly results from a close, collaborative and integrated design process between JMD Design and architects Tonkin Zulaikha Greer, working with the City of Sydney. From a landscape architecture perspective, the jury appreciated the sensitively selected material palette for structural elements and the clarity of the three planting zones of the gardens: ranging from the rooftop garden to the two "rooms" of the sunken garden and the street-level edge that connects to the Paddington urban precinct.
This is clearly an exceptional and superbly realized project of outstanding merit. The jury was unanimous in awarding it the Medal for Landscape Architecture for 2010.
Source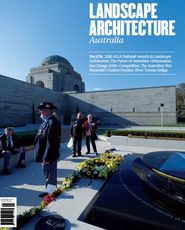 Issue
Landscape Architecture Australia, November 2010
Related topics