Emerging digital technologies: What do they mean for settlement patterns and the role of planners?
Contemporary cities and regions have been shaped by cars and transport networks. The emergence of new digital technologies associated with online services, sensory systems, automated vehicles and augmented reality may have a similarly defining role on settlement patterns over the next century and beyond. These technologies have the potential to disrupt current land use patterns and create new opportunities in our cities and regions. This article explores the extent to which digital technologies may affect settlement patterns and change how planners work, as it relates to the broader concept of smart cities.
Many of the technological advances of interest to planners happen in the context of "smart cities". The United Nations' World Cities Report of 2016 references the International Telecommunication Union's definition of a smart city as "an innovative city that uses information and communication technologies and other means to improve quality of life, efficiency of urban operation and services, and competitiveness, while ensuring that it meets the needs of present and future generations with respect to economic, social, environmental as well as cultural aspects" (United Nations, 2016: p2-45).
Will digital technologies break our dependency on geography?
From some perspectives digital technologies are set to break our age old dependency on geography or the need to be located in cities. We won't have to go into a shop to buy things as 61% of Australia's population (9.7 million people) in 2014 - 2015 purchased goods or services over the internet over the last three months (Australian Bureau of Statistics, 2016: 8146.0). This is set to increase with the launch of Amazon Australia at the end of 2018 which will enable us to purchase a large range of products, including groceries, clothing, electronics and takeaway food. Amazon's focus on providing "low prices, vast selection, and fast delivery" (Yoo, 2017), will no doubt challenge some existing retail sectors.
Nor will we have to go into an office to undertake all our work. The Australian Bureau of Statistics estimates that 44% of the 11.7 million employed people aged 15 years and over accessed the internet for home based work in the last 3 months (Australian Bureau of Statistics, 2016: 8146.0). We are also seeing a rise in the popularity of co-working spaces which are used on a flexible basis by temporary workers.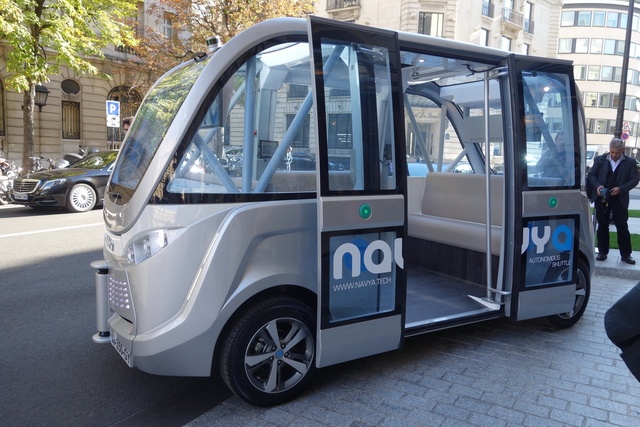 Automated vehicles and traffic sensory systems, with real time traffic reporting, will enable easier commuting from cities to hinterland or peri-urban areas. This may potentially shift patterns of housing demand and affordability with areas outside the current commuter belt becoming more attractive to develop for urban purposes. The Commonwealth's Smart Cities Plan states that "While it may be difficult to predict exactly when we will see widespread use of automated cars in our cities, when we do the impact is likely to be transformational. These technologies will fundamentally change how we live and work, as well as other new innovations that are just over the horizon" (Commonwealth of Australia, 2016: p26).
Education and health care can also be increasingly undertaken online with Skype, virtual and augmented reality reducing the need to visit a physical place for lectures or health care. There are online alternatives which in some cases can be more effective than the real experience. Telehealth is also essential for reducing the cost of healthcare which is growing unsustainably in all Australian States and Territories. Universities across Australia are using virtual classroom environments, podcasts, Skype, video conferencing and real-time chat rooms to assist in learning.
It is important to note that opportunities relating to most digital technologies rely on high speed internet access, the importance of which has been recognised by cities such as Dunedin and Adelaide which are seeking to become "Gigatown cities" or cities where residential broadband speeds on average exceed 1 GB per second. The promise of a data smart city cannot be attained if the internet speed and reliability is inadequate.
Will digital technologies have no impact on our dependency on geography?
From another perspective, the internet has been with us for decades and whilst there has been a slight increase in teleworking, it is nowhere near mainstream. Cities have strong economic drivers and people will always be drawn to physical places which provide opportunities to interact with other people. As cited in City Limits by Jane-Frances Kelly and Paul Donegan "Across Australia and the world, knowledge-intensive work that generates high levels of wealth is concentrating in major cities" (p25).  The key reasons cited for this trend is that knowledge-intensive jobs cluster together, face-to-face contact still matters and companies seek access to large and deep labour pools.
Examples of companies moving into cities were recently cited in an article by Harrison Smith in the Australian Financial Review titled "Techs and City". The article explored recent decisions by McDonald's, Caterpillar machinery, General Electric and Marriott International to relocate from their traditional suburban or office park bases to cities. McDonald's cited its reason for moving from its corporate campus in Oak Brook to downtown Chicago as being that "it needed to be closer not just to workers who build e-commerce tools but also the customers who use them".
The importance of cities in economic development is also recognised in the United Nations' World Cities Report of 2016 which states "prosperity of nations and regions is increasingly dependent on the economic performance of cities. Large cities are associated with higher levels of productivity and income, given their central role in innovation and job creation, amidst rapidly increasing economic and technological complexity" (Chapter 2, p31).
The answer?
Whilst both perspectives are valid, the future reality may lie somewhere in between the two extremes, particularly with regard strong economic drivers that shape our cities. Digital technologies have created an unprecedented capability to shop, work, play and obtain services remotely. This heightens the importance of urban amenity, architecture, culture, landscape design and the creation of beautiful physical environments. The Commonwealth's Smart Cities Plan released in 2016 recognises this requirement and states "cities must offer lifestyle, culture and amenity. For an increasingly mobile labour force, the liveability of a city can be the determining factor between choosing to live in one city over another" (Commonwealth of Australia, 2016: p13).

Changing the role of planners?
While the impact of digital technologies on settlement patterns requires further research; what is known is that digital technologies will assist planners in designing more functional cities and change traditional models of community engagement and consultation.
Digital technologies will enable us to create more sophisticated models of our cities and regions to enable us to test and consult on policies before they are adopted in our State or local planning instruments (e.g. to better understand where capacity exists in our transport networks to increase development densities). Virtual Brisbane is an example of such a model that could be used more consistently across the State. Singapore also uses a similar approach to test policies before they are codified. These 3D models could also be used to automate some types of development assessment that are easy to codify and automate to create "robo-planners", enabling planners to apply more time and energy to the areas of assessment requiring subjectivity, creativity and judgement. This will enable the parameters for development such as land use, density, height, site cover, as well as more complex considerations such as impacts of slope, flooding and ecological conditions, to be assembled much more quickly than is currently possible. Arguably it is desirable to free town planners from these tasks so they may focus building cities with high recreational, cultural and amenity values. These, after all, are the most important characteristics of our future cities.
Digital technologies will also change the way governments and developers engage with communities in the preparation of planning instruments and development projects. Community consultation on coordinated projects and development applications will be enhanced through the use of virtual and augmented reality to assist in visualising the existing environment and proposed changes to better inform communities of potential development impacts. The days of submitting lengthy Environmental Impact Statements may be replaced with a 3D virtual model of a development which would enable the community, experts and decision makers to "virtually walk through" a new development proposal and ascertain potential impacts.   Holographic displays like a 3D expression of Siri are also being used by local governments (e.g. Brent in the United Kingdom) to assist in responding to community queries.
Conclusion
Digital technologies are unlikely to result in transformative changes to settlement patterns due to the strong economic drivers that shape our cities. Cities play a central role in innovation, job creation and the wealth of nations. Smart city digital technologies can however provide planners with the tools to assist in making cities more efficient, attractive, equitable and sustainable. These technologies will also provide planners with new tools to consult with and engage with local communities, assisting in the decision making processes of all levels of government. With estimates showing that the global smart city market will grow by 14% annually from US$506.8 billion in 2012 to US $1.3 trillion in 2019 (UN, 2016, p2-45), it is important that planners assist in capturing the full benefits associated with these emerging technologies in their communities.
This article was originally published in The Agenda (formerly Queensland Planner), vol 57 no 3, Winter 2017.
Australian Bureau of Statistics (2016) 8146.0 - Household Use of Information Technology, Australia, 2014-15, Canberra.
Commonwealth of Australia (2016) Smart Cities Plan, Department of the Prime Minister and Cabinet, Canberra.
Harrison Smith (2017) Techs and the City, Australian Financial Review.
Kelly, Jane-Frances and Donegan, Paul (2015) City Limits: why Australia's cities are broken and how we can fix them, Melbourne University Press, Melbourne.  
United Nations Human Settlements Programme (2016) (UN) World Cities Report 2016, Kenya.
Yoo, Tony (2017) Amazon Australia's first warehouse appears to be in Melbourne, Sydney Morning Herald, July 21 2017. http://www.smh.com.au/business/retail/amazon-australias-first-warehouse-appears-to-be-in-melbourne-20170720-gxfm9w.html