Jury citation:
The Plant Bank is a research institute, seed repository and public building at the Australian Botanic Garden Mount Annan in south-western Sydney. The seed bank is the largest collection of plant seeds in the country. Its landscape design reinforces this and serves as an outstanding reminder of the value of native flora in maintaining landscape systems and community identity as significant components of cultural heritage.
The landscape architects have ensured a seamless integration with the building and beautifully reinforced the objectives of conserving seed for the future. An explorative and imaginative use of materials, especially the paving inlays and the mirrored undercroft, elevates this important cultural project to an exceptional level.
The project demonstrates a unique collaboration between the consultant and the client, one in which thinking and leadership were respectfully elevated to achieve this impressive result. The client, the horticultural staff and the landscape architect involved should be commended for delivering this important Australian project.
Location: Mount Annan (NSW)
Aboriginal Nation: Dharawal
Source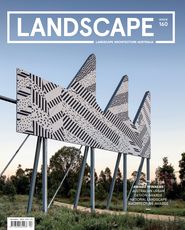 Issue
Landscape Architecture Australia, November 2018