As I stand in my lounge room, with the fire lit and a nice single-malt whisky on the coffee table, I survey my library in preparation for writing this introduction. A warm sense of wellbeing washes over me as I think about the decades spent collecting these books, and the hours devoted to arranging and rearranging them into groups – an impossible and endlessly pleasurable task.
These quiet evenings – usually solitary, but sometimes shared with a few other gardeners – are a great joy. Books are strewn about, open on top of each other. Ideas flow, with no pressure to produce anything or to devise a creative solution to a difficult situation. There's just an immersion in garden images, places for the mind to wander aimlessly.
Sometimes on these evenings, a coherent path of investigation ensues, but mainly it's a mental marination during which spice and texture are added to my visual memory banks.
It's also an affirming process of looking back at the influences felt and lessons learned. In this introduction, I will try to tease out a coherent ramble of the distilled wisdom gained from books, the internet and study tours that has shaped my thinking around the New Australian Garden concept.
Starting young
My first memory of actual garden making is working with my father on a rockery creation in the early to mid-1970s. I don't know how old I was at the time, but I was swinging a mattock into the hard clay of the western suburbs of Sydney. This early introduction to heavy soils served me well in my later career.
We were making a concrete mowing-edge border for the rockery. The garden had two artfully arranged sandstone boulder clusters surrounded by large river pebbles, and it was planted with pampas grass, a species of Yucca and an Agave americana. It was the quintessential Palm Springs-inspired modernist piece outside our suburban brick-veneer home.
Looking back at that time, my parents were obviously inspired by an image in some book, and were willing fashion victims as they crafted their garden in an otherwise empty, brand-new suburb. This crafting went on for decades; in fact, I am happy to report that it still continues.
Landscaping library
One of my favourite books is Siftings, by the great Danish–American landscape architect Jens Jensen. Since first reading it one rainy afternoon in Pittwater, it has changed my process forever. Jensen's notion is that a garden sits in a larger landscape – as you zoom in from the regional through the local to the site itself, you acquire unique pieces of knowledge that can inform a design or an approach to the making of a garden. I think his garden-making method is comparable to that of Craig Burton at Pirramimma.
Russell Page, one of the greatest landscape designers of the twentieth century, wrote a book entitled The Education of a Gardener. My copy is certainly well-thumbed, and there are several highlighted sections of text. 'Elegance without pomposity' jumps out. What a noble aim to take into the world.
The garden as a refuge
At a lecture one day, I discovered the idea that gardening is a result of one of two human endeavours: to make a place of protection, or to make a place of sustenance. In other words, to create a clearing in the forest, or to create an oasis in the desert. The clearing offers a haven from wildlife and protection from the wildness of the forest. The oasis is a sustaining, cool refuge with life-giving water. This fundamental understanding informs my approach to everything.
The idea of prospect and refuge is part of British geographer Jay Appleton's habitat theory, and it is a great source of fascination. I certainly do not comprehend all of his academic study. But I really do understand the experience in gardens of being able to observe (prospect) without being seen (refuge). It's an idea that we are always trying to achieve, particularly in our waterfront gardens.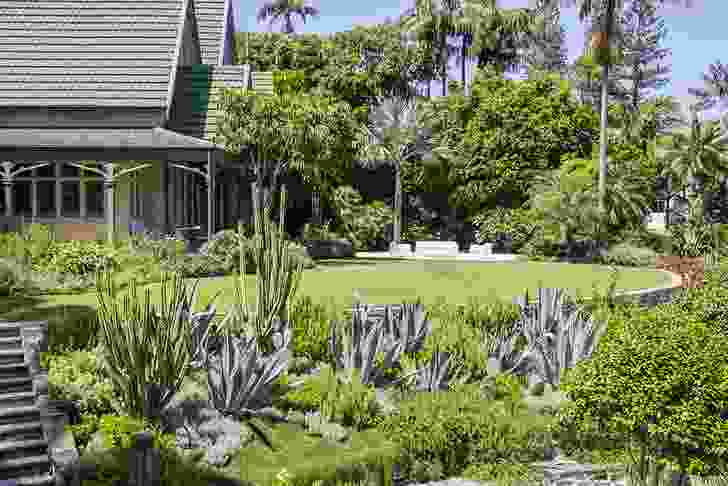 The British tradition
One of my earlier influencers was British garden designer John Brookes. His books had a big impact on me. They decoded great garden design on a suburban scale and were hugely instructional when it came to shape, line and layout. As I have grown in experience, however, I have learned to trust my intuition.
Christopher Lloyd and Fergus Garrett – who are responsible for the stunning garden at Great Dixter in the English village of Northiam – are inspirational, as is Gertrude Jekyll. They are flower artists, firing flower cannons of young, fast-growing perennials from the nursery into the garden and planting them wherever they land.
I feel that the Waterfront Garden designed by Myles Baldwin is a restrained and considered interpretation of this longstanding British tradition of perennial gardening. Daniel Baffsky's plant selection around the outdoor bathtub in An Entertainer's Garden gives perennial gardening a contemporary twist.
American aesthetic
Australian suburban aesthetic was largely shaped by what was happening in the United States from the mid-twentieth century onwards. I enjoyed reading the academic works of Marc Treib and studying the Palm Springs aesthetic – it was such a powerful and influential style. Thomas Church's book Gardens are for People awakened an alfresco approach that is the bedrock on which the New Australian Garden is built.
Other Americans who have had a profound influence on my work – not just because I read their books, but also because I studied their work in real life – are California-based designers Topher Delaney, Andrea Cochran and Bernard Trainor. Russell Page said he never met a gardener who didn't teach him something. That certainly has been my experience as I wander the globe seeking out these people – they are an incredibly open and friendly bunch of human beings.
A Japanese perspective
While we are on Americans of influence, I studied the minimal landscapes of Peter Walker in Japan, and this was an enduring ideal that I enjoyed for quite a while – not so much the minimal outcome as the idea that only the necessary elements should make up the composition. This builds on my Japanese training under Masayoshi Uchiyama. As a young, keen, and bombastic Australian tragic, I pranced around in full Japanese garb – fortunately, few photos document this phase.
The one resonant piece of learning that I have carried along the landscaping path is the understanding of mastery. I would question Master Uchiyama when he broke a rule that he just taught me in practice, and he would say, 'Michael-san, when you are Master you will know when to bend and when to break the rules'.
The touchstones that changed me permanently in Japan were the Abbot's garden at the Tofuku-ji temple in Kyoto, the imperial villas of Shugakuin and Katsura in Kyoto, and the gardens of Koraku-en in Okayama and Kenroku-en in Kanazawa. Witnessing the placement of elements in these gardens, as well as practising Japanese garden making under the instruction of a Japanese master, taught me wabi-sabi – the Japanese art of celebrating imperfection – and ingrained it into my being.
World of inspiration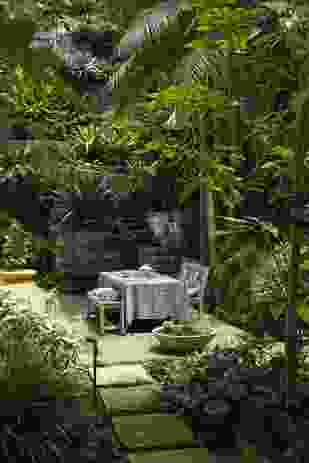 A study tour of the works of Spanish architect Enric Miralles that I took with Craig Burton and Anton James in 2003 was a great experience. Enric has had more impact on Australian urban landscaping than almost any other international designer. His shapes and contours are everywhere to be seen in public and private landscapes, such as the Great Barrier Reef on Land garden.
The Dutch gardeners are real thinkers. When I study Piet Oudolf, I realise he's much more than just a flower gardener – there is a real philosophy behind his work. His remaking of a Capability Brown garden at Scampston Hall is inspiring and worthy of another visit to Yorkshire. This has led to my appreciation for clipped elements and the structure they give a composition when surrounded by blowsy, looser planting, and it is a big part of the recent garden layouts at Tallawong, my mountain-garden laboratory.
My most recent phase was stimulated by a visit to the landform gardens of Scotland created by Charles Jencks and his head gardener of 50 years' service, Alistair Clark. A firsthand experience of the Garden of Cosmic Speculation in Dumfries inspired my landform at Tallawong and played a role in the contouring at the South Coast Garden.
Recent trips to Sri Lanka have uncovered a rich seam of gardens to explore. Everybody thinks of the great gardens and buildings created by Geoffrey Bawa and his cohorts. But there is an age-old tradition of garden making demonstrated in the ancient capital of Sigiriya – it is as inspiring to me as Angkor Wat in Cambodia, Machu Picchu in Peru and Phitsanulok in Thailand. I think these temples and palaces teach us to respect history and the cultural heritage that exists today in our country. There's nothing like an ancient garden to give you real perspective.
Gardeners' logic
If you are fortunate to have a natural interest in plants, then the experience of garden making can allow you to nurture a noble sense of reasoning I like to call gardeners' logic. It seeps into your bones, coalesces in your brain and frames a view of the world that is optimistic and realistic, and that plays with the physical realm.
For as long as people have cultivated plants, skilled gardeners have been able to observe the health of a plant, its soil and its ecosystem, and know intuitively what to change so it can thrive.
They understand the physical science of how materials meld to make new places, and can devise the most efficient methods to wrestle soil and stone and heavy things into position.
Gardeners develop the ability to decipher and decode what is surplus, and discard discordant elements that diminish the beauty of a particular scene. They can read people and situations, and have a strong sense for how humans will behave and respond to their surrounding spaces.
It can take decades of practice to master and grow this way of thinking. But once gained, it is an understanding that can be applied to so much of the world. Proponents of gardeners' logic can comprehend patterns both in nature and in society, and imagine simple new solutions to complex problems.
The art of garden making
At a recent exhibition of the contemporary artist Grayson Perry, I heard him speak of being able to read the fluency of the hand of the craftsperson when he studies an object. It clicked for me that my role in the food chain of great garden making is knowing what master landscapers can craft with the wonderful materials we are blessed with in the context of each individual garden site – that is my job.
So many artists, sculptors and musicians inspire and stimulate a joie de vivre that makes this life of creation and the work process enjoyable and enriching. The fantasies of land art and crop circles are lying in wait for a client with a big enough garden to be mad enough to let us loose.
My competitors and I have a friendly exchange and a professional raising of the bar, an ongoing challenge and joy to behold in this golden period of garden making in Australia. There's so much to imagine, so much to look forward to. I hope this book in some small way educates more gardeners and inspires more great garden making.
This essay is an excerpt from The New Australian Garden by Michael Bates, Murdoch Books, August 2017. The book is available for purchase via Booktopia.
Related topics