For seventy years Melbourne's Shrine of Remembrance was entered by climbing up its many steep steps. But, after walking to the shrine through the broad surrounding reserve, which opens your mind to the delight of strong trees and green grass, the building can now also be entered through a slightly sunken ground level at each of four courtyards designed by ARM Architecture and Rush\Wright Associates. Above, the historic building rears up in a dramatic new juxtaposition.
Of course, you can still use those steep steps if you wish. But the symmetrically set-out courtyards are fascinating. Two were opened in 2003, the other two in 2014; two are set out with fast-growing plants from different parts of the world, while the other two have no live planting, just a few artificial flowers; and two provide major entries, while the two with plants offer spaces to sit and think. The flavour of each is different, with challenging spaces and thought-provoking vistas, even though each shape is similar and the external smooth-yet-jagged walling identical.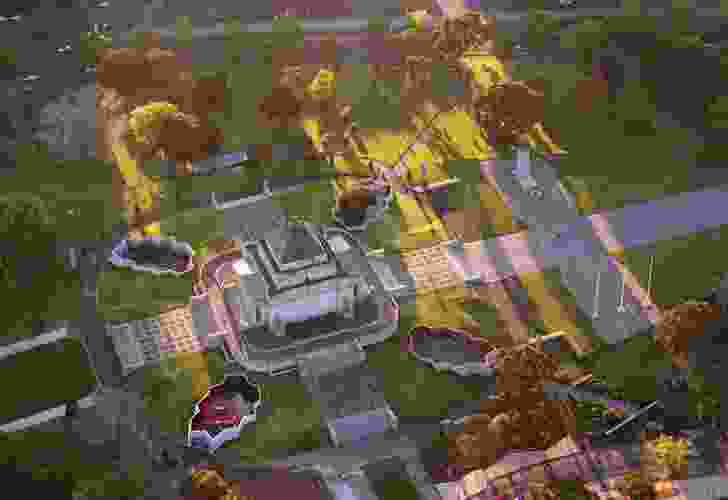 The Entry Courtyard (2003) is bare and empty, encouraging visitors to focus on the ochre side walls and texts relating to World War I – including the inscription "Lest We Forget." The Education Courtyard (2014), through which students move into the Shrine, is thought-provoking; it consists of a red suspended shade canopy (an interpretation of a poppy) that is see-through to the sky, a sloping ground floor, and dark inner walls that display artificial red poppies "planted" by visitors. The Garden Courtyard (2003) invites contemplation under a multi-trunked olive tree, which spreads out amid hedging rows of clipped exotic trees, with varied paving and places to sit – some welcoming, some angular, some shaded and some with hard light. The Terrace Courtyard (2014) bursts with fast-growing and colourful trees, shrubs, creepers, ground plants and World War II detail; you want to settle onto its range of seating to look around, learn and relax.
Landscape architecture firm Rush\Wright Associates worked on the project from the start of the additions to the Shrine – since 2000 – with architecture practice ARM Architecture. Rush\Wright devised the Terrace and Garden Courtyards that speak so magnificently of plants, and also contributed to the Entry and Education Courtyards. Director Michael Wright observes that they learned a lot in the decade that elapsed between each of the dual courtyard constructions (and that this was lucky, as the budget allowed in 2003 was the same as that advised in 2012).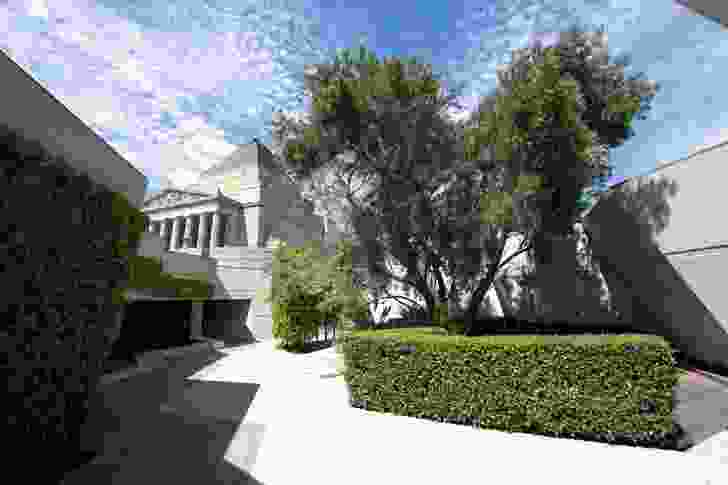 Early on, as the plants in the Garden Courtyard began to grow, it became clear how design and planting ideas would progress. Its sculptural, multi-stemmed olive tree (the "Legacy Olive") had been growing some one hundred metres away before being lifted in, its root ball measuring five metres by six metres. It hasn't missed a beat, and combines splendidly with a Chamaerops humilis (dwarf fan palm) and clipped hedges of bay trees and oaks, plants that occur together in southern Europe. Eryngium pandanifolium (giant sea holly) spears up near the entrance, while Parthenocissus tricuspidata (Boston ivy) and Ficus creeper coat parts of the side walls. Colour is confined to shades of green, grey and white (except for some autumn leaves). Paving on the shaded side includes old wharf timbers and superbly laid Castlemaine slate in hues of brown, orange and cream. Wright speaks about this fourteen-year-old space in terms of the way it will continue, providing memories for observers and an ecological underlay suggestive of the Dardanelles.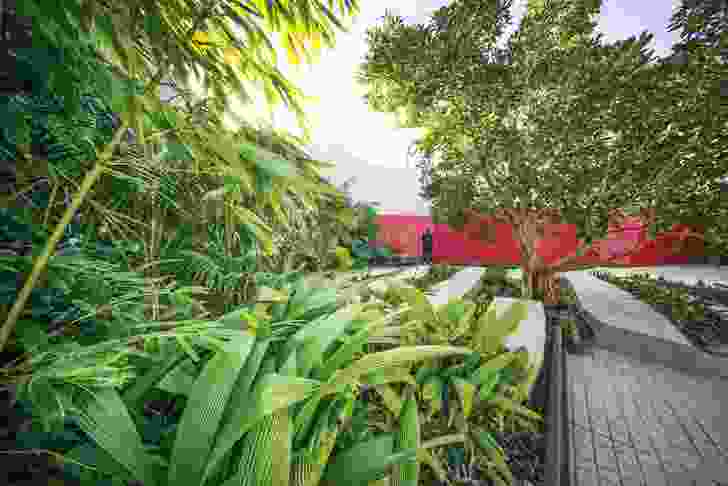 Wright is practical and flexible in terms of plants. Practical, if they fade away. "Let's find something else!" Flexible, because if plants grow strongly, why not give them (to a degree) their head? The Terrace Courtyard, he says, is meant to be jungly, overgrown and not maintained too strongly. "I believe a cultivated wildness is important. Too often planting is over-manicured and clipped to death, or just plain boring."
The Terrace Courtyard is entered at one side and once you've turned the first corner it is as if you are in another world. Branches, leaves, creepers, flowers, even amazing fruit (Musa spp., including banana) hang above and around you and crawl across the ground – and the plantings only about three years old. The design aims to evoke the Pacific and South-East Asian theatres of service, sacrifice and peacekeeping; the centrally located and fast-growing Ficus dammaropsis (highland breadfruit) is native to a rainforest in New Guinea, and the feathery leaves of Cycas revoluta (sago palm) hail from Japan. This is a varied and engaging space. Close to the Ficus, a man relaxes at an army green metal chair and table that looks like it might have been used by the RAAF during wartime. Immediately beneath the huge banana tree at the high corner of the courtyard, and near wall creepers with flowers in hues of pink, red, yellow and white, a woman takes lunch on a solid timber bench – she tells me she is there daily. Further away, a young couple looks at red wall tiling that names the Victorian towns from which soldiers came in World War II. Wright says the trees and flowering plants, the paving and seating are "not meant to be literal, but rather to suggest things to people about another place, and to provoke the imagination."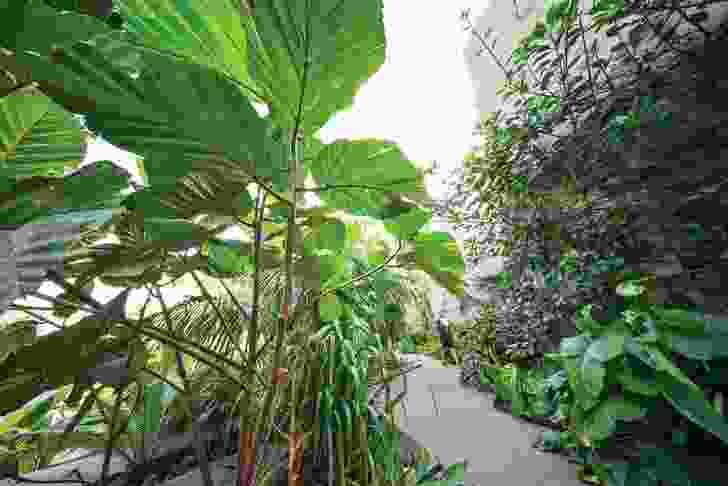 How will this design evolve? For sure, the plants will continue to grow; there is no substitute for the delight we will feel in this, especially in patches of enclosed space. Designers love to think big, but as our world expands, do we also need to think smaller and respond to compressed spaces in terms of design and detail, just as we do to plants? The Shrine of Remembrance offers two versions of each, where landscape architecture interpenetrates architecture – at varying levels – to make living, changing spaces of lasting significance. These breathe new life into the historic shrine and will continue to do so.
Plant list – Terrace Courtyard
Bamboo and trees
Dendrocalamus minor var 'amoenus' (ghost bamboo)
Ceiba speciosa (Mayan tree of life)
Ficus rubiginosa (Port Jackson fig)
Large tall shrubs
Cordyline terminalis (cordyline)
Davidsonia pruriens (Davidson's plum)
Michelia figo (port wine magnolia)
Murraya paniculata (orange jessamine)
Rhapis excelsa (lady palm)
Ficus dammaropsis (false breadfruit)
Schefflera actinophylla (umbrella plant)
Strelitzia nicolai (giant bird of paradise)
Thysanolaena maxima (tiger grass)
Feature plants
Archontophoenix cunninghamii (bangalow palm)
Cycas revoluta (sago palm)
Dendrobium speciosum (king orchid)
Dietes robinsoniana (Lord Howe wedding lily)
Dioon spinulosum (giant dioon)
Howea forsteriana (kentia palm)
Metrosideros 'Fiji Fire' (Fiji fire)
Metrosideros 'Tahiti' (New Zealand Christmas bush)
Musa spp. (cold climate lady finger banana)
Rhapis excelsa (lady palm)
Zamia furfuracea (cardboard palm)
Lush leaves
Alocasia macrorrhiza (elephant's ear)
Clivia 'Belgian Hybrid' (kaffir lily)
Crinum pedunculatum (swamp lily)
Ficus dammaropsis (false bread fruit)
Molineria capitulata (palm grass)
Monstera deliciosa (fruit salad plant)
Zantedeschia 'Green Goddess' (green goddess lily)
Tropicana
Agapanthus 'Snowball'
Beschorneria septentrionalis (green leaf Mexican lily)
Euphorbia milii 'Lipstick' (crown of thorns)
Gardenia florida syn G. augusta (gardenia)
Hedychium flavum (yellow ginger)
Hedychium greenii (ginger lily)
Neoregelia 'Fireball' (fireball bromeliad)
Sansevieria trifasciata variegata (mother-in-law's tongue)
Groundcover
Aptenia cordifolia (heartleaf ice plant)
Asparagus densiflorus 'Myersii' (asparagus fern)
Aspidistra elatior (cast iron plant)
Cissus antarctica (kangaroo vine)
Liriope giganteum (giant liriope)
Lotus berthelotii (parrot's beak)
Parthenocissus sikkimensis (evergreen parthenocissus)
Trachelospermum asiaticum (Japanese star jasmine)
Tradescantia pallida (purple heart)
Veltheimia bracteata (veldt lily)
Vinca minor 'Alba' (white periwinkle)
Climbers
Aphanopetalum resinosum (gum vine)
Gelsemium sempervirens (yellow jessamine)
Hibbertia scandens (climbing Guinea flower)
Hoya carnosa (wax plant)
Mandevilla 'Alice Dupont'
Mandevilla 'Aloha Bright Pink'
Mandevilla 'Aloha Regal Ruby'
Mandevilla 'Crimson Fantasy'
Mandevilla laxa (Chilean jasmine)
Mandevilla 'Sun Parasol Giant White'
Solandra maxima (golden chalice vine)
Stephanotis floribunda (bridal wreath)
Potted plants
Plumeria acutifolia alba (frangipani)
Credits
Landscape architect

Rush\Wright Associates
Melbourne, Vic, Australia
Project Team

Michael Wright, Catherine Rush, Teresa Koo, Chris Erskine, Yijun Lu, Thomas Gooch
Consultants

Architect ARM Architecture Melbourne
Contractor ProBuild, Australian Native Landscape Constructions
Lighting Electrolight
Structural and civil engineer Irwinconsult

Site Details

Location Melbourne, Vic, Australia
Site type Suburban

Project Details

Status Built
Design, documentation 9 months
Construction 18 months
Category Landscape / urban
Type Outdoor / gardens, Public / civic

Source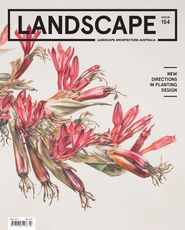 Issue
Landscape Architecture Australia, May 2017
Related topics