The cement base has been poured for a new 6,500 square metre park that will extend out over the Brisbane River at the mammoth Queen's Wharf development in Brisbane.
Destination Brisbane Consortium, the developer behind the controversial casino resort project, showed journalists the park's base on 29 April.
"That park will be river's edge seating, its parklands and you will be able to flow down from William Street and the city and just use this area for enjoyment," Destination Brisbane Consortium project director Simon Crooks told Brisbane Times. "This is a flood zone so we don't want permanent cafes and things here. There will be 'pop-ups' (casual cafes), but nothing permanent."
Designed by Cottee Parker Architects, the lead architect for the entire development, The Landing park is envisioned as a "green wharf" with a series of grassy knolls and terraces linking back to the Queen's Wharf Plaza.
It will feature a "beach" with direct river access and a ramp for kayaks and non-motorized boats, along with a water taxi landing.
Given it is in a flood zone, the park will not include permanent structures, but it will support "pop-up" cafes.
The park will be supported by pilings drilled 26 metres into bedrock, which is intended to survive any collision with a vessel in a flood.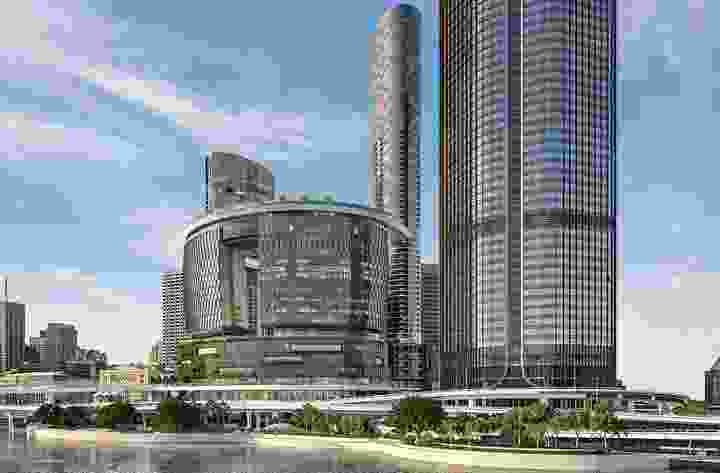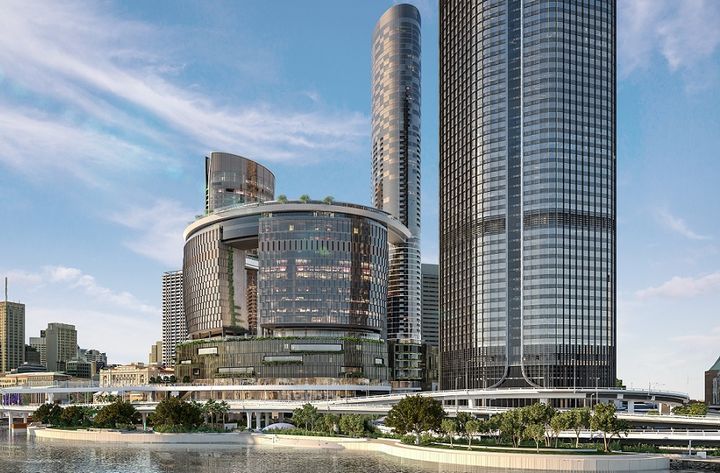 The overall Queen's Wharf development, worth $3.6 billion, will include a casino, five hotels, 50 bars and restaurants, 2,000 apartments, and retail spaces. In total, the development area will cover 27.3 hectares, making it the largest private development in Queensland.
Approved in early 2018, the project has been controversial since it was first proposed. Former Queensland government architect Michael Keniger, for instance, said, "It's unfortunate that such a large scale development driven by the needs of the gaming floor of the casino overrides what was a coherent government precinct and overrides its setting."
And The Australian Institute of Architects, the Australian Institute of Landscape Architects and the Urban Design Alliance have all questioned the appropriateness of the project.
Brisbane councillor Johnathon Sri has also been highly critical of the project, condemning the undemocratic nature of the approval process and calling the design of the "public" spaces an example of hostile architecture.
Amid the coronavirus crisis, the Queensland state government has relaxed heavy vehicle lock out restrictions at the site of the project as a way of helping the project move forward.
"The relaxation of the lock out periods for the Queen's Wharf Brisbane project continues our commitment in driving economic development and support construction activity in a safe and efficient manner," said planning minister Cameron Dick.
Related topics