'Immersive, multi-sensory' grassland to be exhibited in Australia's pavilion at 2018 Venice Biennale
Australia's exhibition at the 2018 Venice Architecture biennale will be an "immersive, multi-sensory" grassland with large-scale architectural projections.
The winning exhibition proposal Repair by Baracco and Wright with artist Linda Tegg was announced by the Australian Institute of Architects at simultaneous events in Melbourne and Sydney on 23 August.
Baracco and Wright and Linda Tegg will be collaborating with architect Paul Memmott, landscape architects Chris Sawyer and Tim O'Loan and curatorial advisor Catherine Murphy.
The exhibition will comprise thousands of temperate grassland species, which will be cultivated and nurtured in the pavilion alongside large-scale architectural projections. The exhibition will create a physical dialogue between architecture and endangered plant communities.
Repair aims to showcase Australian architecture that engages with the rehabilitation of the country's natural environment.
"While ideas of repair are internationally relevant, they are particularly applicable to Australian architects, who work cheek-by-jowl in one of the most diverse and ecologically sensitive landscapes in the world," said Louise Wright, co-director of Baracco and Wright.
"We want to provoke and stimulate this discussion and position Australian architects at the cusp of international architectural consciousness around issues of repair."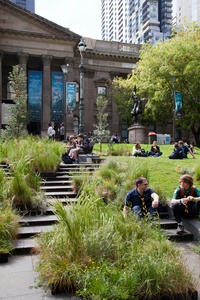 Artist Linda Tegg created a grassland installation on the steps of the State Library of Victoria in 2014. "I wondered what the library had replaced. This question pointed to a blind spot, and prompted me to bring this unique plant community into renewed proximity with our cultural institutions. It's exciting to collaborate with Baracco and Wright to bring a grassland into focus at the Venice Biennale," she said.
The curators of the 2018 Venice Architecture Biennale, Yvonne Farrell and Shelley McNamara of Dublin-based Grafton Architects, themed the international exhibition "Freespace," stating "Freespace encourages reviewing ways of thinking, new ways of seeing the world, of inventing solutions where architecture provides for the well being and dignity of each citizen of this fragile planet."
Repair will explicitly address this theme by framing and revealing an Australian architectural culture that integrates built and natural environments to repair the environment and in doing so repair social, environmental and cultural conditions.
Jill Garner, chair of the Institute's Venice Biennale committee described Baracco and Wright and Linda Tegg's proposal as an "immersive, multi-sensory exhibition that will engage visitors with the concept of repair, an approach to architectural thinking, set to become a critical strategy of architectural culture."
The 2018 Venice Architecture Biennale will be held from 26 May to 28 November.