Historic sewer transformed into community parkland
A portion of a historic sewerage canal in Melbourne's west has been transformed into a park at Williams Landing.
The project is the result of a collaboration between GHD Woodhead and GHD's Water and Structural groups.
The park has been built over a 100-metre section of the heritage-listed Main Outfall Sewer. Constructed in 1892-94, the sewer runs for 27 kilometres between an old pumping station in Spotswood (now part of the Scienceworks Museum) and the Western Treatment Plant in Werribee.
It was decommissioned in 1993 added to the Victorian Heritage Register in 2001. "The Main Outfall Sewer is of scientific (engineering) importance as a major link in the most extensive engineering project undertaken in Victoria to that date," the statement of significance reads. "The concrete and brick open and covered sewer is a fine example of the technology of the period, exhibiting a high level of integrity. The three major red brick aqueducts over Kororoit Creek, Skeleton Creek and the Werribee River are excellent examples of multi-spanned, arched masonry bridges."
In 2005, ownership of the sewer transferred from Melbourne Water to VicRoads and the Federation Bicycle Trail was built along its length.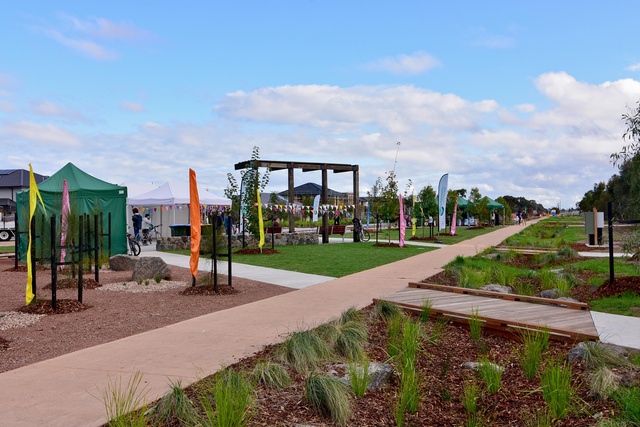 The new park includes garden structures such as cantilevered pergolas, rock-clad structural retaining walls, corten steel balustrades, a rain garden in the centre that filters pollutants and water storage tanks underneath the park.
The project is part of the Greening the Pipeline initiative, which aims to transform the entire length of the 40-metre-wide Main Outfall Sewer reserve into a linear park.
"This parkland has been a fantastic first, exemplar project for Greening the Pipeline to work on," said GHD project manager David Howard. "I look forward to hearing the stories about the connection and improvement the project brings to the previously divided communities. On the opening day, we could already see the community coming together in play."
Funding is being sought for the next stage of the project which consists of a masterplan for a five-kilometre section in Wyndham between Laurie Emmins Reserve and Skeleton Creek.
The first Greening the Pipeline park at Williams Landing was part-funded by the Victorian Government, and led by Melbourne Water with support from Wyndham City Council, City West Water and VicRoads.