Despite market-savvy promotion of the attractions and unique offerings of many open space projects, built outcomes are often an unremarkable, risk-averse response targeted at a generic families-with-kids market. But it looks like a neat trick has been played at Port Adelaide – the landscape by Aspect Studios at the historic Hart's Mill precinct really is an interesting place and it really does attract people as a destination in its own right. If it happens also that – as Adelaide's Lord Mayor Martin Haese puts it – the more time people spend in a place the more money they spend there, well, that will be a bonus for those who need such exchange. It is also encouragement and justification – again, should it be needed – for governments to provide a well-designed and adequately funded public realm.
At a wider scale, waterfronts have long been the seemingly too-easy pickings of developer makeovers – vast spaces of defunct program with rich, too-difficult memorials to local lives and livelihoods. Waterfronts of all sorts in history-saturated, post-industrial urban areas around the world have been part of variously elaborate revitalization schemes for many years. Port Adelaide has seen activity, too, though some of it abortive. In 2012, Premier of South Australia Jay Weatherill conducted a public meeting that led to the formation of the Port Adelaide Renewal Project (PARP), guided by Renewal SA. The renewal project aims to encourage more people to live, work, invest and spend time in Port Adelaide, and to provide greater access and amenity to the waterfront. With overwhelming public support, the public space at Hart's Mill emerged as one of the early activation projects.
And with it, Port Adelaide has a little buttercup-citrine landscape gem.
In the more recent climate of cheap-n-cheerful vibrancy, this project has somewhat miraculously avoided pop-up puffery, landing substance befitting both the weighty significance of a much-loved, heritage-rich port, and its solid materiality.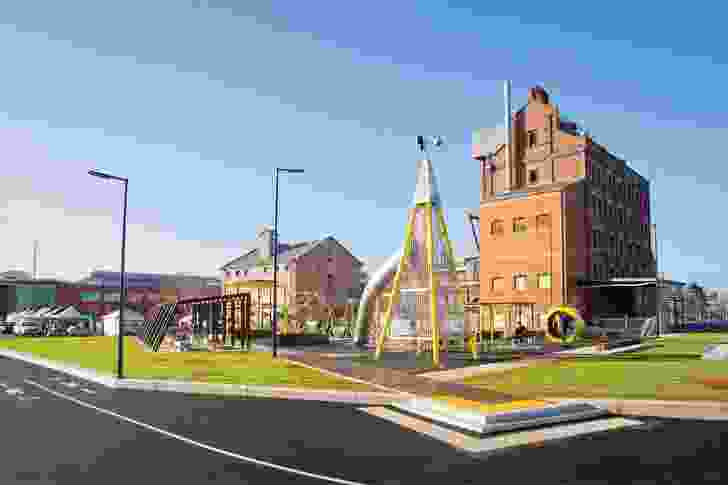 Originally conceived as a much smaller element, the project's centrepiece is a prominent corner playground in the lee of the Hart's Mill precinct, home to one of two historic flour mills that dominate the landscape at the western end of the Port Adelaide inner harbour. The playground is paired with a covered barbecue and seating area. Aspect Studios worked closely with Mulloway Studio, which designed the shelter with reference to the site's heritage. It is flanked on one side by the open space of an asphalt area used as a car park and Sunday marketplace and, on the other, by a promenade of massive raised planters and lawn with regular reclaimed timber-pile seating.
Contaminated soils required raised areas, lending the waterside some of the theatricality of stacking and staging activities while also giving some relief from winds when seated. Lighting makes the playground and wider promenade areas attractive for after-supper play and evening barbies. The project also included enhanced lighting of the heritage buildings, creating a magnificent backdrop for life's simple pleasures.
The playground itself is such a relief from the usual multicoloured fare that it draws adults to share happily and noisily with younger children. Only yellow, the shade of hazard-warning and smiley-face happiness, sets off rubberized black and grey surfacing, blackened timbers, ropes and silver steel, making a sophisticated and bold palette. I fancy this will become a place for wedding photos. A mix of unusual play elements references nautical and industrial themes, including a buoy weathervane tower and a giant nut. Tubular steel spells out climbable words linked to flour milling processes: wheat, flour, blend and (which threw me as the first term I saw) purify.
Port Adelaide awaits further investment and redevelopment. Many buildings sit empty, some barricaded, some ruinous. But as Robert Morris-Nunn recently advised, neglect is the best preserver of heritage. He visited Adelaide and the Port, giving several talks in August 2014 as a guest of Renewal SA and the local (and very active) National Trust group. His open attitude to intelligent appreciation and award-winning adaptive re-use of heritage fabric is clearly something that Port Adelaide appreciates.
One small, belated and unfortunate note has been struck by the erection of a proprietary pool fence around the playground. While fears of toddler dashes to the pier edge demand consideration (although seem overcautious given the obstacles and distance, despite view lines, to the water), it would have been preferable to have incorporated this as part of the original design.
We can all – public, designers, developers – learn the rhetoric of value-for-money revitalization. It is linked to evidence-based benefits of select instrumentalist research that lends "real" purpose to the otherwise merely whimsical desires of local value systems, however deeply felt. The regular necessity of these normative value-translations is the dull part of the job. Behind this, designers such as those at Aspect Studios, in partnership with others including government officers – public officials who also wish to see lasting meaningful change – have busied themselves with very much more fun things and given their ideas and work to a place they want to make special. This relatively small project "happy snap," taken from the bigger portrait of Port Adelaide's messy potential, certainly is.
Source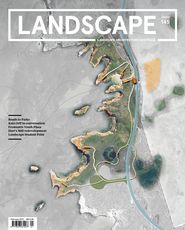 Issue
Landscape Architecture Australia, February 2015
Related topics