Prior to the European settlement of Victoria, expansive native grasslands dominated the mostly flat, volcanic plains to the north and east of Melbourne. Despite their incredible ecological biodiversity, until recently Victoria's native temperate grasslands were not, however, regarded as having any conservation value. As a result, most of these fragile ecosystems have been seriously degraded or destroyed by grazing and development. Alarmingly, only 1 percent of Victoria's largest grassland, the natural temperate grassland of the Victorian Volcanic Plains, remains intact today, much of it lying within Melbourne's urban growth area.
A major factor in the demise of Australia's grassland ecologies is a widely held belief that grassland is unattractive and unremarkable and should be used for "productive" purposes, like farming or housing. This mentality lingers today, despite the hard work of many ecologists who've been pushing against the tide to protect and re-establish pockets of native grassland in Melbourne's west.
The challenge to change minds about the aesthetic value of native grassland was taken on by landscape architect Mark Gillingham of Glas Landscape Architecture in early 2013 when his firm was appointed by Wyndham City Council to design a park at Wootten Road Reserve in Tarneit, a suburb on Melbourne's rapidly expanding western fringe.
Gillingham and his practice took the Wootten Road Reserve brief, which was modest in size, ambition and budget, and coopted it into a provocation about aesthetics, play and conservation. The concept underpinning the project was to establish five intertwining grassland zones at the northern end of the site, and then to cut a path through them that would slice into the ground. This tactic would allow people a more immersive experience of grassland, taking them slightly below ground level to walk within a sea of rustling seed heads in the summer months. It would also force a closer look at the subtleties that define the five grassland ecotypes.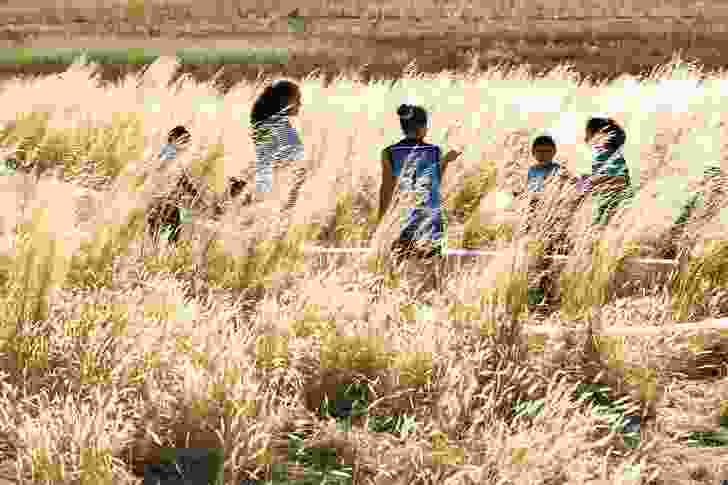 At the time of my visit, July, the grasses were green and a lot smaller without the golden seed heads shown in the photography accompanying this article, and there were quite a few weeds that had recently been sprayed. Gillingham was somewhat reluctant to show me around at this time of year, but given that seasonal change is a critical component of the design, it was interesting to see the very different atmosphere the reserve offers while in its winter "downtime." A mixture of direct seeding and tubestock was used when planting the grasses, and the growth rate of the tubestock species has outpaced the seeded areas significantly.
Usually the best method of re-establishing native temperate grassland is to "scrape and sow," which removes both weed seeds and excess nutrients in the substrate, saving on maintenance in the long run. However, the consulting ecologist, Practical Ecology, decided this method wasn't necessary as the topsoil on the site was heavily compacted.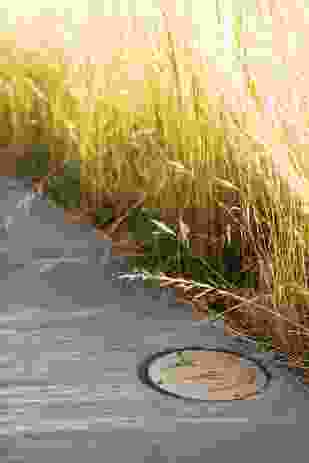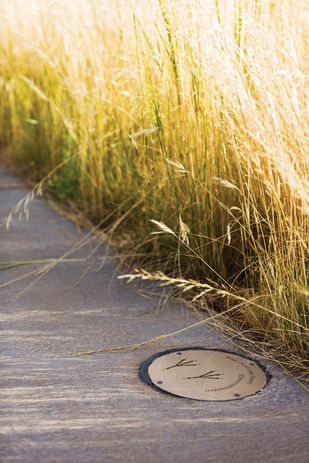 The path network offers both quick routes through the park, connecting to an adjacent sports oval and a newly built high school further north, and narrower meandering routes that cut through the grassland and offer signs with information on the fauna and flora you are seeing, as well as those you would see if in a larger grassland environment, such as emus.
While there is a conventional playground structure at the southern end, Gillingham explains that on a balmy summer evening, the grassland is the more popular playspace for local children, who run around for hours exercising their imaginations in this very different kind of park.
Gillingham is upfront about the project's modest environmental contribution, clarifying that he was motivated primarily to change attitudes and create awareness. "Of course something at this scale [under one hectare] is not going to have any real effect on biodiversity or go any way to replacing what has been lost … It is more about educating people about these fragile and endangered ecologies that were once widespread, and are often overlooked and undervalued," he explains.
While the real delight of this park is the grassland walk at the northern end, there is an altogether different response evident at the southern end, which, until recently, was the site of a nineteenth-century homestead. The design for this end of the reserve responds to colonial history by augmenting the remnant European tree plantings, although with more drought-tolerant species such as Quercus cerris (Turkey oak), and by reinstating historical elements such as a post-and-rail fence along the road boundary. Horticultural consultant Annette Warner assisted with a planting palette, selecting species that would have featured in the original homestead garden – although there seem to be a few exceptions, including the addition of Grevillea and Anigozanthos spp.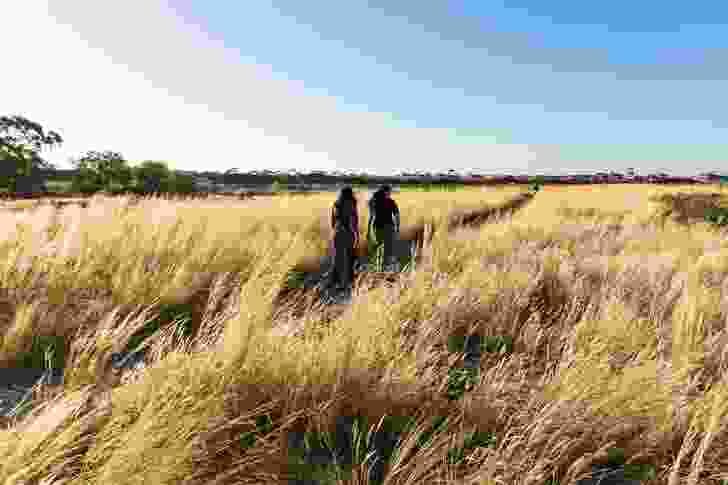 Perhaps it's too early to judge whether this attempt to evoke the colonial history has been successful, but at the time of my visit (admittedly in winter, when the deciduous trees were bare) the southern end felt inauthentic and generally underwhelming.
Gillingham regrets that Adrian Marshall's groundbreaking book Start with the Grasslands came out just after he had finished the project. Since reading it, he says there are things he would have done differently, particularly choosing threshold species that don't invade the grassland.
My feeling of optimism for Victoria's temperate grassland ecologies slightly fades when I leave the reserve and pass through the new suburban developments surrounding the project, where seemingly every front yard and commercial development is freshly planted with a handful of ubiquitous favourites, in stark contrast to the subtle beauty of this once-grassy volcanic plain.
What Wootten Road Reserve does is commendable, but changing attitudes through design is a slow game and the results are near on impossible to quantify. However, early indications are that the reserve is well used and liked by the Tarneit community. Glas Landscape Architecture has delivered an interesting, dynamic space – a "compromised ecology" in the words of Gillingham – that provides a rich connection to nature.
Plant List (grassland only)
Mix 1
Themeda triandra (kangaroo grass)
Rhytidosperma setaceum (bristly wallaby grass)

Mix 2
Austrostipa scabra (rough spear grass)
Austrostipa bigeniculata (tall spear grass)
Poa labillardierei (common tussock grass)

Mix 3
Bothriochloa macra (red-leg grass)
Dicanthium sericeum (silky blue grass)

Mix 4
Ficinia nodosa (knobby club-rush)
Poa labillardierei (common tussock-grass)

Mix 5
Hymenanthera dentata (tree violet)
Ozothamnus ferrugineus (tree everlasting)
Enchylaena tomentosa (ruby saltbush)

Assorted forbs* (included at 10% of seedmix of the main grass areas)
Calocephalus citreus (lemon beauty heads)
Chrysocephalum apiculatum (common everlasting)
Convolvulus angustissimus (blushing bindweed)
Eryngium ovinum (blue devil)
Goodenia pinnatifida (cut-leaf goodenia)
Hypericum gramineum (small St John's wort)
Pelargonium australe (austral storksbill)
Podolepis jaceoides (showy podolepis)
Ptilotus macrocephalus (featherheads)
Stackhousia monogyna (creamy candles)
Velleia paradoxa (spur velleia)
Wahlenbergia communis (tufted bluebells)

*At the time of publishing, forb species have not yet been planted due to lack of availability of seed.
_______
End note:
1. "Victorian Volcanic Plains," Greening Australia website, greeningaustralia.org.au/project/victorian-volcanic-plains (accessed 14 August 2017).
Credits
Design practice

Glas Landscape Architecture

Project Team

Mark Gillingham, Jules Ong
Consultants

Civil engineer Arup
Ecologist Practical Ecology
Horticultural consultant Annette Warner

Site Details

Site type Suburban

Project Details

Status Built
Completion date 2014
Design, documentation 12 months
Construction 4 months
Category Landscape / urban
Type Public / civic

Client

Client Wyndham City
Website Wyndham City

Source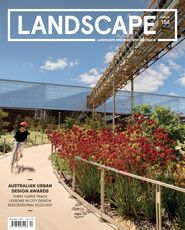 Issue
Landscape Architecture Australia, November 2017
Related topics