Finally, after much cumbersome public debate, dominated by the old right-wing (former leftie) conservatives of the inner Fremantle bourgeois, the Fremantle Esplanade gets its infamous skateboard and scooter facility – sorry, "Youth Plaza." The backstory to the confusion about public support for the plaza featured the voices of the so-called Fremantle Inner City Residents Association (FICRA) and counterattacks from residents of greater Fremantle. Not surprisingly, the parochial and purpose-built FICRA group felt that this area should be "a place of stillness and calm." The debate was extremely protracted and lively, with public quotes accusing FICRA of being, among other things, "a group of antiquated, atavistic thugs – who will stop at nothing to stagnate the growth of Fremantle's cultural development … vilifying Fremantle's youth, labelling them as criminals, as delinquents, as dangerous, as a threat to the community." Don't you love a good public stoush over a great, healthy public landscape project? But this one was different – it was about youth and cultural development and it stirred up many hearts and minds in Freo, as it should.
One year on, I think the improvements to the "Happy Park," as it is known colloquially in Fremantle, have succeeded beyond most expectations. Night and day this landscape pumps, as anyone with half an interest in skateboarding and scootering (or parenting) would appreciate. It's a well-designed and thoughtful place for kids and young adults to strut their public presence and to hone their skate skills under the watchful, fun-loving eyes of their mates, guardians, enemies and peers.
Designer Convic seems to have paid attention to the needs of such a place. It's made of gutsy stuff – concrete, iron and steel, brick and sleeper. And it doesn't compete with the parkland's overriding postwar design quality, noted particularly for its reclaimed, exotic and somewhat sparse open parkland forms. The plaza sits well, high up on the southern grassy knoll, raising its proud brow to the challenges of a skater's commando course. It is a brutal, loving monument, a living memorial to the youthful passion and future of Freo. The adjacent and ominous Norfolk Island pines seem smaller now, as the park's ground plane takes on a stronger endemic presence, an urban dune if you will, close to the shoreline, creating what feels like a more meaningful coastal identity for this conspicuous part of central Freo. I think this place will last. It feels very Freo. I'm rapt to see and hear about all those close-up "nollies, ollies, frontside and backside moves, top guns, kickflips and laser flips, pops" and everything else I don't know about skateboarding.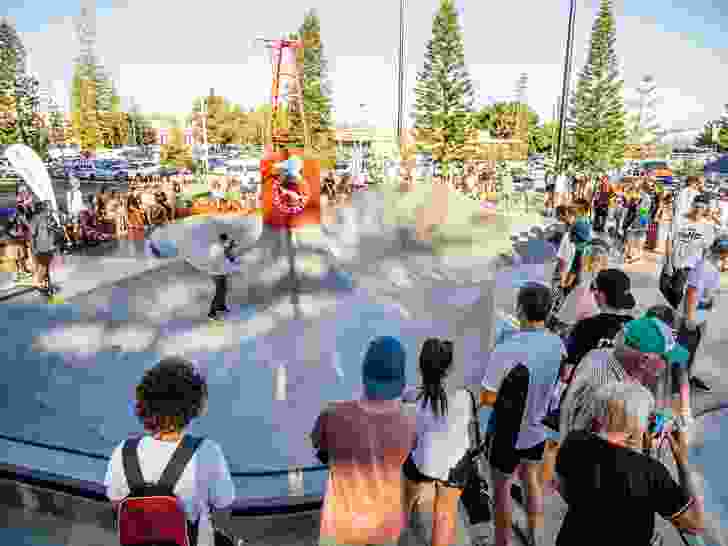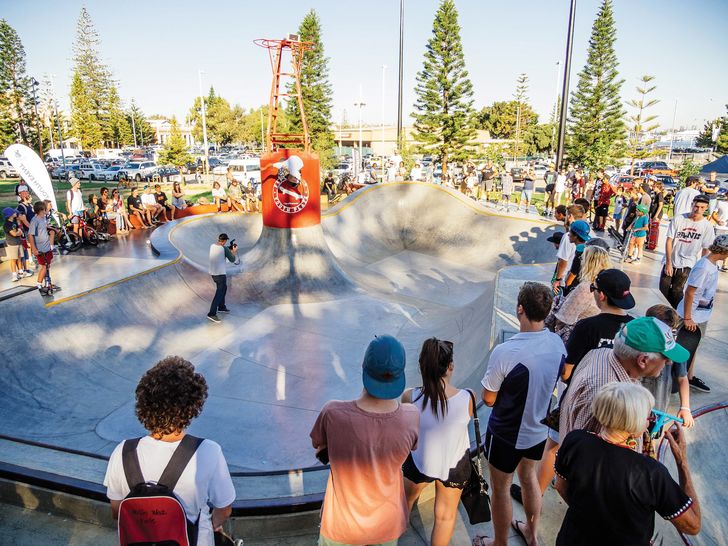 The brochures say that it has attracted the attention of "worldwide landscape architecture," with much praise and acclaim from Skateboarding Australia. Costing a mere $1.6 million dollars, stage one was officially opened in April this year, ranked as the number-one skate landscape in Australia, well before the ribbon was cut. Now that's a claim. The facility includes Western Australia's first outdoor parkour park, a stage for gigs of all sorts, a bicycle workshop, a table tennis area, seating and viewing areas. Stage two is planned to include a basketball quarter court and public barbecues, along with approvals for the much-needed upgrade and expansion of the adjacent historic rail-carriage cafe.
The exhausting public "consultation" phases of the project are worthy of note and consisted of "the establishment of a CEO Working Party, 74 face-to-face surveys, 214 surveys completed online," 168 participants at two pre- and post-design workshops, and numerous and probably too many enquiries at the City's Customer Service Centre display. These were the seemingly obvious tactics to sway the do-gooder conservatives. And they worked convincingly.
On the day I visited, the local concrete punters gave the plaza some credence. "I can't get enough of this place," spits out Tony Cicero, a hyped-up visitor from nearby Hilton. "My mates spend more time here than at home!" "We look after each other and hang with all our buds," quips Frank, Tony's smaller brother. And "I heard you mention design – yes, we do appreciate how our voices were finally heard in the remaking of this joint. It's ours, man. You know what I mean!" bites back Tony.
At closer inspection, I realise that every surface across this whole facility is skate bait. Garden beds are being hammered and the softscape probably won't last the year, other than those dwindling mature trees. Shade is at a premium and I suspect in summer the place will bake under those huge, hot, glary Western Australian skies. The few shade structures don't suffice. It is also very difficult being a bystander or pedestrian here. Maybe the designers didn't quite calculate the overwhelming traffic flow and chaotic user circulation that they have created. It seems like a free-for-all and scary in places as I realize that as a bystander I don't really belong here. I notice other visitors, parents and so on, also getting in the way and retreating to ill-defined spaces that don't quite work either.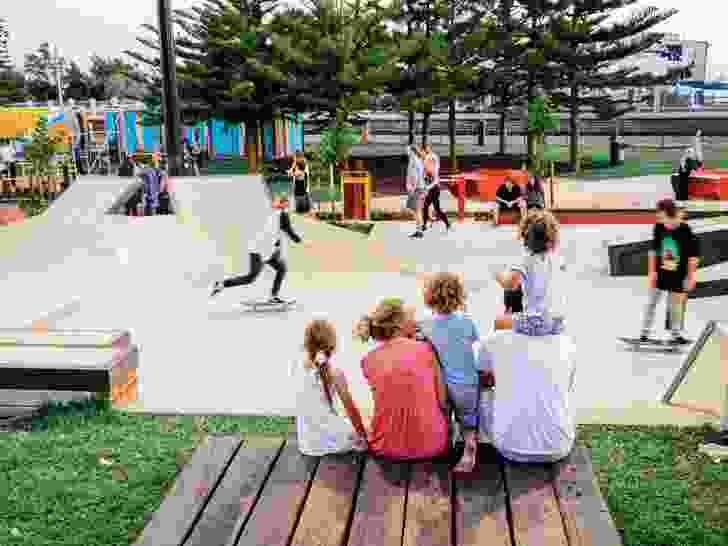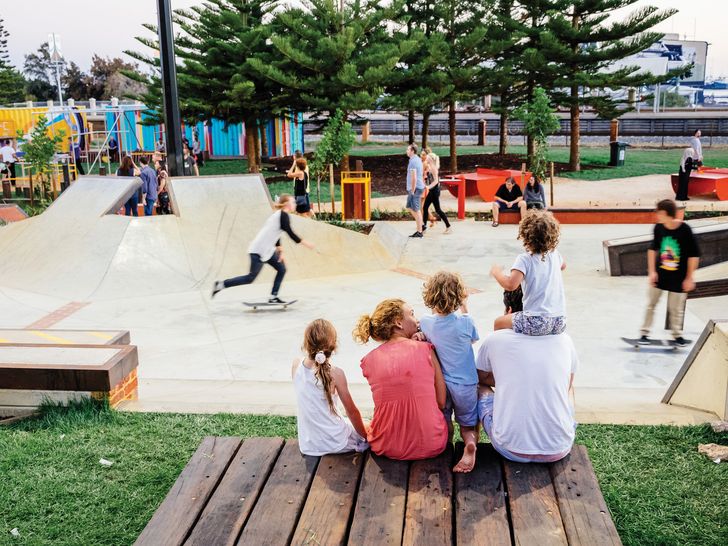 As I move on I want to talk to more skaters, scooterers, BMXers and hangers-on but my camera and the sense of the public theatre of it all take over. I want to pick up the design details that I have been taught to observe, consume and critique, but I'm having too much fun just watching. It's an awful lot to take in, really. Quite magical. The Happy Park seems to have grown up a notch, complementing the worn-out, slippery ping-pong balls, ducks and clowns, hoops, stuffed toys, sleazy smiles and whirligigs that tend to dominate this place on a weekend.
As I exit the plaza, I hover and wonder what this event space might feel like if it was almost empty. What has the City given back to the local environment, not just to the people? Does this place have to be fully occupied to work? Or, on a more simple, pragmatic note, what could it be like if the designers and builders gave as much grading-plan attention and construction finesse to the surrounding grassy slopes as they did to the internal concrete ones? Perhaps it could have been an evocatively designed coastal sculptural park. And from a landscape architectural point of view, the place seems to yearn for more endemic horticultural detail and celebration.
Above all, however, congratulations do need to go to Convic, to the City of Fremantle and to all the punters who made this "Youth Plaza" possible. Well done. Freo loves you.
Credits
Design practice
Project Team

Nick Loschiavo, Alaric Hellawell, Chris Middap, Nathan Pearce, Ivanka Buczma, Ilya Kozlov, Alexis Sartitsis
Consultants

Irrigation LIS
Structural engineering Acor Kersulting

Site Details

Location Fremantle, WA, Australia

Project Details

Status Built
Design, documentation 9 months
Construction 6 months
Category Landscape / urban
Type Playgrounds

Client

Client City of Fremantle
Website fremantle.wa.gov.au

Source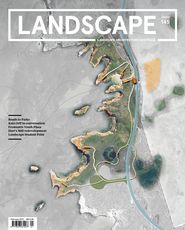 Review
Published online: 3 May 2016
Words: Grant Revell
Images: Luke Thompson, Silvertone Photography
Issue
Landscape Architecture Australia, February 2015
Related topics