The first thing you usually hear about Tonsley is how big it is. Part business park, part higher education campus, at an overall sixty-one hectares it is indeed quite large, but not a particularly extensive example of either of these landscape types nor of post-industrial sites in general. Of course, the retained eight-hectare roof of the Mitsubishi Motors Main Assembly Building (MAB) is an unmissable structure and so architects perhaps feel things are oversized. What is mightily impressive about this project is less its physical footprint than its relatively unusual and ambitious mix of programs and generous development timeframe, as well as a detailed, documented commitment to distinctive design quality throughout.
The masterplan for the twenty-year redevelopment of Tonsley was approved by State Cabinet in 2012. Recent decades of instant mega-project development have centred largely on short-term, retail-focused investment returns (think outer-subur ban shopping malls and depot-style warehouse outlets), or residential subdivision (think, well, suburbia, but also the raft of opportunistic mediu m- and high-density infill pockets). The longer-term vision of a mixed-use precinct committed to the growth of a community working on advanced manufacturing, innovative technologies and collaborative research, education and training is exactly the sort of visionary profiling that large projects once seemed to command, abandoned under the pressures of conservative fiscal risk-aversion.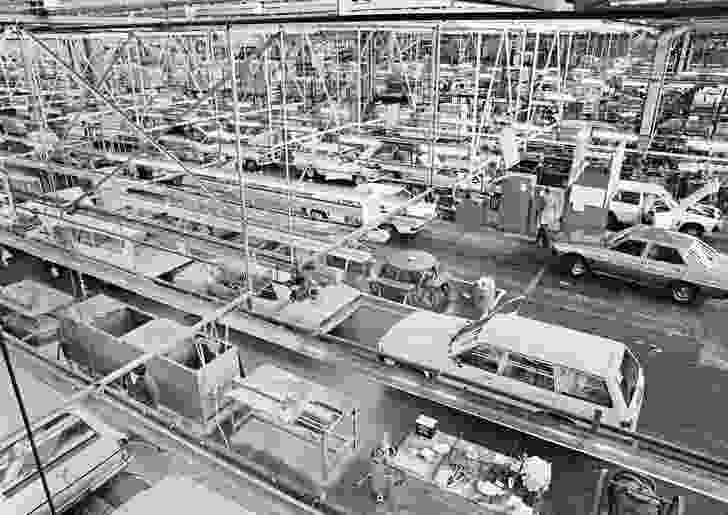 Tonsley is only twelve kilometres from the centre of Adelaide and the airport, proof of the aphorism that everything is only twenty minutes away in Adelaide, in this case whether by car, bus or train. Its own minibus circles the site and connects to transport and facilities beyond. A well-populated website (tonsley.com) is kept current and consistently reports on milestones and achievements. The considerable budget, consisting of both public and private investment, intends to drive sensitive transformation not only of the site but also of South Australia's economic and new technology fortunes.
Not unusually, landscape architects are leading contributors to strategic site organization and the development of documents ensuring that long-term, staggered, stalled or brisk opportunistic growth throughout the entire precinct will be physically and materially coherent and legible. Oxigen i s the primary consultant responsible for the overall masterplan with Woods Bagot, producing the suite of guiding documents. These include the overarching urban design protocol and manuals for the three main domains (the public domain manual, the site-wide public realm development manual and the MAB development manual), as well as strategies for aspects of each of these domains, their distinct materiality and formal gestures. The most influential of the more detailed strategies to date include those for open space, streets and landscape elements. These have already set, and will continue to guide, delivery of the public realm projects.
The suite of documents compiles some fascinating site research and sound urban design precedents, offering a persuasive rationale for formal, material and element choices. However, as well as this thorough, essential guidance, Oxigen has detailed and delivered several built projects – examples of the effectiveness of the strategic work. These elements are striking. The central feature and core achievement of the Tonsley redevelopment has been the maintenance of the south-facing sawtooth frame of the MAB. Under the extraordinary expanse of the MAB roof, a series of initial insertions compel attention, drawing visitors and users into an intimate engagement with quirky bespoke elements and delivering on the promise of placemaking and community interaction.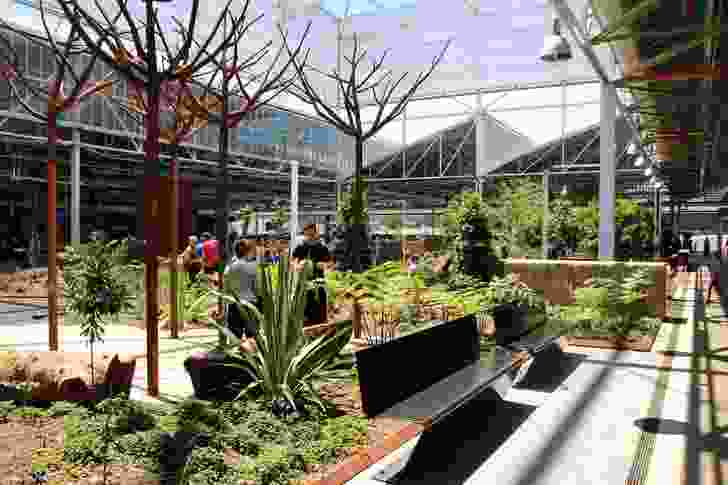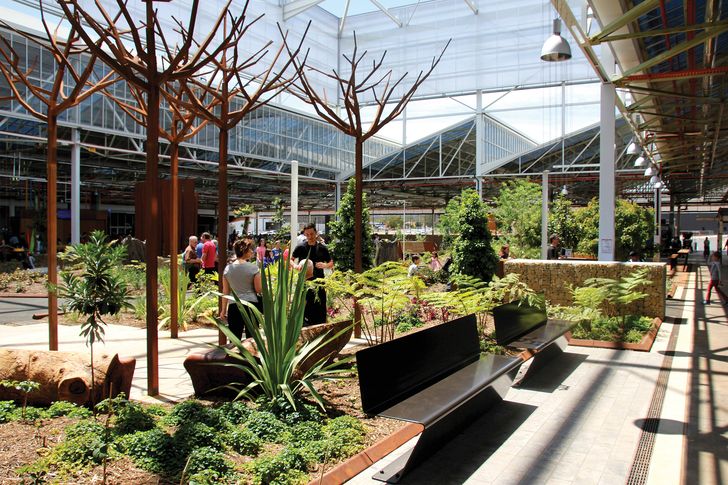 The light-welled urban "forests" in particular are delightful. The central forest is an extravagant complex of raised and retained beds of diverse, rich planting. It also features the immediate impact of Corten steel sculptures, including canopy "trees" and a pillared "arbour" screen. The seating areas incorporate at least ten different seat types, including the sculpted log of a site eucalypt, designed by Gray Hawk. The star attraction is the "misting trunks." Designed by Matt Jonsson in conjunction with Oxigen, the gnarled hollow stumps intermittently exude a fine eruption of cooling mist, intriguingly visible from the far MAB entry points. The nearby leafy shade of the central plaza serves as a meeting and refreshment area adjacent to a cafe, with upstairs seating affording appreciation of the suspended lighting and greenery from above. Two stepped and ramped western entrances with eclectic mature planting are complete, linking to a carpark and Clovelly Park train station. The main eastern entrance is marked by a "town square" comprising mixed seating, a cluster of retail pods and table tennis tables.
The public realm works surrounding and beyond the MAB include tree planting in custom Corten steel pits within varied paving to direct pedestrian flow. A massive retaining wall along the eastern section of the ring-road comprises rock-filled horizontal Corten strips. Clear colour-coded wayfinding is constructed of recycled steel supports. The sophisticated employment of a not-unfamiliar palette of materials well known for use – and re-use – in post-industrial projects includes liberal use of Corten along with other new and recycled metals, concrete with off-form and high-exposed-aggregate finishes and focused use of segmented pavers.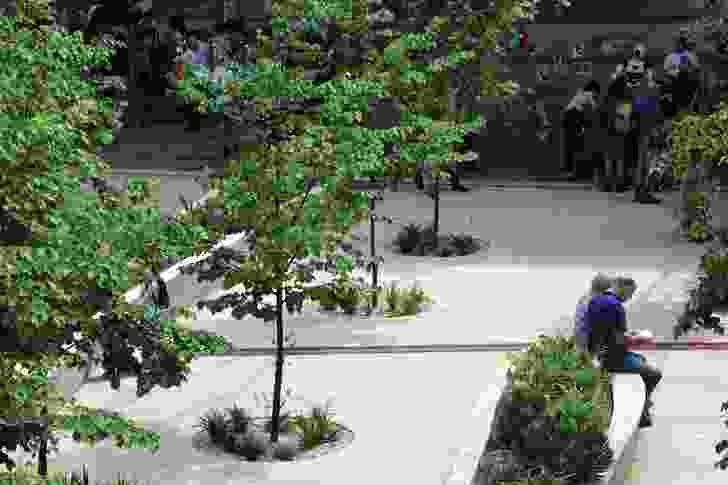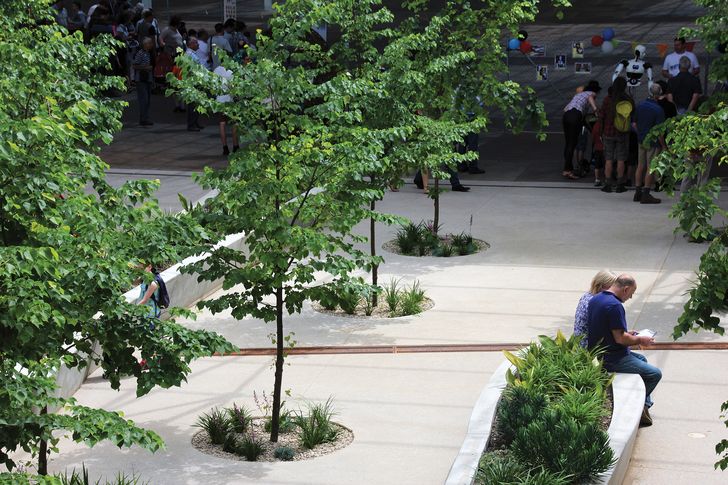 There is clearly more to come. Hoardings at the entrances and throughout spruik a future community and serve to direct pedestrians to key site features, while also partially shielding mysteriously cordoned-off portions of nothing in particular. Yet the project has already been recognized by some important awards: two from AILA for urban design and planning, and, most recently, the 2015 international WAN Award for Adaptive Reuse. Adaptive re-use is of growing interest as project opportunities increasingly present themselves burdened – or indeed blessed – with buildings and other remarkable remnants within sites that global economic priorities and rapid technological change have left bereft of their prior use and glory. Adelaide has been exploring the potential of such dormant places, for example the city-edge Bowden redevelopment. Port Adelaide, too, has struggled with some poorly informed makeovers and is being revisited following dispiriting early developer interventions, with the oversight of a strong local heritage group. These projects are driven by residential outcomes. Tonsley is a more ambitious experiment.
The built reality of Tonsley so far is a very big achievement. Landscape architects have mastered the site breadth and temporal stretch of the long-term project. Oxigen has also delivered detailed custom design of intimate places developed closely with skilled artisan collaborators. Tonsley is now eminently able to be occupied, the visible intelligence of its planning and design set to attract further intelligent tenants. Adelaide and South Australia may well realize that elusive shift – so hard to stage, whether by public or private sectors – of mindset, productivity, investment focus and optimism in local futures of international significance.
Credits
Landscape architect

Oxigen Landscape Architects
Adelaide, SA, Australia
Project Team

James Hayter, Travis Wright, James Pratt, Alex Game, Oli Johnson, Ed Meyers, Hugh Fraser, David Sadler
Consultants

Arboriculture Dean Nicolle
Architecture Woods Bagot, Tridente Architects
Civil and structural engineer Blank Role :: Tonsley
Cost planner Rider Levett Bucknall Adelaide
Electrical and services engineer WSP Parsons Brinkerhoff
Public art consultants Gray Hawk
Specialist fabrication Iguana Creative

Site Details

Location Adelaide, SA, Australia
Site type Urban

Project Details

Status Built
Completion date 2016
Category Landscape / urban
Type Adaptive re-use, Outdoor / gardens, Public / civic

Source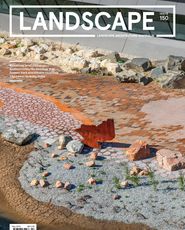 Review
Published online: 10 Oct 2016
Words: Jo Russell-Clarke
Images: Courtesy of Tonsley Park Redevelopment – Cultural History Report, Oxigen
Issue
Landscape Architecture Australia, May 2016
Related topics