Jury comment
Creating a ten-hectare wetland in an urban growth area degraded by agriculture takes vision and quality of execution. Gum Scrub Creek is such a project. Located in Officer, Melbourne, the project has taken five years of planning to deliver and sets a benchmark for quality urban development.
Exploring the project even at a basic level reveals innovation in engineering interventions, including biofiltration systems and habitat ponds. But the results go deeper. The completed project reveals crafted natural patterns, architectural interventions and, most crucially, community pride. Combining natural restoration with creative stormwater management, the project provides a habitat for threatened species and promotes the restoration of diminishing ecosystems.
Once a farmers' drain, Gum Scrub Creek has become a centre for community engagement and a developing natural environment to be cherished by generations to come.
Credits
Landscape architect

Outlines Landscape Architecture
Melbourne, Vic, Australia
Consultants

Consulting engineers Neil Craigie
Ecology consultant Biosis
Engineer Calibre Consulting
Project partner Melbourne Water Department of Environment, Land, Water Planning, Cities as Water Supply Catchments
Supplying nursery Officer Tubes & Blooms, Ecodynamics, Westernport Indigenous Nursery, Green Circle, Outlook Greenery
Vegetation and erosion consultant Australian Ecosystems

Site details

Location Officer, Vic, Australia
Site type Urban
Category Landscape / urban design
Type Conservation

Project Details

Status Built

Source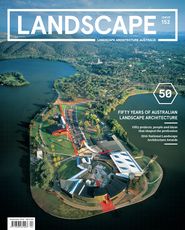 Issue
Landscape Architecture Australia, November 2016
Related topics