Jury comment
Victoria's Desalination Plant is a project of formidable scale. Part water treatment infrastructure, part environmental restoration, it is in many ways a very large piece of worthy and valuable infrastructure.
The ultimate in land shaping, the design reflects the local coastal dune topography as it re-sculpts the landscape to hide the massive desalination plant. The designers have deftly managed to shield and focus views, folding the infrastructure into the landscape and wrapping it in a fresh skin of nature. They exhibit impressive skill in shaping the experience from both land and air.
Within a very large project structure, the landscape architects have created a new standard and proved that effective collaboration, design and execution deliver better environmental outcomes.
Credits
Landscape architect

ASPECT Studios
Australia
Consultants

Architect Peckvonhartel, ARM Architecture Melbourne
Ecology consultant Practical Ecology
Engineering services WSP Parsons Brinkerhoff , Beca
Green roof consultant FytoGreen Australia

Site details

Site type Urban
Category Landscape / urban design

Project Details

Status Built

Source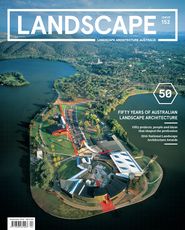 Issue
Landscape Architecture Australia, November 2016
Related topics