Landscape Architecture Australia, August 2018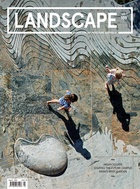 August 2018 (Issue 159)

News | A preview of the August 2018 issue of Landscape Architecture Australia.

Practice | Monash University's manager of Campus Design, Quality and Planning is transforming the physical environment of student life, from the bottom up.

Review | Just south of Colombo, an exquisite garden by Sri Lankan landscape architect Bevis Bawa provides a platform for an evolving design practice.

Review | Louisa King reflects on the 2018 Landscape Australia Conference.