Landscape Architecture Australia, August 2017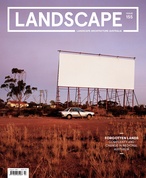 August 2017 (Issue 155)
Archive |

A preview of the August 2017 issue of Landscape Architecture Australia.

Review | Community engagement, Aboriginal artwork, locally sourced timber and a piece of history have been brought together to create this new wharf in northern Victoria.

Review | Anyone who has travelled through regional Australia would understand the importance many towns place on their welcome signs – not just to communicate useful information, but also to establish and project an identity of place.