Landscape Architecture Australia, August 2016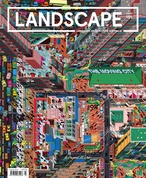 August 2016 (Issue 151)

News | A preview of the August 2016 issue of Landscape Architecture Australia.

Review | Charles Anderson reviews Unspoken Spaces: Studio Olafur Eliasson, a richly illustrated journey through the extraordinary range of works realized by artist Olafur Eliasson and his studio since the late 1990s.

Review | A poetic and dynamic light array provides information about the estuarine health of Hobart's River Derwent by monitoring dissolved oxygen levels below the surface.

Practice | This photographic essay by Rocco Rorandelli of TerraProject Photographers explores Greece's refugee camps, including the people who live there and the possessions they carry with them from their homelands.

Practice | With climate-related disasters predicted to increase over the next century, can landscape architects play a productive role in the delivery of aid to the world's poor and displaced?