World's biggest lithium ion battery to be built in South Australia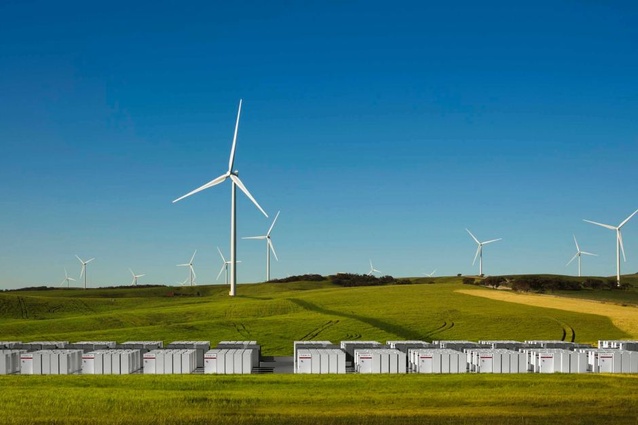 The South Australian government has signed an agreement with pioneering automaker, energy storage company and solar panel manufacturer Tesla to build the world's largest lithium ion battery in South Australia.
The battery, which will capture and store energy from a corresponding wind farm built by electricity utility company Neoen, will be a cornerstone of the state government's $500 million power plan announced last March.
The 100-megawatt (129 megawatt hour) battery will ensure the state's renewable energy supply remains stable, and can provide back-up power in case of a shortfall or emergency. It also places South Australia at the forefront of global energy storage technology.
Speaking at a press conference, Tesla founder Elon Musk said that the battery is going to be the largest battery installation in the world by a significant margin.
Musk first became involved in the Australian domestic energy debate last year when Australian tech billionaire Mike Cannon-Brookes tweeted that he could provide the funding to fix South Australia's energy problem if Musk could supply the means. Musk responded with an offer to install a battery system in 100 days or it's free.
"We actually insisted in writing, in doing the contract, that we be held to the 100 days or it's free. That's what we said publicly, that's what we are going to do," said Musk.
"The most salient point here is that this system will be three times more powerful than any system on Earth."
The Planning Institute of Australia (PIA) has issued a public congratulations to the South Australian government on the agreement.
"The PIA strongly supports using renewable energy technology to meet Australia's energy needs. As the sunniest continent in the world with vast amounts of open, flat space, we are in an enviable position for harnessing wind and solar power through farms," said PIA CEO David Williams in a statement.
Williams believes Telsa's battery is exactly the sort of thing governments around Australia should be working on or at least considering.
"We need to start thinking about and addressing Australia's future energy needs today," said Williams.
"I think Premier Weatherill's announcement today is fantastic. In terms of both economic productivity and environmental sustainability it's a very positive development for his state.
"It might have been off the cuff but Elon Musk made a timely proposal on very attractive terms, and it's a credit to the South Australians that they took him up on it. Now they've not only safeguarded themselves against a repeat of last year's blackouts – which come at a huge cost productivity-wise and pose all sorts of serious, even potentially lethal risks – but they've suddenly put themselves at the leading edge of clean energy technology."
This agreement comes one month after energy retailer AGL announced plans to build a 210- megawatt gas-fired power station at Torrens Island.
According to Elon Musk, the new energy storage system will be installed by the coming summer.