Winners announced: 2017 New South Wales Landscape Architecture Awards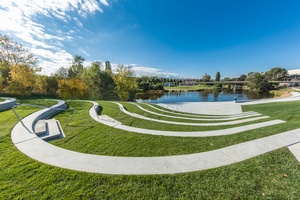 A neighbourhood climate resilience pilot project, a playground immersed within native vegetation in Parramatta Park and an ambitious Blue Mountains walking trail were among nineteen winners at the Australian Institute of Landscape Architects' (AILA) 2017 New South Wales Landscape Architecture Awards, announced at the IVY Ballroom in Sydney on Thursday 27 July.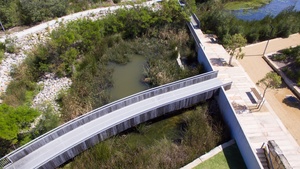 More than seventy projects were entered in the NSW awards, with winners crowned across categories including civic landscape, community contribution, cultural heritage, gardens, parks and open spaces as well as urban design and infrastructure.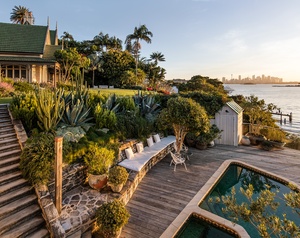 Jury chair Mark Tyrrell said the awards were granted to projects promoting transformational design and green infrastructure excellence in a time of widespread urban restructuring.
"Despite, or perhaps because of, the volume of concrete being poured in NSW in recent years, this year's award highlights were all about the power of plants," he said.
"The pressures of urban living and population expansion is highlighting the dire need for trees in the urban and suburban environments, requiring deep engagement with communities to establish a stronger demand side for green infrastructure generally".
Among the nineteen winners, McGregor Coxall took home three awards, including an Award of Excellence in Land Management for Little Bay Cove and Landscape Architecture Awards in Civic Landscape (Maitland Levee) and Play Spaces (The Paddocks Precinct Domain Creek Playground).
Hassel was recognized with an Award of Excellence for the Pacific Highway Upgrade (Woolgoola to Ballina) and a Landscape Architecture Award for the North West Rail link master plan and urban design.
The winners of Awards of Excellence or Landscape Architecture Awards will be considered for AILA national landscape architecture awards, to be announced in Sydney in October.
Civic Landscape
Landscape Architecture Award
Maitland Levee – McGregor Coxall
Parks and Open Space
Landscape Architecture Award
Queanbeyan CBD – Queen Elizabeth II Park and Collett Street upgrade – Clouston Associates
Play Spaces
Landscape Architecture Award
The Paddocks Precinct Domain Creek Playground – McGregor Coxall
Infrastructure
Award of Excellence
Project Pacific Highway Upgrade – Woolgoolga to Ballina (Portion C) – Hassell
Landscape Architecture Award
Northern Beaches Hospital Connectivity and Network Enhancement Project – AECOM Australia
Land Management
Award of Excellence
Little Bay Cove – McGregor Coxall 
Urban Design
Landscape Architecture Awards
K2K Urban Design – JMDdesign + Hill Thalis Architecture and Urban Projects + Bennett & Trimble Architects
North West Rail Link: Master Plan & Urban Design – Hassell
Landscape Planning
Award of Excellence
Quality of Landscape Study for Green Square – Gallagher Studio
Research, Policy and Communication
Landscape Architecture Awards
Sydney Landscape Code – Oculus
Liveable Sydney – Tract Consultants
Community Contribution
Award of Excellence
Cool Streets Pilot Project – Gallagher Studio and Cred Consulting
Cultural Heritage
Landscape Architecture Award
Hyde Park Pool of Reflection upgrade – Turf Design Studio and Environmental Partnership collaboration (TDEP)
Tourism
Landscape Architecture Award
Three Sisters Track, Blue Mountains National Park – Blue Mountains Walking Track Project NPWS
Small Projects
Award of Excellence
Cleveland & Co – Black Beetle

Gardens
Landscape Architecture Award
The Hermitage – 360 Degrees Landscape Architects
IALD Lighting Landscape Award
Macquarie Street Mall Revitalisation – Urbis