Jury citation:
Main Street Barcaldine demonstrates significant regional investment in high-quality urban design that responds sensitively to the local context. It exhibits excellence in a broad range of criteria associated with this award, including successful activation of public space, sustainable urban governance, increased connectivity and cultural expression. At its heart is the historically and politically significant "Tree of Knowledge." The spatial experience pays homage to the canopy that once surrounded the tree and provides a new place for the community to come together and connect.
The project displays courage in using urban design as a catalyst for economic revitalization, seen through increased visitation and pedestrian activity. The use of retail theory is a clear exemplar of economic innovation. The project is further strengthened through the application of meaningful community engagement and the use of integrated decision-making. The result is a beautifully executed main street that the community can treasure now and in the future.
Location: Barcaldine (QLD)
For more coverage of the project, see here.
Credits
Architect and collaborating urban design partner

Brian Hooper Architect
Yeppoon, Qld, Australia
Architect and collaborating urban design partner

m3architecture
Qld, Australia
Consultants

Photography Jon Linkins

Site Details
Project Details

Status Built
Category Landscape / urban, Public / commercial
Type Community, Public / civic

Client

Client name Barcaldine Regional Council
Website Barcaldine Regional Council

Source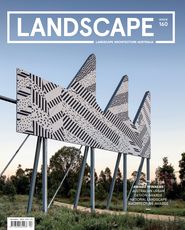 Issue
Landscape Architecture Australia, November 2018