Endorsing density and crying crocodile tears over sprawl is routine in Australian planning. Infrastructure Australia's (IA) recent white paper Future Cities: Planning for Growing Population (February 2018) isn't too different. It models the impact of an additional 2.4 million people in Sydney and an additional 2.7 million in Melbourne by 2046 across three scenarios: 1) expanded low density, 2) centralized high density and 3) rebalanced mid density. To put these scenarios into the vernacular, you could call them the Nimby, the Yuppie and the TOD (transit-oriented development).
Taken as a whole, the policy settings for Australian cities average out to around 60 percent infill and 40 percent greenfield. But when you run the population numbers through these infill targets and focus on the designated TODs for each Australian city, you quickly see that the amount of development required to absorb the incoming population is truly extreme and highly unlikely over the longer term. Unless I'm misreading it, IA is really just saying that a lot of TOD and some Yuppie would be best.
What differentiates the IA report is the small print. Its authors don't gild the lily. They try to tell us that in reality the future will be pretty much a rustier and more congested version of the present. If "The Future," urbanism's favourite place, has lost its allure, then, like Rem Koolhaas in his 1994 essay, we need to ask, "What ever happened to urbanism?"1
The first answer is, of course, the bastard twins of Jane Jacobs: gentrification and nimbyism. The second is a lack of money. Both of which translate into political diffidence. In addition to those problems, the implied question of whatever happened to planning and design's capacity to imagine compelling alternative futures remains.
While utopian thinking has led to some disasters, most city planning in Australia is merely about avoiding a dystopia. Moreover, population growth and rapid urbanization is not so much a creative opportunity as a problem to be solved. The IA report tells us that Australian cities are at a breaking point. They have already sprawled too far and density, while good for baristas, is not so good for overloaded infrastructure. Out of this crisis should emerge new ideas. Yet at the moment, the only visions are suburbia to the horizon or a small apartment near a train station, with suburbs disembowelled by backyard infill in between.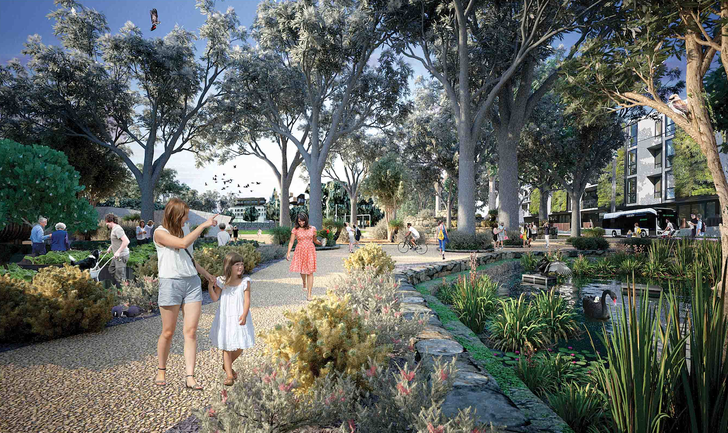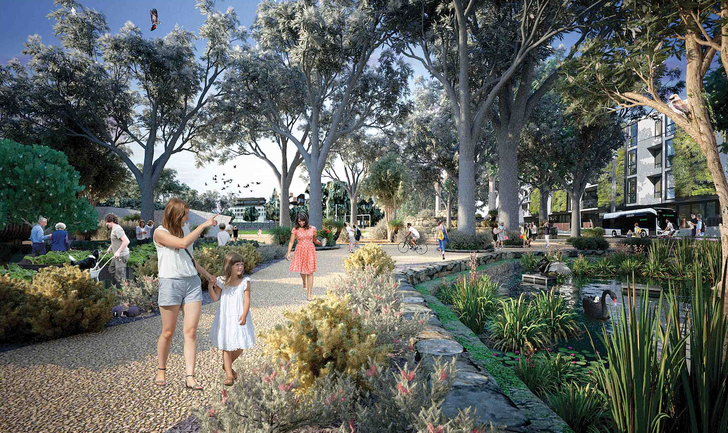 Banal as they are, these three scenarios are not without hope. Australian architects and landscape architects have shown how to make TOD living desirable. Offering an apartment with a tricked-up, eco-friendly public space is cool – at least until the average 2.3 people per apartment upon which TODs are calculated decide to have children. Just 4.8 percent of Australian families with children live in a flat, unit or apartment (2011).2 Nonetheless, there should and will be much more of this form of high-density urbanity and shared space in the inner rings.
Apart from some conceptual work done by architects like Shane Murray (Monash University) and Anthony Duckworth-Smith (University of Western Australia), the middle-ring suburbs are more of a design-intelligence desert. The challenge in these zones is to increase density along transit corridors in a way that is humane, and then to increase density throughout existing suburban fabric without forsaking the permeability of the ground and with it the potential of maintaining and enhancing the urban forest. Here, in addition to TODs, the idea of GOD (greenspace-oriented development) is refreshing. Julian Bolleter of the Australian Urban Design Research Centre argues that government should buy out and rebuild at higher density the suburban flanks of public parks that are within a five-minute cycle or a fifteen- minute walk of train stations. As a principle, this approach can be ramped up to a maxim – high-density living should be within walking distance of landscape amenity, wherever it be in Australian cities. In this way, GOD seeks to hybridize the leafy green amenity of the suburbs with the benefits of comparatively dense urban living.
Lambasting urban sprawl in the outer rings is useless. Architects and landscape architects need to rediscover suburbia not just aesthetically (as the late Peter Corrigan and others have done) but also structurally. Designers can help invent and envision what might be meant by high-performance socio-ecological suburbia of the twenty- first century. While developers have bastardized it, the masterplan for the semi-rural suburb of Wungong (thirty-two kilometres south-east of Perth's CBD) is one example; the project resulted from a client provocation to design a suburb "as if the landscape really mattered." In addition, the peri-urban landscapes of our cities have long been overlooked as a nondescript liminal zone between those quaint old categories "city" and "country." In fact, the peri-urban landscape is rich with potential for lifestyles and urban forms based around long-distance automated vehicle commuting, telecommuting or relocated industries if carefully tuned to the ecosystem services that such a landscape provides.
If our cities are at breaking point, why are we limiting the script to adding more people to existing centres? Why not instead a concerted effort to make an eighth great Australian city? Why not max out Canberra, or seriously begin to catalyse a string of regional cities along high-speed rail to form a south-east megaregion anchored by Sydney at one end and Melbourne at the other? Would this not take the pressure off our existing cities and maintain their prized livability rankings?
In Australia, decentralization has a chequered history at best. But if it avoids nimbyism, lowers housing prices and spreads out into a capacious variety of forms with decentralized food, energy and water systems, then surely it has a lot to recommend it. Taking this further, can we not as a nation do what the United States once did and articulate a bold global vision of taking in millions of refugees over the course of the twenty-first century to populate south-eastern and south-western megaregions that make us proud? And can this not now be done without causing environmental devastation?
Despite their problems, Australian cities remain very high in global livability rankings. These rankings are certainly not the whole story and urban morphology is only one factor among many that make up the scores. But it is noteworthy that, generally speaking, cities with smaller populations tend to rank more highly. Yes, the ascendance of Osaka and Tokyo to the top ten in 2018 contradicts this, but the degree to which Japanese cities hold lessons for ours is moot. The rankings infer that as Australian cities approach megacity status – by definition, cities of ten million or more – it is likely their rankings will drop. And maybe that's okay. Maybe our cities need a bit more low-scoring chaos! New York City, arguably the most stimulating city on earth, is ranked fifty-seventh while Adelaide is tenth.
If you're thinking "give me New York any day," be careful what you wish for. Megacities are good to visit but they grind the bulk of their population down. What beckons for Australia as the population reaches just over forty-nine million by 2066 and seventy million by 2100, according to Australian Bureau of Statistics projections, is the possibility of relatively equitable, well-serviced and exciting large cities. These cities will be networked through productive megaregions of smaller cities offering a range of housing options for the full lifecycle of its citizens. But for this possibility to be realized, we need design, not just planning.
— Richard Weller is Meyerson Chair of Urbanism, professor and chair of landscape architecture at the University of Pennsylvania.
Footnotes
1. Rem Koolhaas, "What Ever Happened to Urbanism?" in Rem Koolhaas and Bruce Mau, S,M,L,XL (New York: The Monicelli Press, 1995), 959–971.
2. R. Elliot, "Australia's Misplaced War on the Australian Dream" in Alan Berger and Joel Kotkin (eds), Infinite Suburbia (Hudson: Princeton Architectural Press, 2017), 104–113. See also Richard Weller and Julian Bolleter, Made in Australia: The Future of Australian Cities (Perth: UWA Publishing, 2013).
Source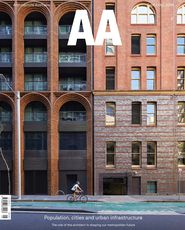 Practice
Published online: 25 Nov 2019
Words: Richard Weller
Images: courtesy Robert Cameron, Cristina E. Ramalho and Julian Bolleter
Issue
Architecture Australia, September 2019
Related topics