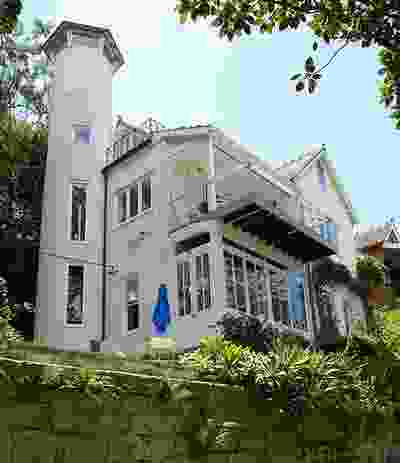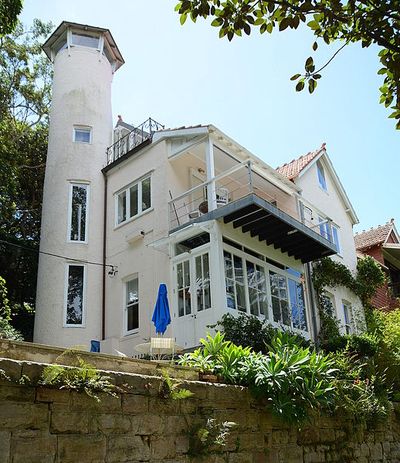 Sited on disused railway land on a steep slope in Sydney's Lavender Bay, the garden sits in front of the house that Wendy shared with her former husband, painter Brett Whiteley, until they separated in 1988, four years before his death.
Before Wendy's intervention began in the weeks following her husband's death, the NSW State Railways-owned land was overgrown with weeds and filled with rubbish. She began "creating a garden like a painting" driven by "aesthetics, colour, form and beauty," according to Wendy's Secret Garden website. It is now a lush sanctuary, much-loved in Lavender Bay and open to the public at all times.
Along with the garden, the Whiteleys' house and its setting have been added to the NSW heritage register, due to their association with Brett, a prolific avant-garde and expressionist artist who was a multiple winner of the Archibald, Wynne and Sulman prizes.
The view from the house, across the garden to the Sydney Harbour – a view that was the inspiration for so many of Brett's paintings – is also included in the listing.
Heritage minister Gabrielle Upton said the heritage listing recognized the significance of the site to the history of Australian art.
"As well as being his family home and studio, the view from his former home provided Brett Whiteley with the inspiration for much of his substantial body of award-winning and influential artworks," she said.
"This place is an important part of our state and nation's artistic and cultural history and it has now been officially recognised and protected."
Adjacent parklands, a section of the Lavender Bay foreshore, the Lavender Bay Jetty and the waters of Lavender Bay are also included in the listing.
When Wendy began creating her secret garden in what was effectively an unofficial dump, she kept it secret from the authorities and for many years it was vulnerable to being bulldozed and sold for redevelopment.
A book about the garden by Janet Hawley published in 2015, along with the ABC's Australian Story episode "Wendy's Way," garnered increased publicity for the garden and in October 2015, NSW premier Mike Baird granted a 30-year lease to North Sydney Council, which had long wanted to operate the garden as a permanent park.
Today the garden is maintained by Wendy, two long-term gardeners –Corrado Camuglia and Ruben Gardiol – as well as volunteer gardeners coordinated by Lavender Bay Precinct.