Few manage to push participatory design projects past a utopian vision of free-range, user-led decision-making and tokenistic modes of inclusive consultation. Collaborative design efforts often require an element of letting go and being open to the potential capsizing of an idea from the side wash of needless complexity or non-uniform vision. Navigating these waters isn't always easy, but according to Phin Murphy, a director and co-founder of Sinatra Murphy, part of the answer lies in something seemingly simple, yet infinitely complex: listening to people.
The art of participatory process can be a capricious beast and being faithful to the voracious, often fluid desires of a community can be difficult. For a project so emotionally and historically charged, the artful construction of a process that strengthens the capacity to listen is the true design achievement.
With a long history in remote indigenous projects and participatory practice, Sinatra Murphy was able to approach the delicate design process of the Vietnam Veterans Commemorative Wall in Seymour, Victoria, with a level of wisdom and control. This process, Murphy reminds us, remains relatively unchanged from the indigenous communities of remote Australia to the Afghani communities of Dandenong. Despite this well-established mechanism for socio-culturally and ecologically sustainable built projects, there remains an irrevocable element of uniqueness to each endeavour.
In this variable design landscape, the anchoring element becomes the cohesive team capable of going "beyond its normal scope of work" and evolving with the emotions, thoughts and considerations of the people to whom the project belongs. Sinatra Murphy and AQL Landscape Design, alongside the Commemorative Wall Committee, Andrew Hogg Design, Digiglass Australasia and Skyview Design and Build seem to have quietly disproven the aphorism that a camel is a horse designed by a committee.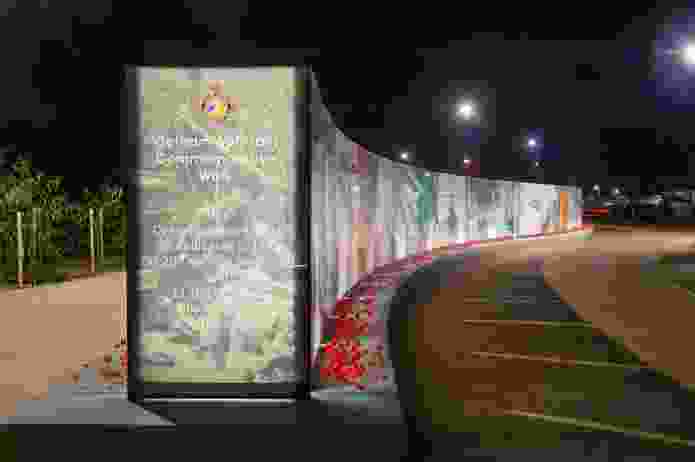 The skill then, is developing adaptive practice as best practice without tripping down the slippery shale of design democracy onto the back of a camel. The practitioner takes on a new role here, one of both teacher and student. Learning during the process is where the difference lies.
As Murphy puts its quite simply: "You may get to a stage with your own conceptual thinking about the project where you know the direction that is meaningful from a design perspective, but there may be something that comes in off left field through a discussion that makes you have to put that aside and do something you normally wouldn't do from a design aspect. But as long as you stay true and just go with that, you know the outcome is always something you could never achieve as a designer without that process happening."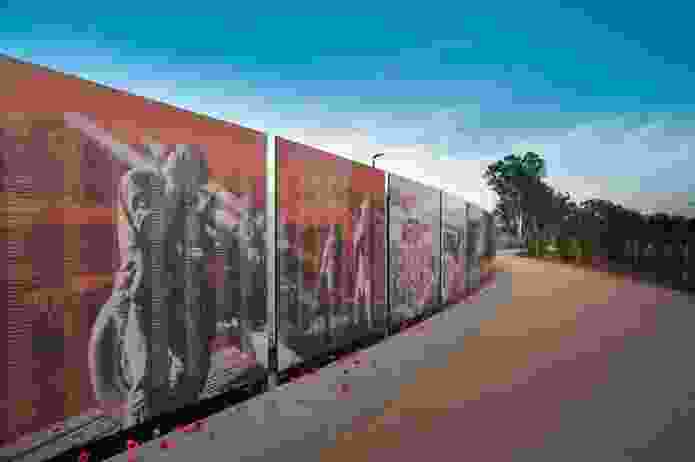 In this case the open platform for this level of collaboration was a series of three workshops between Sinatra Murphy, AQL and the committee. Building on the initial overall landscape design by Tract, the design collaborative set out to, as Murphy says, "create the canvas first." Essentially this open platform of discussion began by focusing on what the wall had to be – from the quantitative parameters of physical size to the qualitative responsibilities as an emotional recording device.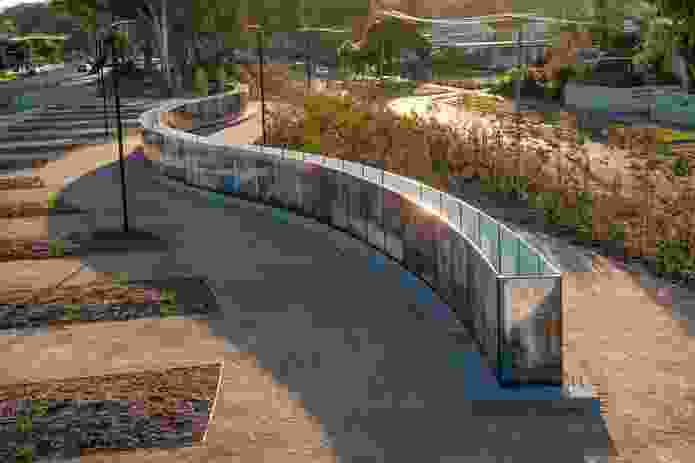 Conceived at first as a series of large black granite walls, on which sixty-thousand-odd names would be printed in gold, the final design, it seems, is far removed from the original intention. The interesting point here isn't the technical resolution of the brief, but the forces of process that gently carved the final product. An important lesson is noted in the delicate dance between expert and client. The visual, storytelling acrobatics of Digiglass came as a recommendation in the very first meeting between Sinatra Murphy, AQL and the committee – a suggestion that would have otherwise lay dormant in the graveyard of ideas, buried by those in fear of suppressing the majority's creative direction. The expert has a responsibility here: to offer an opinion and a design path, perhaps more akin to the one already established.
Fortuitously, the committee had been working with a local graphic designer for a number of years collecting photos that New Zealand and Australian soldiers had taken. The suggestion of glass as both a construction material and medium for story gave the committee an opportunity to do something with the photos. Essentially the committee was given a tool with which to build the design from the inside out – a moment in the process that would have its difficulties but which would ultimately ensure the level of ownership and historical accuracy of the wall that is needed for the site to exist, not only as a beautiful addition to the township's landscape, but a powerfully timeless carrier of meaning.
If meaning and ownership are the overarching destinations then it's clear the participatory process was the vehicle that drove it there. Not only does the approach allow a community like Seymour to build creative capacity and strengthen its cultural legacy but it facilitates a level of design endurance, flexibility and foresight in professional practices such as Sinatra Murphy: a rare chance for personal and professional growth.
Such qualities are fundamental in a project required to embrace its malleable scope and responsibilities of continuous education. Take, for example, the clever numbering of Digiglass panels that may, in the future, as Murphy suggests, allow visitors to delve deeper in the story by accessing the intricacies of these war stories via an interactive platform or QR code.
To craft an instrument capable of being un-designed is a humbling shift away from the designer-dictator paradigm. It is a process in which we are forced to take off our design identity to a degree, but like Murphy says, "that's not to say that any particular way is better." In the case of the Vietnam Veterans Commemorative Wall, the inclusive process did ensure the site is a powerful facilitator of historical acupuncture, sidestepping potential bias against those with no direct connection to the war and modifying the dynamic of all who come to visit.
As a powerful medium for people to share their stories, the wall extends far beyond its original brief. With two panels left to complete, Phin Murphy reflects on a pivotal moment: "Ross started walking along the wall and I took a couple of steps back and just listened to Ross tell the story of the wall to this other vet. That was the moment for me, [when] I knew we'd done the right thing because he was telling the story."
Credits
Design practice

Sinatra Murphy
Melbourne, Vic, Australia
Design practice

Australian Quality Landscaping (AQL)
Seville, Vic, Australia
Consultants

Co-managaement of design Phin Murphy (Sintra Murphy), Wayne Deklijn (AQL)
Construction Australian Quality Landscaping (AQL)
Design Phin Murphy (Sintra Murphy)
Electrical PC&R Electrical
Electrical engineer Waterman AHW Consulting Engineers (Vic)
Glass art panel fabrication Digiglass Australasia
Graphic design Andrew Hogg Design
Lighting Gardens at Night
Precast concrete plinths SCV Concrete Products
Project management Hulston Thomas Project Services
Project management of art scope Phin Murphy (Sintra Murphy)
Project management of construction scope Wayne Deklijn (AQL)
Structural engineering Facade Engineering
Supply & install glass art panels Skyview Design & Build
Workshop participants Members of the Vietnam Veterans Commemorative Walk Committee: Ross Stewart, John Phoenix, Ross Gregson, Denise Gregson, Ron Holden, Harry Souter, Bruce Tarran and Ian Warren; Mayor Bill Melbourne and Carolynne Burgess, Burgess Signs.

Site details

Location Seymour, Vic, Australia
Category Landscape / urban design
Type Culture / arts, Installations, Parks, Public / civic, Small projects

Project Details

Status Built
Design, documentation 5 months
Construction 5 months

Source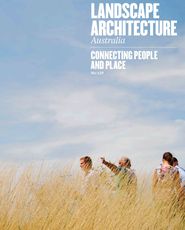 Review
Published online: 3 May 2016
Words: Tom Gray
Images: Courtney Horwood, Mark Wilson
Issue
Landscape Architecture Australia, August 2013
Related topics