The local council's staff appeared regularly to mow the grass and dust opposite my house. Thinking that an open and cooperative approach would harness the resources I lacked, I wrote a formal letter outlining my intentions to revegetate a section of the land, even giving typical plant types. Initially the returning correspondence claimed that the railway operator in fact held responsibility for the subject land, but this was found to be a furphy. The second round from council cited legal reasons (liability for injury due to falling over plants!). The commitment to unofficial gardening on a grander scale was set.
Precedents for planting out nature strips are commonplace enough, and generally not resisted by local governments, but the borders required a tactical approach before I could move ahead. I placed a two-brick high curving fence over which the council ride-on mower would not be inclined to run, taking care to not present it as a barrier as such but merely a side-effect of the layout. This enclosed about ten metres of the strip, and I was able to add new soil and plant it while the ride-on kept its distance.
Over a period of four years this tactic of subtle, incremental exclusion of the machine worked well enough to extend the borders for about 50 metres in both directions. The game the mower man and I played was amusing at times, and even satisfying, when he dismounted to manually trim remnant kikuyu that lay within the design. The man on the ground came to accept and nurture what he found by small steps, that coincidentally reduced his overall effort in the process.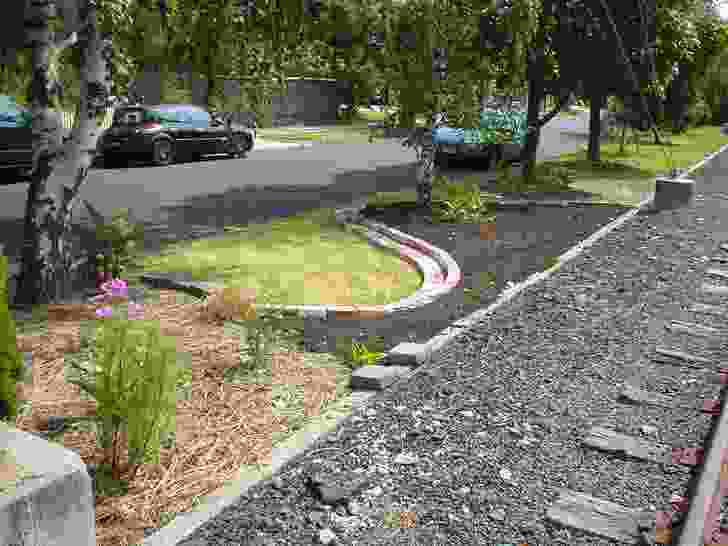 Eventually the whole of the borders was kikuyu-free, and then something startling happened. The very resources from council I had imagined could be brought to bear arrived, book-ending my development with new plantings and doing some infilling in places. The whole of the borders was properly mulched for the first time. The development was effectively sanctioned at that point, though only by action, not decree.
Aside from the council interactions, there have been several other groups to deal with. The railway operator exercised his rights to poison whatever hung over his ballast, and, more, significantly, undertook a severe cut back of legacy trees under which some of the borders plantings were set. I negotiated with council to have the two most affected trees removed, so bad was the work of the arborists. Botanical vandals and thieves have been destructive in other ways, but this has subsided over the last few years, as the planting has changed less, and I have stopped planting the more desirable items there (liliums seem to be targeted in Melbourne). Some old but usable seats and benches have been installed, but later stolen; the current bench is concreted in position.
In the early establishment years I received little support from the locals. One neighbour lent me a copy of the book The man who planted trees, a tale by Jean Giono first published in 1953. This I took as a broad recognition of what was happening, and while I needed no spurring on, this gesture stays with me as a very positive statement and accurate capture of my drive.
Once the borders were more advanced and easier to make out, I held several conversations with kindred spirits from across the railway line who could see the potential that lay before them too. Small-scale gardens have arisen accordingly on that side. Several mentioned they had used the seating I had put in, to take in the garden.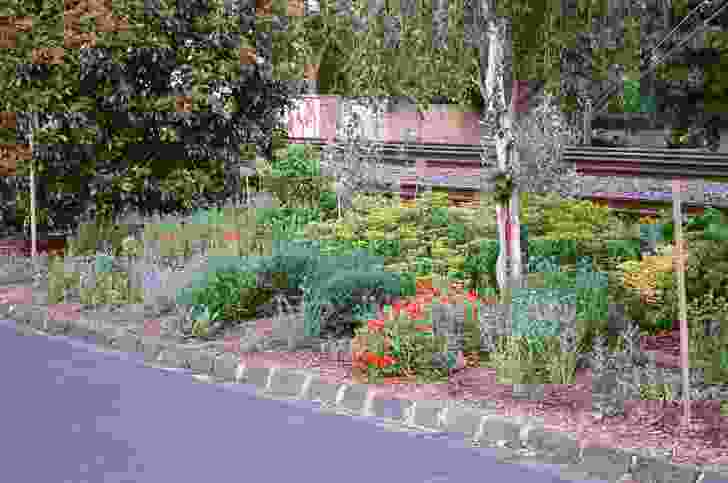 I am a highly visible figure both to the locals on walks and to the passengers on the trains that passed by a few metres away from the planting edge. Somehow a few years ago Melbourne's newspaper The Age became aware of activities and noted that someone in Caulfield was gardening along the railway verge, as part of a piece on community gardens.
Face-to-face chats about the front garden, outer garden and borders are always enjoyable and show the engagement with the local environment, but there arrived one day a hand written note in my letterbox that still lives on the fridge door:
'Hi! I just wanted to say how much I love your garden/front nature strip. It's a breath of fresh air every time I walk past. So thanks!'
Unsolicited, unattributed, and priceless.
My story is by no means the only one of this type. It has made me reflect on the contrast between the formal recognition received (in this journal, for example) by gardens of the state, the wealthy and famous and/or their designers, and the anonymity of those who tread the same path as me. This is really an argument about what is worthy of consideration as historic, perhaps as much in the cultural sense as the purely horticultural. Certainly I make no claims as a landscape or garden designer, but I do claim to have made a positive impact on the local character of the area, and the associated engagement of local people with the gardens.
I am acutely aware that simply telling this story will of itself change nothing for my unofficial garden or anyone else's. If I cease to tend the garden then it will either wither away or eventually be removed or 'simplified' by the council. While there are those around me who would provide some support in my absence, this is not an organised or coherent plan.
Hence I believe the fundamental step is to find a way to positively engage the enduring custodians of the land in question. The current model held by councils generally is that anything 'odd' is bad or legally challenging, and things that are uniform or standard are good and maintainable. There is little evidence of an ability to accommodate and support the unusual. This is a question of policy as much as process development, and neither is a small task.
It is clearly difficult for others to maintain or manage something which only one person, the originator, can understand. So a basic responsibility of the proponent would be to describe what it is that (educated) third parties need to know to keep the garden thriving. While I do not have this in place for my garden, I can see how it could readily be prepared for an engaged council. Custodians would need to adjust their perspectives and be open to non-standard proposals, and enthusiasts would need to provide some basic descriptive information of their proposal, for the team to have a chance of success.
Finally, I believe there is a place for giving unofficial gardens that arise from the efforts of residents a name, and I do not necessarily mean the name of the resident(s). My sense is that being able to refer to a garden by name is a positive for all concerned, and, over time, will become part of making history in that place.
This article was originally published in Australian Garden History, volume 28 no 1, July 2016.
Related topics