From the designers: The vertical garden at 117 Turner Street wraps a three-storey dual occupancy terrace house. The design was achieved using plants selected for longevity, visual interest, diversity and sun screening, that also require minimal ongoing maintenance.
Garden areas are shrinking as development pressures in urban areas result in buildings that occupy almost the entirety of sites. Designers are now often faced with little or no growing space on the ground. This can lead to hard landscapes, with no vegetation or green facades, that are expensive to build and expensive to maintain. Often a "tried and true" plant selection is employed, which can lead to monotonous and uniform results.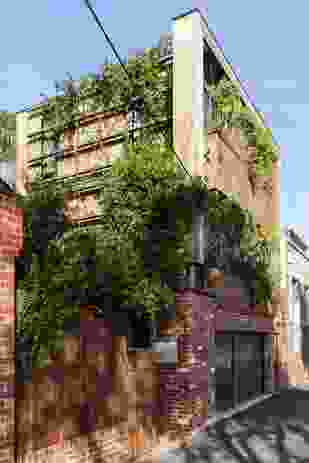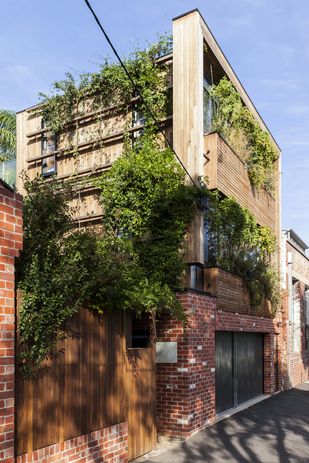 The design for a vertical garden in planters suspended from the building's façade evolved from the developer's desire to ensure a "lush" overflowing garden was a major feature of the project, despite there being little natural ground to plant in to.
Working in collaboration with the architects, The Rexroth Mannasmann Collective, the façade of the building was designed as a lightweight timber cladding that conceals low-cost plastic moulded tubs. These tubs were filled and plumbed using the best drainage systems and soil mixes developed for roof gardens, and include a standard drip-line irrigation system. Insulation foam panels sandwiched between foil are used to protect the tubs from heat radiating through the facade structure.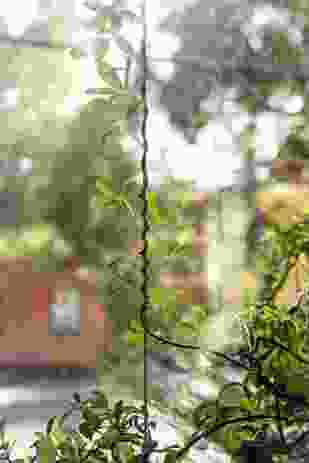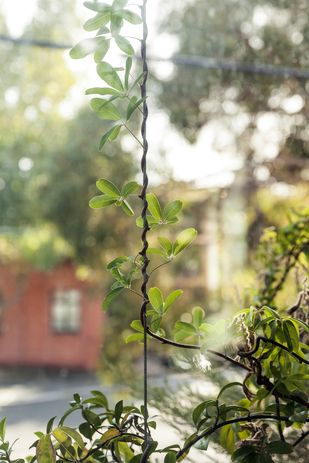 The developer gave the landscape architect free reign and this has yielded a unique planting design with a difference. Low hardy native shrubs (Eremophila gilesii (desert fuschia) and Grevillea lanigera 'Mt Tamboritha' with Chrysocephalum apiculatum (yellow buttons) and Hardenbergia 'Mini Ha Ha' (native sarsaparilla) interspersed with kangaroo paws have been planted in an irregular pattern, evoking the effect of a "wild" garden.
Vines were selected in response to aspect. In front of north-facing windows, the exotic semi-evergreen chocolate vine (Akebia quinata – normally associated with warmer climates) creates a lacy top-heavy growth over the windows. Many vines are top heavy, but here because of the planter level shrubs it feels right, creating a curtain effect to shield the north-facing windows from high summer sun.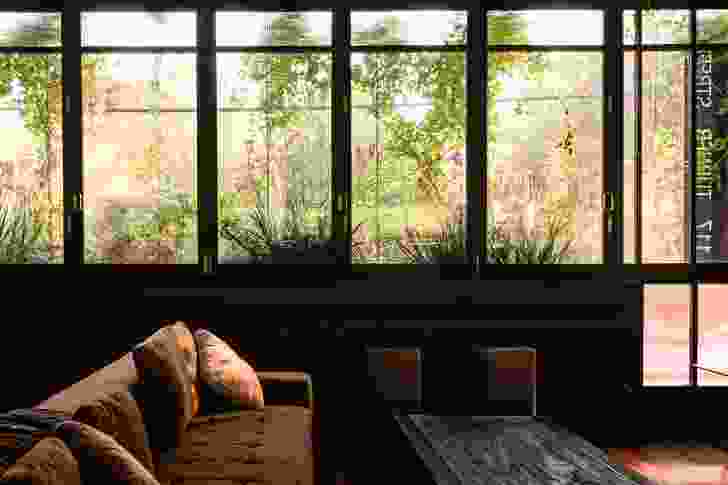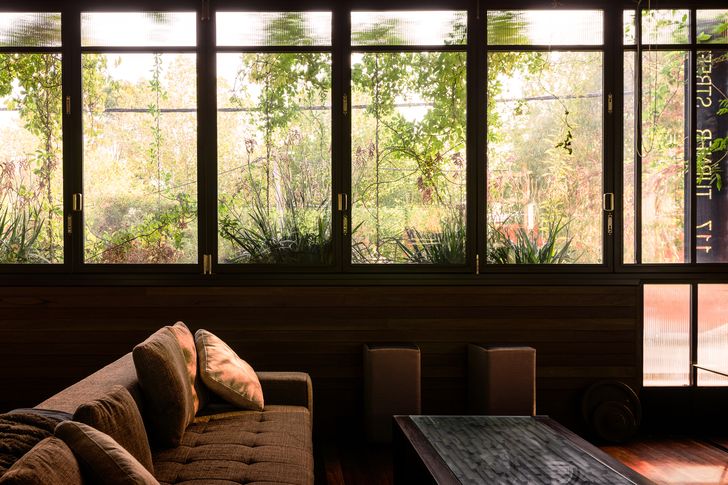 On eastern facades, vines were required to grow further from planters, only from the first level. Pandorea jasminoides 'Lady Di' (bower vine) was chosen for its ability to climb the heights of the three storey building and because it was the client's favourite.
The Turner Street Vertical Garden sets an example for small projects on a low budget. It offers an improbably vibrant garden outlook from inside the upper levels of the new building, as well as a vibrant green wall for the community.
Turner Street Vertical Garden is built on the land of the Wurundjeri people.
The Turner Street Vertical Garden received a Landscape Architecture Award in the Small Projects category of the 2019 AILA VIC Landscape Architecture Awards.
Credits
Design practice

Simon Ellis Landscape Architects
Melbourne, Vic, Australia
Project Team

Simon Ellis, The Rexrothmannasman Collective Architects
Consultants

Landscape contractor Green Bush Landscapes

Site Details

Location Melbourne, Vic, Australia
Site type Suburban

Project Details

Status Built
Design, documentation 12 months
Construction 12 months
Category Landscape / urban, Residential
Type Outdoor / gardens