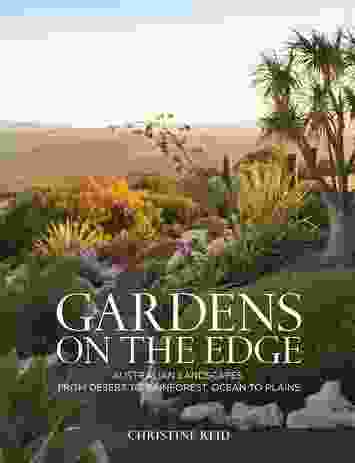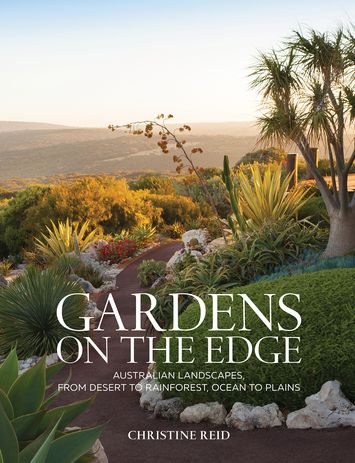 Why is it that so many new garden owners in Australia still feel obliged to emulate landscapes they have seen in the United Kingdom or France? Such creations may work in Tasmania, but elsewhere they require irrigation and toxic sprays to keep up appearances. Truly, is this an enduring expression of Antipodean inadequacy, conveyed through ongoing facsimiles of European traditions?
Thoughtful Australian farmers, such as Charlie Massy, have been drawing our attention for some time to an acceptance of drought and irregular seasons, and the application of correspondingly appropriate agricultural practices. Within the landscape sphere ideas and ideals have been gradually evolving, as evidenced by Jenna Reed Burns's pioneering Australian Gardens for a Changing Climate (2008), and Herd & Ivankovic-Waters's Native: Art and Design with Australian Plants (2017). Landscape architects and designers such as TCL and Fiona Brockhoff have played their part in transforming our understanding of what an Australian garden can be.
Christine Reid's new book is largely about established hardy gardens in demanding landscapes. The settled appearance of many of these gardens belies their very struggle to exist. The plants in place are the stayers, tried and true, well accustomed to their circumstances. Challenging environmental conditions are present in so much of Australia, yet many garden-makers are in denial, perhaps cajoled by the lush displays found in standard plant nurseries, and the futile yet seductive hope of a limitless water supply.
The first garden revealed is that at Gnotuk, which overlooks a crater lake in Victoria's Western District. Its early plantings reflect the input of botanical worthies Daniel Bunce and William Guilfoyle: tough, magnificent specimen trees, including Norfolk Island and Cook pines, a New Zealand kauri, an Illawarra flame tree and Moreton Bay figs. Clumps of mature palms provide a more Edwardian accent. Robust succulents, cacti and ground covers provide an important understory: aloes, agaves, echiums, and aeoniums among them. The early shipping routes to Australia called in at the Canary Islands and the Cape of Good Hope; Gnotuk's owners note that almost anything with the derivative label "canariensis" or "capensis" does well here. Lake Gnotuk is extremely salty, and plants accustomed to a coastal environment – such as holm oak and New Zealand karaka – do well along its margins.
One of the oldest surviving colonial gardens is that of Cox's Cottage, at Mulgoa, west of Sydney, at the foothills of the Blue Mountains. White cedar trees, a bunya and a hoop pine, and a Chinese elm all allude to popular nineteenth century choices, as do hedges of African olives, and clumps of South African bulbs: watsonias, tulbaghias and freesias. Old roses climb along the veranda or clamber up hardwood frames. The essence of such gardens was established around 200 years ago, using hardy plants which could survive with limited hand watering. These gardens typically appear serene and mellow, their long-term survival demonstrating the importance of well-considered planting choices.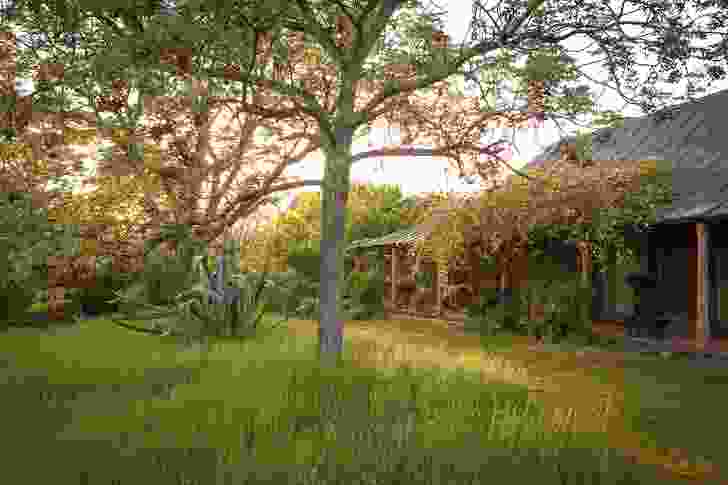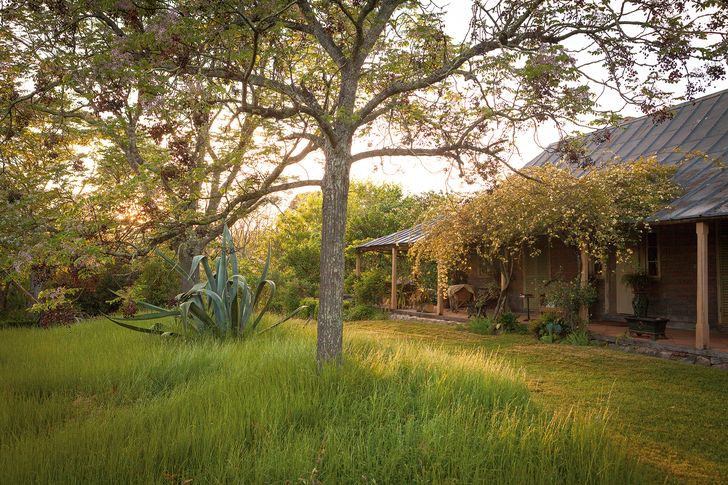 Several other gardens in the book are inspiring.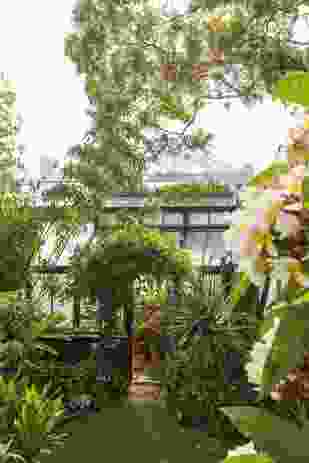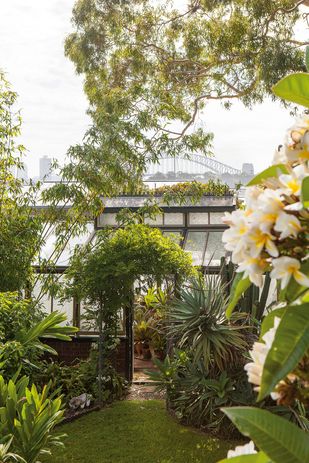 The extensive waterfront garden at Wyoming on Sydney Harbour has a late Victorian framework of sandstone walls, a glazed conservatory, wirework archways and balustraded steps leading to an ornamental pond. Yet the planting reflects the lush, sub-tropical possibilities of gardening in Sydney: of massed frangipani, hibiscus, oleander, brugmansia, bougainvillea, clumped bamboo, ginger, strelitzias.
Like Wyoming, Anlaby Station in South Australia demonstrates how an historic property with an extensive garden can inspire new owners to breathe fresh life and purpose into a faded national treasure.
One can reflect on how faraway Mount Murchison, on the edge of the Darling River, has influenced artist Ian Marr's inspired landscapes and carvings. The surreal nature of this remote inland place, with ancient river red gums framing a usually languid waterway, is complemented by a garden created by Ian's parents. Cacti and agave occur in large clumps, along with red-flowering geraniums, all requiring little or no watering. White cedar and jacaranda trees provide spring colour, along with bright pink bougainvillea which clambers up into the trees.
The most striking of the gardens is Down South, facing the Indian Ocean near Yallingup in Western Australia. While there are wooded areas along the entry drive, the slope between the house and the ocean is like a rocky scree, punctuated with aloes, agave, yuccas, euphorbia, and barrel cacti. Much of the garden has been designed to keep the house safe from extreme bushfire danger. This garden provides the alluring front cover of the book, with the folded landscapes of the Leeuwin-Naturaliste National Park in the distance. For me, it has faint echoes of Derek Jarman's famous garden at Dungeness – a thing of beauty and intrigue – created along a shingled beach on a barren stretch of English coastline.
The book's photography is by Simon Griffiths, whose discerning eye has given this volume its splendid, visually-rewarding quality, and I commend Christine Reid for exploring and explaining some truly interesting and relevant Australian gardens.
In her introduction she explains:
"I have been constantly surprised and excited by the imagination of [Australian] garden owners …The gardens featured in this book might be geographically on the edge, but Australian gardens and their owners are always 'on the edge' in dealing with the endless vagaries of nature – from drought to dust, fire to flood – in Australia's unforgiving environment."
Gardens on the Edge: Australian Landscapes, From Desert to Rainforest, Ocean to Plains. Christine Reid, Murdoch Books, 2018, RRP AUD $59.99.