If you are into landscape design and construction in the Sydney region, it'd be pretty likely that Michael Bates will be known to you. "Batesy" is a compact, smartly-clad figure, topped off by a neat felt fedora. A somewhat larger than life character, he is typically found arranging for earth and plants to be heaved around, all to great effect.
He's a warm and friendly soul, with a nice turn of phrase:
"I've been fortunate to grow up with an industry that went from shorts to long trousers, and took me along for the ride," he writes, noting that professional gardening is: "A life-long study of connecting plant to soil, house to garden, people to nature."
Michael Bates' new book, The New Australian Garden: Landscapes for living, conveys to a broader audience his passionate involvement in quality gardening and explores his interest in landscape design. He mentions, in passing, his involvement in the creation of more than a thousand gardens, and then selects eighteen gardens (or occasionally broad-acre landscapes) which are special to him. In two instances, the gardens are his own; and in three other cases, they are gardens that he has designed. In every example, the designer is given a voice: some words of their own to explain what they set out to achieve. This provides the book with a more generous dimension, as it thus includes and conveys the work and interests of the leading landscape professionals (and also some architects) working out of Sydney.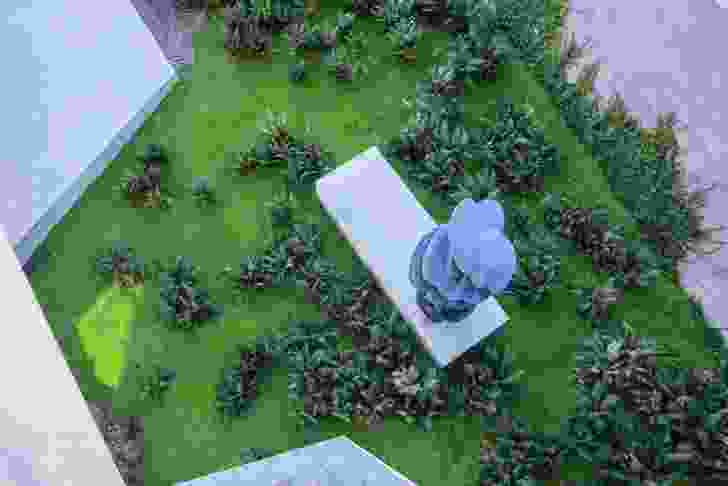 In the introduction Batesy alludes to an inauspicious youth with little connection to the world of sophisticated landscape design, but his nuggetty and determined character has taken him far. On leaving school, he was employed by a leading plant nursery and studied horticulture. Looking for something different, he sought out and worked for Japanese landscape designer Masayoshi Uchiyama, and later visited Japan to immerse himself in a unique gardening tradition. These experiences introduced him to new ways of seeing; in particular, he absorbed the Japanese pursuit of working with irregularities towards Zen-like perfection. Coming, by chance, upon Craig Burton's lectures at the University of New South Wales – which explained how landscapes evolved over time – he gained new-found inspiration. He befriended Craig and worked closely with him, providing the "grunt" that has realized many of Craig's landscapes. On one occasion Craig sent him east of Scone in the Hunter Valley to recontour a valley and to plant thousands of trees. The realization of what could be achieved working with big machines on a huge scale enlarged Michael's horizons and aspirations.
He established his own landscape contracting business in 1992, and it has since grown and evolved during a period of substantial prosperity and design opportunity.
Every year Michael travels out and about in the world of landscape design to explore creative endeavours, past and present. Thus, he is well acquainted with Californian-based landscapers Andrea Cochran and Bernard Trainor and their work, and has visited the intriguing Bawa gardens, known as Brief and Lunuganga, in Sri Lanka. With the help of a number of head gardeners in England and Scotland, he has often slipped through the garden gate to quietly marvel at Piet Oudolf's perennial meadow and massed grasses at Scampston Hall and Charles Jencks' free-form lakes and embankments at Portrack. Jencks' quirky individual approach to land-forming, along with sculptor Andy Goldsworthy's command of curving stone walls can be found in several of Michael's projects.
While the book largely celebrates gardens designed by well-known landscape professionals in New South Wales and beautifully realized by the Bates Landscape team, it also provides insights into the man himself, partly through the text, but more specifically through the gardens he has designed for himself and for others.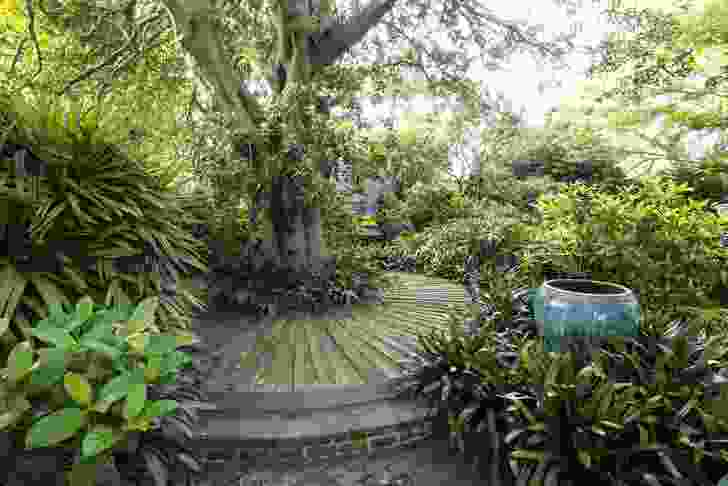 His own home, cleft into a hillside in North Sydney, is of sandstone, like the site itself. Its lush garden surround is small and intimate, with beautiful sub-tropical foliage contrasts; an adjoining public pathway enables a "borrowed landscape" dominated by the pendulous apricot flowers of a mature Brugmansia. Secluded sitting and dining areas, a fountain and a fire pit provide interludes as one perambulates around the garden.
Westwards, at Mount Irvine in the Blue Mountains, Michael has a country retreat. Here he has formed sweeping grassy embankments leading the eye to an oval lake and a hexagonal summer house, providing a clear connection with Charles Jencks' ideals. Elsewhere it remains a familiar mountain garden, with mature forest trees, the occasional large Japanese maple, and densely planted borders edged with fieldstone walls.
The gardens he has designed for others – in Bellevue Hill, on the South Coast and in the Snowy Mountains – reveal a thoughtful, understated approach to landscape design, typically enhancing the existing circumstance.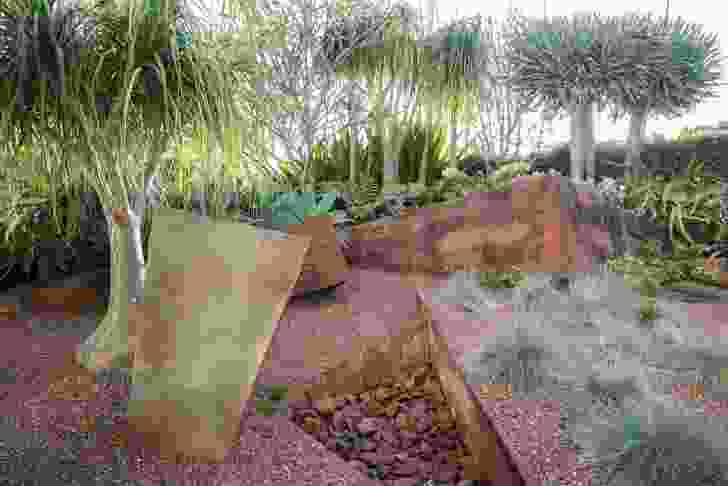 I buy such books to discover intriguing gardens which are essentially new to me. Two such, which I knew of slightly, proved truly worthy of closer acquaintance. A compact Mosman garden by Vladimir (Tom) Sitta heaves powerful red central Australian blocks of stone into a gravel terrace punctuated by dragon blood trees (Dracaena draco), Pandanus and ponytail palms (Beaucarnea recurvate). At Ballast Point, a garden I had previously only spied over the street wall reveals serious talent in the work of architect Simon Vaughan and landscape architect Phil Ayling. Their work merges the old and the new in a cleverly articulated site. A mature lemon-scented gum (Corymbia citriodora) and a Port Jackson fig (Ficus rubiginosa) anchor the immediate landscape, which extends seamlessly into a forest of eucalypts and banksia in adjoining parklands.
A couple of the architectural projects are of the brutalist hard-edged variety, the kind that publicly declare "don't mess with me." In one case Batesy has punctuated the outlook with sinuous stone walls, and has delicately folded the expansive grassy landscape into gentle slopes and swells as it reaches the fortress-like dwelling. In another, Daniel Baffsky has selected an intense tapestry of ground covers – including prickly rasp fern (Doodia aspera) and baby's tears (Soleirolia soleirolii) – to provide a lush and sensuous contrast to the hard-edged off-form concrete of the residence. In both cases, the landscaping ensures a more comfortable transition to the wider world.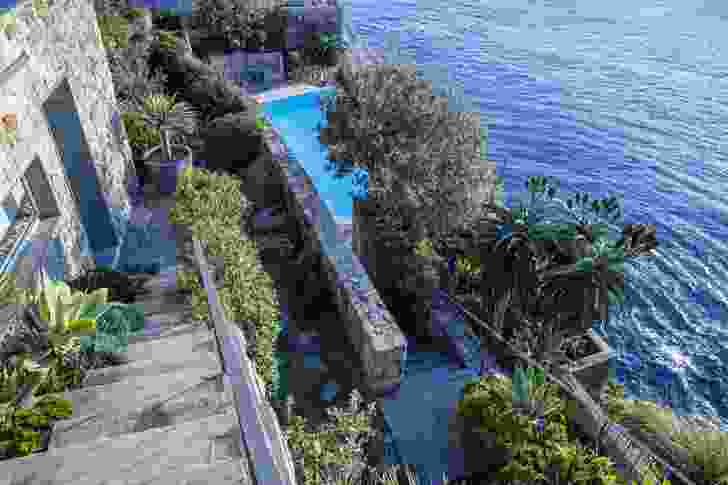 The book is well designed, and given glorious visual interest by Jason Busch's photographs, selected to provide a good balance between the panoramic and the detailed. Plans, plant lists, and designer statements also help to make this volume most informative.
Michael Bates continually stresses the need for harmonious and complementary team work. All good projects are the result of coordinated effort by a range of people.
Of course, there are the designers and the clients, but this book most surely reveals the effective twenty-eight-plus-strong team at Bates Landscape, who, guided by Michael Bates, deliver most competent and effective results.
The New Australian Garden: Landscapes for living, Michael Bates, Murdoch Books, 2017, RRP AUD $59.99.
Related topics