Sydney Design Festival highlights
Following the release of a number of program highlights earlier this month, organizers of the 2018 Sydney Design Festival have released the full event program, which features a substantial urbanism component.
Landscape Australia selects some highlights from the 2018 program:
2–11 March, 9am–9pm
In the context of an accelerating growth forecast for the greater Sydney metropolitan area, this exhibition displays research by the NSW Government Architects (GANSW) and Sydney-based architecture studio, Terroir, recently presented at the 2017 Seoul Biennale. The research emphasises the importance of good city design and the contribution architecture, landscape, urban design and planning has on social and environmental health.
2–11 March, 11am–5pm
University of New South Wales (UNSW) Master of Architecture students will present the fruits of their research into resilient neighborhoods at this exhibition, to be held at 107 Projects in Sydney's Redfern.
As part of their coursework, the Master of Architecture candidates have been using the suburb as a "living lab," exploring the"translation of social, political and economic components of resilience into urban built form." They have worked to "develop an architecture of resilience around the themes of wellbeing, inclusion and creativity." Consulting with the local community, the students have designed the redevelopment of the Sydney Mental Health Service, the community and arts collective 107 Projects, and the Aboriginal Medical Service Co-operative.
6 March, 6–7.30pm 
How do the specific needs of children factor into our ever changing understanding of what constitutes good city planning? Are they being neglected in our rapidly growing and densifying cities? 
Hosted at the Australian Institute of Architects' NSW Chapter, this session will see Lucinda Hartley (CoDesign Studio and Play Streets Australia), Kate Bishop (UNSW) and Natalia Krysiak (Hayball) discuss the place children occupy in urban planning and design.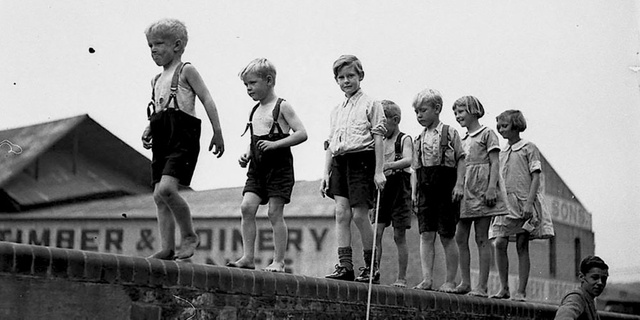 Locating Agency: Densification, Connectivity, and Transformation of Global Cities
8 March, 6–9pm
Join a public presentation and panel discussion exploring the "Locating Agency" exhibition, which features research on the urbanisation of metropolitan Sydney and Parramatta. The exhibition was created by the NSW Government Architect (GANSW) in collaboration with Sydney practice, Terroir, and was displayed at the 2017 Seoul Biennale.
Selected speakers will present their work and discuss Sydney's transformation in the context of regional, interstate, and international frameworks. The event is aimed at urban design professionals, along with general members of the interested public. 
The Sydney Design Festival runs 2 – 11 March 2018.
Browse the full line-up of events, talks, exhibitions and workshops here.