This autumn, as the Melbourne International Flower and Garden Show bedecked Melbourne's Exhibition Building and Carlton Gardens with a dizzying selection of the very best landscaping and floral displays, over at Lulu Cafe and Gallery in North Melbourne the team behind the Instagram page @ShitGardens was celebrating landscapes of a very different nature at their unofficial fringe exhibition Shit Gardens of Melbourne II: A Celebration Not a Condemnation.
@shitgardens the Instagram account is the creation of James Hull, a teacher of English and History, and Bede Brennan, a landscape architecture graduate and tutor at Melbourne University. It grew out of their observation and appreciation of bizarre, comical or downright ugly gardens in Melbourne's inner northern suburbs, where they have lived since moving to Melbourne from the bucolic town of Bellingen, New South Wales.
Social media has proved an able platform for a fresh type of irreverent cataloguing and critique of design, including Facebook-based 'Crap Concreting' and 'Shit Brick Fences of Melbourne,' and Tumblr pages 'F*ck Yeah Brutalism' and 'F*ck Your Noguchi Coffee Table.' These sites provide an alternative to long-form academic design criticism, instead using brevity, levity and a more direct backyard vernacular to call out design cliches, of which there is no shortage.
To stand out in the sea of titularly "ugly," "f*cked" or "shit" blogs, the key is specialisation and @shitgardens has created a niche in chronicling suburban landscape curiosities with a great deal of humour. The Instagram posts depict an alternate reality at odds with the tasteful garden lifestyle displays that win gold medals at the Melbourne International Flower and Garden Show or are featured in House and Garden. While the pair initially provided the bulk of the Instagram posts, contributions are growing from a fanbase that's grown past 20,000 followers.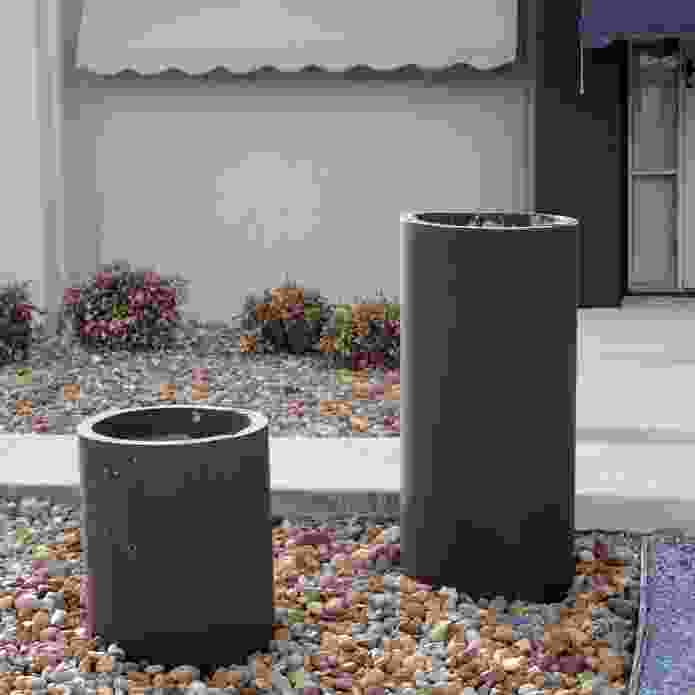 "We still get the lion's share of our submissions from the suburbs of Australia … but we now receive submissions from all corners of the globe. Some of our best ones have come from across the ditch (New Zealand)," says Brennen.
The duo are not so much interested in spaces of neglect, but rather in that which lies between the gulf of imagination and the finished reality. "Generally speaking, our favourite gardens are the ones where you can almost pinpoint the exact moment when the owner thought 'F*ck it, this is as close as I'll get'. We're also interested in gardens that possess a certain sense of flair and individuality in the way that they transcend the limitations and convention of a 'Bunnings-centric' approach to gardening."
Back at Lulus, there are two rooms of photographs from the creators and contributors. On opening night there is much laughter. Themes emerge. At the cruder end of the humour spectrum, one may enjoy a selection of flaccid and erect cacti in a variety of settings ­– always funny. Topiary plays many roles – either clipped into amusing forms or, as in the case of Existential shrub: Sisyphus awaits, as a reminder of the unending labour of this particular garden art, whether it achieves great effect or not.
There are many deities in the land of Shit Gardens – cherubs, dogs, doves, storks, gnomes, nymphs and buddha proliferate. Buddha is especially popular. In Aqua Profunda: A sense of wonder there is no hierarchy of decorative edge treatment, as both the water meter centrally located in a yellowing lawn and buddha statue retreating to the background are equally highlighted. Buddhas look within features not one but three buddhas, their backs to the street meditating on an expanse of weed-infested white pebbles.
Pebbles are also a big thing.The images Vernacular Zen: flat pack Feng Shui and A Cubists Dream recontextualize a familiar site in many a suburban front yard – squares of pebbles or artificial turf devoid of planting but highlighting where plants may once have been unsuccessfully attempted. Only the rocks and timber edging remains.
Then there are contemplative moments. Bridging the gap depicts a garden bridge afloat in a sea of pebbles – connecting nothing – and is rich with pathos.
The quotidian, the domestic, the individually inept but sincere desire for expression through landscape and a constant battle against entropy are all truly celebrated.
Wandering through the exhibition, I reflected on whether there has been a resurgence of a Shit Gardens aesthetic in contemporary landscape architectural practice in the last few years in the guise of the "pop-up garden". There is history here. Martha Schwartz's hilarious bagel garden, which graced the cover of Landscape Architecture Magazine in 1980, was a deliberate, self-constructed work which posed the question "Why can't landscapes be funny?" – a Shit Garden par excellence.
In contrast, in recent years of pop-up gardens the Shit Garden's domestic-DIY aesthetic appears to have been commandeered by some designers and place makers to read as shorthand for "community participation," but modified to exclude the funny bits.
Consider the award-winning City of Boroondara Pop Up Council. The council described its intention as being "Playful without being kitsch" and "In keeping with the local identity of Boroondara." Where indeed was the "local" in this staged display? As one of the wealthiest municipalities in Greater Melbourne is this staged display of op shop furniture and a chalk rug playfully reminiscent of the comfort and familiarity found in the majority of Kew or Camberwell sitting rooms?
Also we should be critical of whether the improvised "shit garden" qualities of such projects actually are the remedies that the community desires. For example, take a recent pop-up garden for the City of Darebin that was self-described as a "people's park" and a "provocation to rethink how much of our city is dedicated to cars". The pop-up comprised of some very Shit Gardenesque artificial turf, enigmatic scattered rubber objects and trees in big bags. It was removed after a community outcry – popping up then popping off purportedly to pop up somewhere else.
In these recent professionalized attempts, earnestness about the benefits inflates the actual outcome. This is not to say there is no value in the temporary or experimental activation of space. But let us not use the Shit Garden as a commodity to sell generic community values but instead, let us articulate the specific values of humour, suburban identity and self-expression. This is a treasure trove, or Pandora's Box, of untapped design enquiry.
A book is currently in development, due out this time next year, including Brennan and Hull's speculation on what an archetypal "shit garden" might be. I can't wait. I suspect there may be some yuccas in it. And scoria. Perhaps a collection of garden figures assembled in some variety of puzzling tableaux. Definitely a dry-cracked fountain.
Related topics