What was once the site of a degraded public caravan park is now home to Saffire, a luxury eco-tourism resort overlooking Tasmania's spectacularly beautiful Freycinet Peninsula. The eleven-hectare site underwent a remarkable transformation over seven years, during which time the client, Federal Hotels and Resorts, explored multiple architectural alternatives. These ranged from an initial monumental proposal for a 150-room hotel to the final design by Circa Architecture, which is characterized by the stingray-shaped profile of its main resort building – the long entrance is its tail and the building's sides extend like wings. This is flanked by twenty individual accommodation suites that are arranged in an imagined tidal strandline along the lower beachside contours of the site.
Landscape architect Jerry de Gryse of Inspiring Place guided the landscape management, masterplanning and design of the site in close collaboration with Peter Walker from Circa Architecture. Their focus was on a singular vision: that of maximizing every opportunity for visitors and guests to meaningfully engage and connect with the extraordinary qualities of the unique natural environment. The outcome is a series of beautifully resolved buildings that sit respectfully within the artfully rehabilitated site, providing both refuge from, and connection to, the landscape beyond.
The project architect's initial brief was traditional in scope: "Prepare landscape designs for the area around our building." In response, Inspiring Place analysed the client's objectives for the overall visitor experience, identified and aligned site characteristics in support of those aims, and then spent a day on the site with the project architect in the pre-design stages of the development. This proved extremely beneficial for both parties. A series of key strategic design decisions, including the sensitive location and orientation of buildings within the site, the integration of movement patterns and site topography and the conceptualization and layout of the dramatic visitor arrival sequence, were a direct result of this early collaboration.
Despite the uninspiring nature of the original brief, de Gryse was motivated by the maxim that in nature-based tourism, "the most important thing about an eco-lodge is that the eco-lodge is not the most important thing."1 Rather, he elected to focus the considerable design intelligence of the Inspiring Place team on those aspects of landscape planning, stewardship and design that would support a deeper connectedness – physical, emotional, visual and ecological – with the natural environment of the site and surrounding area.
The team then articulated a series of ten environmentally sustainable design principles to guide decision-making, based on those in the book Sustainable Landscape Construction2:
• Keep healthy sites healthy
• Heal injured sites
• Favour living, flexible materials
• Respect the waters of life
• Pave less
• Consider origin and fate of materials
• Know the cost of energy over time
• Celebrate light, respect darkness
• Quietly defend silence
• Maintain to sustain.
This principle-based approach closely aligns with the framework of the Australian Landscape Principles3 – which were developed by the AILA several years later – and in this context the approach serves as a prophetic exemplar of best-practice land management strategies for longer-term landscape sustainability.
Strategies that were aimed at "keeping healthy sites healthy" and "healing injured sites" included the development of detailed site protection and erosion control plans. These focused on protecting remnant natural areas and processes from disturbance and guiding site preparation and ongoing protection of undisturbed areas. Later specifications also incorporated systems to manage and control the spread of soil-borne disease.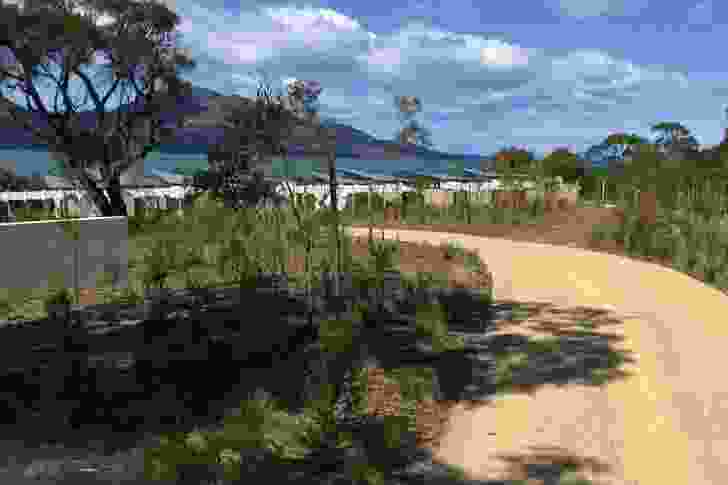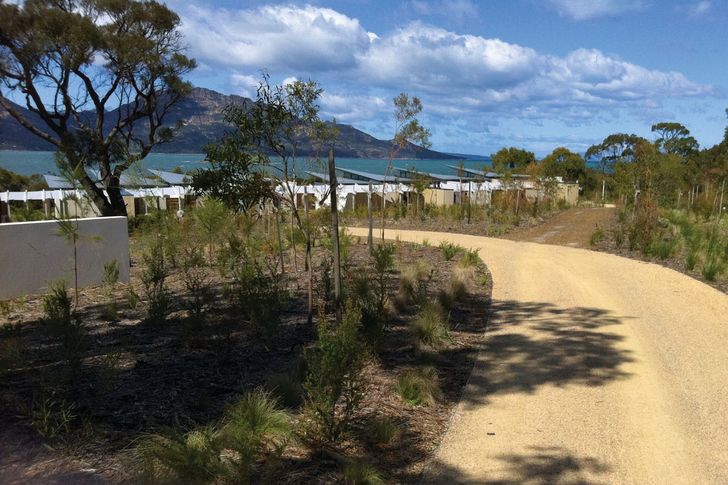 Extensive restorative works included regeneration (encouraging natural processes that lead to site recolonization by native species) and revegetation (purposeful activities designed to recreate a pre-existing natural state). All plant species used were local to the area. Five hundred advanced trees and three thousand shrubs were grown to larger sizes to complement over thirty thousand tubestock plants and twenty kilograms of locally sourced native seeds, which were used for site landscaping.
The importance of the "waters of life" was highlighted via a series of integrated water-sensitive design features, which included daylighting of run-off from roadways and parking areas to controlled sediment basins, combined with infiltration during periods of low rainfall.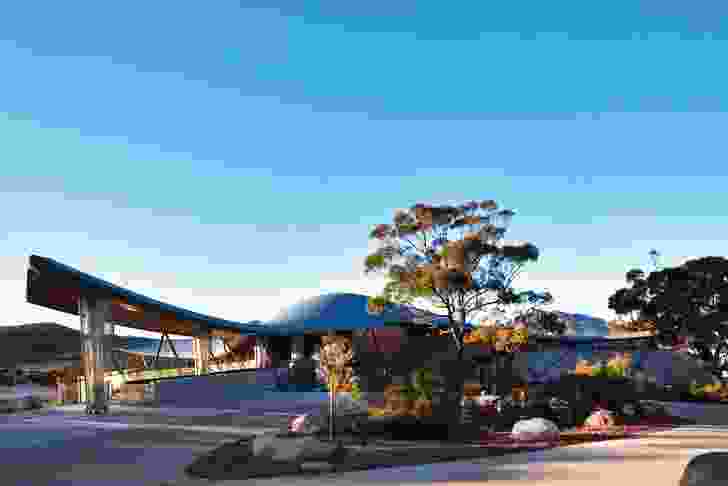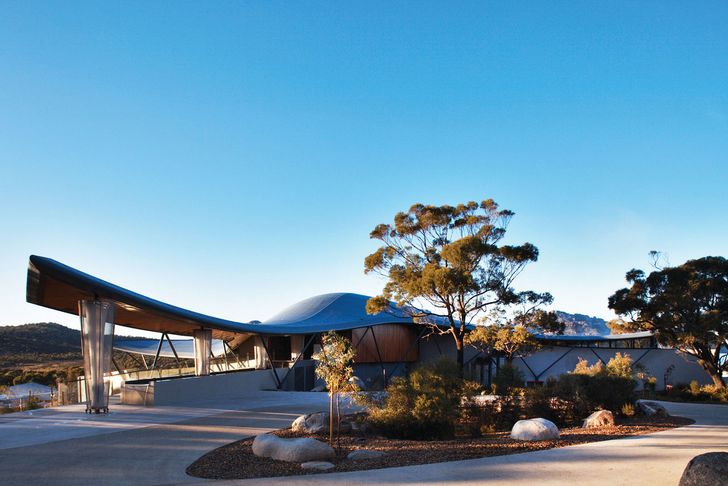 Silence was "defended" via the relocation and screening of noisy mechanical systems that were used to heat and cool buildings, and the dark was "respected" in the external environment through the use of low-wattage fixtures with minimal light spill. Locally sourced and recycled materials were incorporated in numerous details, notably the crossover jetties to each of the units from the central walkway. Paved areas were kept to a minimum and permeable materials were used for secondary movement systems.
The large scale of the project allowed for a long development lead time, resulting in tenders for seed and scion collection and plant procurement being initiated early on in the development process. This meant that site rehabilitation was well advanced by the time the resort was officially opened.
However, ongoing building design amendments resulted in one unfortunate consequence: later revisions of the building footprint meant that site works undertaken in the early stages of the development included more extensive clearing and subsequent rehabilitation than would otherwise have been necessary.
This, together with reluctance on the part of the client and the site-engineering consultant to fully implement key components of the water-sensitive design network, were the only issues de Gryse could nominate as areas for future improvement.
"We're thrilled with the final outcome," he says. "We had a great contractor to work with, and we got the result we wanted. It's a very high quality and standard of attention to detail. I guess you could say it represents, in a kind of distilled way, a whole bunch of core values and understanding gleaned over thirty years of practice. We're very proud of it."
Read Architecture Australia's review of the Saffire resort building.
1. Hector Ceballos-Lascurian, Mexican architect and ecotourism and cultural heritage tourism expert, 1997.
2. J. William Thompson and Kim Sorvig, Sustainable Landscape Construction (Washington DC: Island Press, 2000)
3. "The Australian Landscape Principles," the AILA website, aila.org.au/landscapeprinciples, 2009 (accessed 27 February 2012).
Products and materials
Walls

Timber veneer from New Age Veneers; External timber Orica.
Flooring

Silver gum from Modwood Tech; Recycled blue gum from Australian Architectural Hardwoods; Tascot carpets from Ulster Carpets; Rugs and carpets from Cadrys.
Finishes

Stones and marble from Apollo Marble & Granite; Elmosoft leather panels; Mirror and glass finishes from ASG Safety Glass; Plastic laminate from Parbury, Wilsonart; Fabrics from Specified Textiles; Bed coverings and cushions from Turner Brothers; Huon pine finishes supplied by Tasmanian Special Timbers.
Furniture

Furniture from AH Beard; Chairmans Rest; Country Design; Dickson Avenue; Fairbrother Joinery; Interstudio; Jardan; KE-ZU; Living Edge; Plantation Group and Thurstans Joinery.
Lighting

Custom pendants by Judith Abell / Futago; Other lighting from Bretnall Lighting; Diffuse Glass Lightworks; Gineico; Hub; ISM and Lightforce.
Credits
Interior design practice

Chada
Sydney, NSW, Australia
Project Team

Juliet Ashworth, Michael Watson, Kristi Wayman, Peter Walker, Poppy Taylor, Jarrod Hughes, Robert Morris-Nunn, Ganche Chua, Judi Davis, Chris Roberts, Garry Flemming, Tina Curtis
Architect

Circa Morris-Nunn Walker
Hobart, Tas, Australia
Consultants

Builder Fairbrother Construction
ESD Wood & Grieve Engineers
Facade engineering Hyder Consulting
Landscaping Inspiring Place
Lighting design Point of View
Project manager Stanton Management Group
Services engineering Wood & Grieve Engineers
Structural engineering Gandy and Roberts Consulting Engineers

Site Details

Location Coles Bay, Tas, Australia
Site type Rural

Project Details

Status Built
Design, documentation 16 months
Construction 16 months
Category Hospitality, Landscape / urban

Client

Client name Saffire Freycinet
Website saffire-freycinet.com.au

Source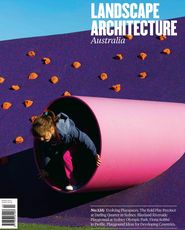 Issue
Landscape Architecture Australia, August 2012
Related topics