Rouse Hill Town Centre Public Domain by Oculus Landscape Architecture & Urban Design
Jury comment
This project resets the benchmark for new development that mixes retail with commercial, residential and community uses in a well-articulated, pedestrian-dominant town centre. The success of the project was enabled by the close collaboration between three architectural practices and the landscape architects, working in a collective and interactive manner to deliver an integrated ensemble of buildings, public realm, landscape and environment systems.
The landscape architects' contribution is evident in the spatial shaping of key plazas and detailing of the pedestrian circulation spaces with a bold planting palette and clever, custom-designed elements. Rouse Hill Town Centre employs best practice principles of town centre design, resulting in correctly scaled, civic qualities suitable for its setting in north-west Sydney.
The jury was also impressed with the fundamental attention to integrating climate control measures, reduction of water use and energy consumption.
For further coverage see Architecture Australia vol 97 no 4, July/August 2008 and Landscape Architecture Australia 119, August 2008.
Source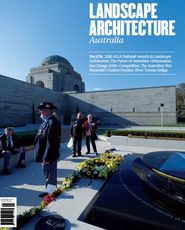 Issue
Landscape Architecture Australia, November 2010
Related topics