A young Brisbane architecture student has independently developed a plan to transform Brisbane's busy Riverside Expressway into a public transport and pedestrian-focused "greenway" that would enable the CBD to free itself from gridlock.
The concept includes shutting down the Southeast Freeway from The Gabba to North Quay and transforming the Riverside Expressway into a green highway by doubling bus and rail entry into the CBD and displacing car traffic.
Traffic would be rerouted through a tunnel underneath South Bank and a huge parking facility would be built at Woolongabba, allowing car commuters from the city's south to park and ride to the CBD via a short bus or rail trip across the Captain Cook Bridge.
Brendan Roffey, a twenty-year-old University of Queensland student and Conrad Gargett project coordinator, first thought of the idea while stuck in traffic on the Riverside Expressway and decided to develop it as a personal project.
"Half an hour of my commute was spent on that expressway, and I thought this is just crazy, there has to be a better way," said Roffey.
"If we put the traffic that's currently ruining the north bank of the city into a tunnel, then there is no immediate need for a metro, because we can duplicate the bus lane at South Bank and reclaim all this fantastic public space on the north bank of the Brisbane River, and it would open up the possibility to pedestrianize the CBD."
Part of the funding for the project would be generated through a large mixed-use development in Woolloongabba on land freed up from a road interchange. Named the "Gabba Hub," the development would include 3000 apartments, space for a school and hospital, and approximately 12,500 car parking spaces.
Since releasing his idea to key stakeholders and the public, Roffey has attracted the attention of mainstream media outlets, such as the Courier Mail, and received positive feedback from members of government, including Lord Mayor Graham Quirk and Federal Minister for Infrastructure and Transport Darren Chester.
A meeting with the Queensland Premier's policy adviser saw Roffey invited to make a formal submission to the Queensland Coordinator-General's office, on the condition he revised his proposal to make it more relevant to the state government's signature project, Cross River Rail.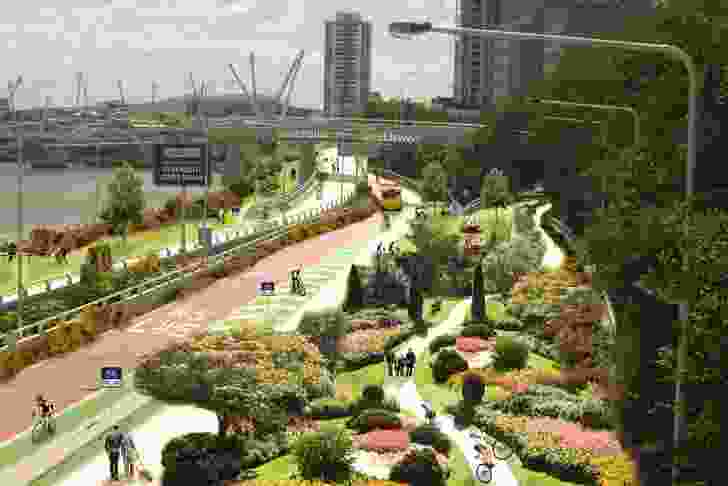 Roffey asserts that the government could avoid spending $6 billion on a rail tunnel under the CBD by using the existing expressway as an alternative alignment for the Cross River Rail at a far smaller cost. It would also avoid the complex engineering and maintenance concerns associated with tunnelling so close to a flood-prone river.
But is it really a good idea to integrate a linear park with high frequency train and bus routes?
Roffey concedes that the presence of a train line on the Riverside Greenway would compromise the park experience somewhat in comparison to his original scheme (which didn't include a rail line) but doesn't think it's detrimental.
"The trains are only intermittent, every four or five minutes, and having that intermittent noise isn't going to detract from the space in the same way as a highway would."
"I love the Riverside Expressway and I would like to see it evolve. Not so much in doing what New York has done with the High Line, but evolving it to a hyper-functional piece of infrastructure for public transport."
"Having a highway running through the middle of Brisbane is a reflection of our values, saying we value private transportation over public transportation. But having public transport and greenspace visible and highly accessible to the public, that would be a much better reflection of twenty-first-century planning if we are aiming to be 'a new world city,'" said Roffey.
You can watch the Riverside Greenway concept video here.
Related topics