Revitalising Central Dandenong is a $290-million urban renewal project that was initiated in 2006 and is being delivered by the Victorian state government through Places Victoria (previously VicUrban), in partnership with the City of Greater Dandenong. The twenty-year masterplan, through a series of urban redevelopment projects, "seeks to restore central Dandenong as the capital of Melbourne's south east." This area of greater Melbourne was selected for investment because of its strategic location, it being an existing economic hub and possessing key industries and a range of infrastructure such as "excellent road and rail connections." In essence, central Dandenong was considered by VicUrban to be the heart of south-east Melbourne.
The focus on urban renewal in central Dandenong is due to three factors. Firstly, Dandenong has experienced socio-economic decline/stagnation – high unemployment, slow population growth, and low incomes compared to metropolitan Melbourne. Secondly, the area has suffered from a diminishing appeal, which is a result of poor urban planning, "inefficient urban design and structural economic challenges." Thirdly, it was recognized that a long-term term approach created through a range of partnerships was needed to tackle these challenges.
Urban renewal is considered by Places Victoria to revolve around the precinct scale and be a long-term process where through the redevelopment of underused and/or dormant land, a positive transformation of homes and business occurs. And although the phrases "urban renewal" and "urban redevelopment" are commonly used interchangeably in design practice(s), their meanings are substantially different. A distinction between the two is illustrated by the Revitalising Central Dandenong project – the twenty-year vision to transform central Dandenong (renewal) involves a series of independent but related works/projects applied within the precinct area (redevelopment).
Renewal as practiced and debated may revolve around any number of approaches, including those that are economic/market-driven, legislative, program-driven, academic/theoretical, community engagement-focused/participatory, and professional/applied. Each of these may be used independently or in combination but "common to each is the improving of people's lives through the betterment of the urban of environment." Places Victoria and the City of Greater Dandenong have worked to implement a number of the above approaches in this project, in particular, the economic, legislative, program-driven and community engagement approaches.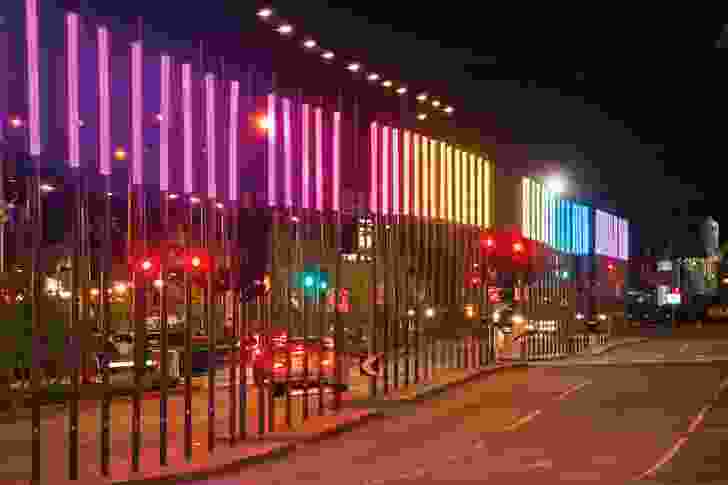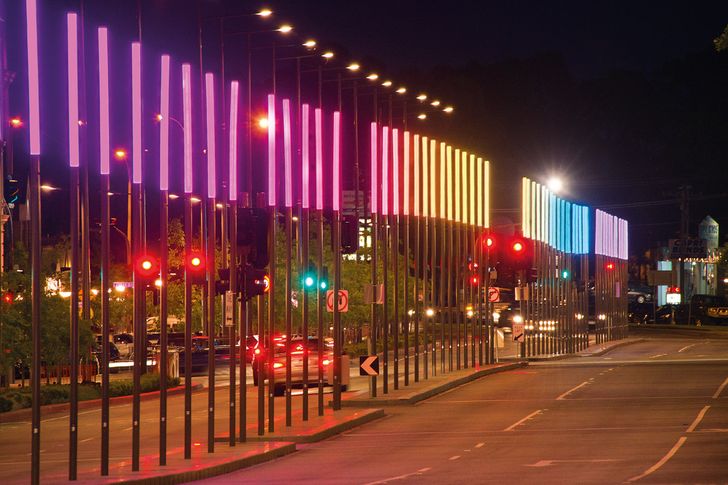 These approaches used in any project provide a conceptual framework to direct renewal efforts. Each may, also, be divided into a series of additional measures that allow for the "finer details" of renewal efforts to take place (such as in the redevelopment of specific sites). For example, Melbourne's CBD and its renewal provide a good illustration of the details now being used at Dandenong. In the mid-1980s the City of Melbourne began to physically and socially transform the CBD and, importantly, established a residential population in the city's core. In parallel, Melbourne developed a series of complementary programs to achieve specific end-points in the CBD, such as gathering data and engaging with the community (to inform decision-making), developing a shared vision of the CBD, appointing/establishing a champion (to lead renewal efforts), and developing and utilizing policies, guidelines and technical notes (to allow for consistent decision-making). After approximately twenty years of using these measures the CBD was transformed into a vibrant 24/7 urban setting.
The main ingredient missing from Revitalising Central Dandenong's use of the above is a substantial residential population in its central area. This is being addressed – the City of Greater Dandenong explained that there are a number of residential developments planned near the precinct, with one inside the boundary area. However, due to a number of factors, none have been realized. For the moment, I see this as having a substantial impact on renewal efforts. I say "for the moment'' because another ingredient (a largely forgotten one) in renewal efforts is time. In Dandenong, renewal commenced in 2006 and there is still some time before I would expect to see substantial change in the central area, other than a physical transformation of the precinct's setting(s). Even the recently awarded Lonsdale Street Redevelopment (Taylor Cullity Lethlean and BKK Architects) is a highly engineered streetscape project – a physical transformation of a setting. Despite its reconfiguring of existing infrastructure, a large four-lane road still cuts through the middle of central Dandenong – the desired zippering effect of the precinct's two major areas is not realized.
The social and community dimensions to the project's renewal efforts, which are present in some areas of central Dandenong (including Little India and the Afghan Bazaar), are largely missing. I am not saying that central Dandenong is not being used – it is quite to the contrary, as during the day and when the Dandenong Market is in full swing a number of people can be seen using, for example, Palm Plaza. But to achieve the aim of Revitalising Central Dandenong, the life of the city (its people and their use of places) needs to engage with the precinct throughout the day and well into the night. Placemaking, along with a desired residential population, may help provide a mechanism to address the community side of this renewal activity. In 2011 and 2012 Places Victoria, and its revitalization team in central Dandenong, engaged in a placemaking initiative that produced a series of principles (and actions) to guide the right conduct of urban renewal decision-making within the organization. Unfortunately, due to the large number of staff changes that have occurred within Places Victoria, much of the in-house knowledge regarding this placemaking effort may have been lost. If so, this loss may truly set back the urban renewal efforts of central Dandenong.
Several projects completed under the Revitalising Central Dandenong urban renewal initiative are detailed below.
Dandenong Civic Square by Rush/Wright Associates, Lyons and Material Thinking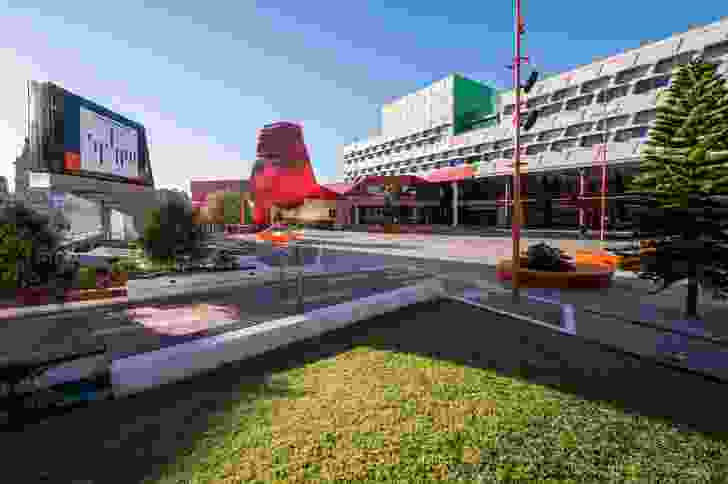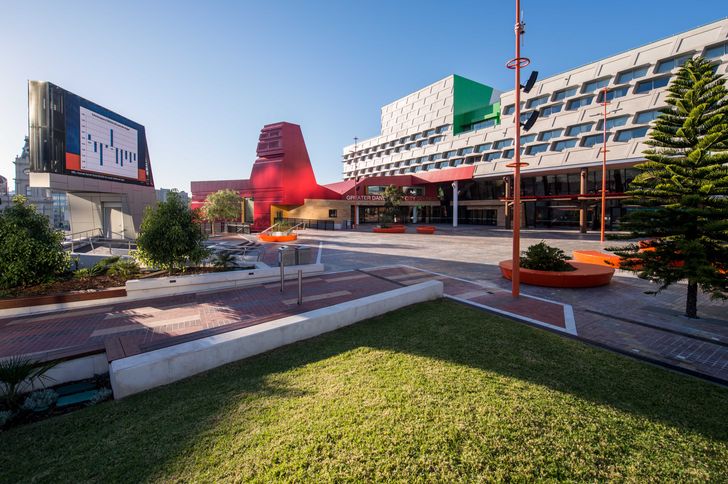 One wonders if the last thing that Dandenong needs is more open space. Acres of expensive granites, feature lights, obligatory water-sensitive features, often ugly seats and feature trees do not a city necessarily make. It is hard not to feel uncomfortable with much of this work, as if the arbiters of good taste might have preferred to be operating elsewhere. It's all "good," but we are left wondering about a different urbanism sourced in diversity, collage and a collision with the specifics of a local aesthetic. And no more of the same.
The new civic square for Dandenong, accompanying the bold and distinctive heroics of the new Municipal Building by Lyons Architecture, is set high above Lonsdale Street, brokering for equity the levels of Walker, Thomas and Lonsdale Streets. A generous stair connects the civic square with Lonsdale Street below, with a lift completing the vertical links. This elevation above the street provides a good sense of enclosure and boundary, and of ascension into a welcome and socially elevating civic order.
The centrepiece of the square is a large pavement graphic. This drapery in stone recalls the complexity of indigenous and exotic textiles, creating a form of ecumenical welcome mat. A series of spaces is arranged around the edges, all detailed for difference, creating a sense of archaeology of local public design. A large LED screen will animate the space, and a shard-like "microretail" structure will create places for events. The new city space for Dandenong was completed early 2014. —Michael Wright, Rush\Wright Associates
Afghan Bazaar, Thomas Street by Hassell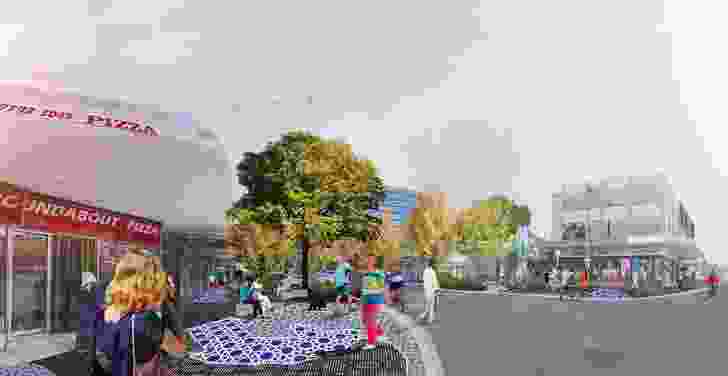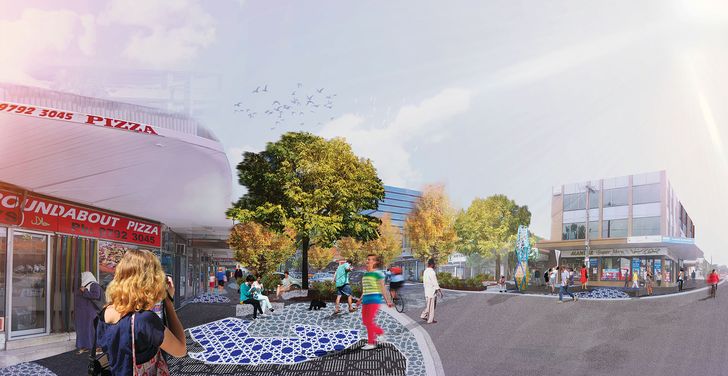 Celebrating a unique concentration of Afghan businesses in suburban Melbourne, the City of Greater Dandenong's Afghan Bazaar project aims to recast Thomas Street as an authentic venue for public life, community identity, unity and pride. Developed through intensive community consultation facilitated by Sinatra Murphy, the Afghan Bazaar aims to deliver a distinct urban character that enlivens the streetscape and encourages community gathering. The design references the palette and patterns of traditional Afghan motifs, using colour and texture to define primary activation nodes and meeting places. The project was due to be completed early 2014.
Precinct Energy Project by Peter Hogg + Toby Reed Architects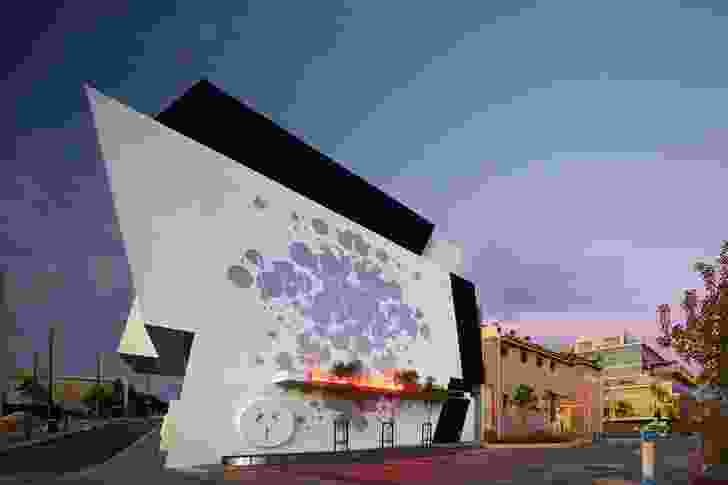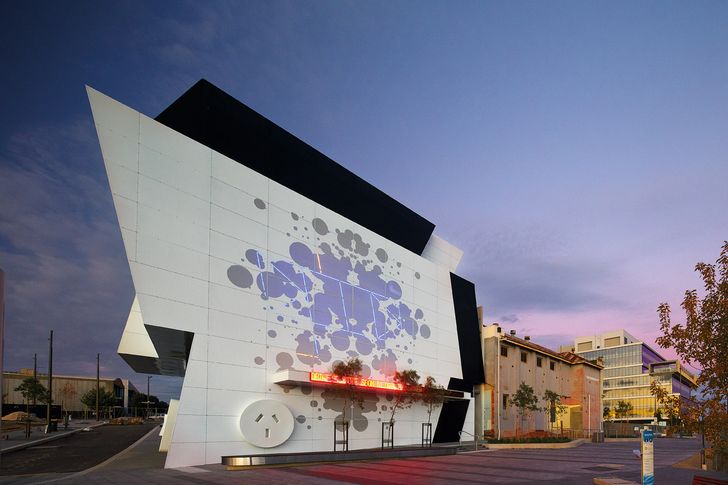 The Dandenong Precinct Energy Project (PEP) is a flagship project in the implementation of low-carbon energy generation in Victoria. For buildings in a seven-hectare redevelopment precinct, the PEP will produce both low-carbon power from natural gas, which can be accessed through the existing power grid by applicable Dandenong businesses, and thermal energy, which can provide both heating and cooling by running hot water through a series of pipes to heat exchangers. It will have twice the efficiency of a typical gas-fired power station and less than half the carbon emissions of a coal-fired power station.
Dandenong pop-up park by Aspect Studios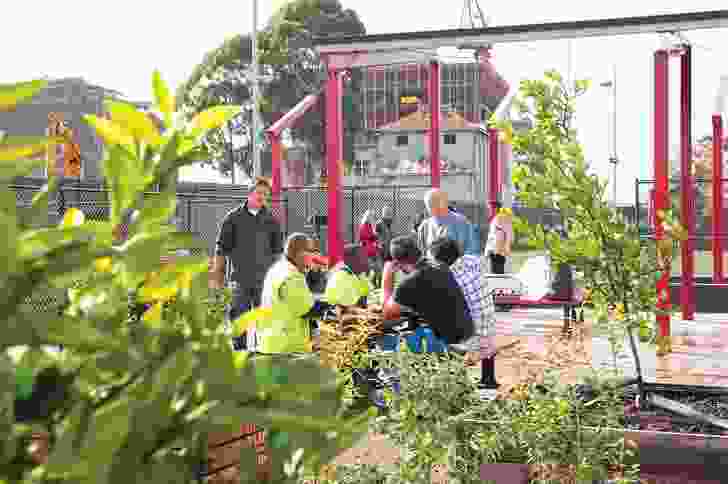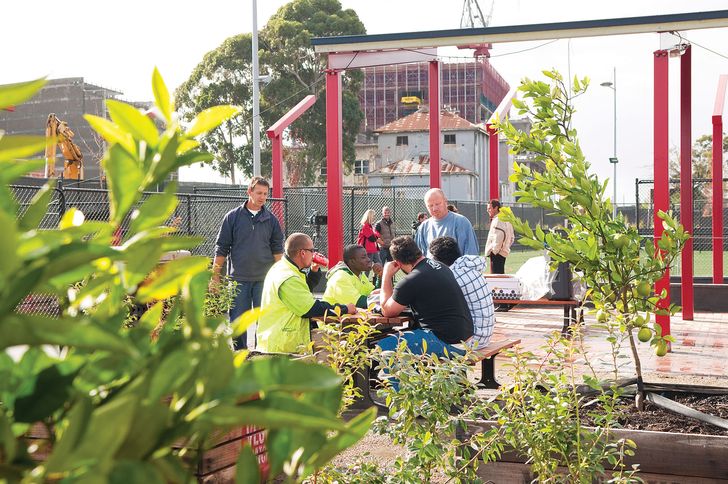 An innovative pop-up park designed by Aspect Studios and delivered by Places Victoria and Mission Australia forms a key part of the Revitalising Central Dandenong initiative. The park offers two synthetic soccer pitches, a barbecue and picnic area, and a community garden. As part of Mission Australia's Urban Renewal program, a total of five long-term jobs and twenty-four traineeships were created for the duration of the park's construction.
Halpin Way and Settlers Square by Aspect Studios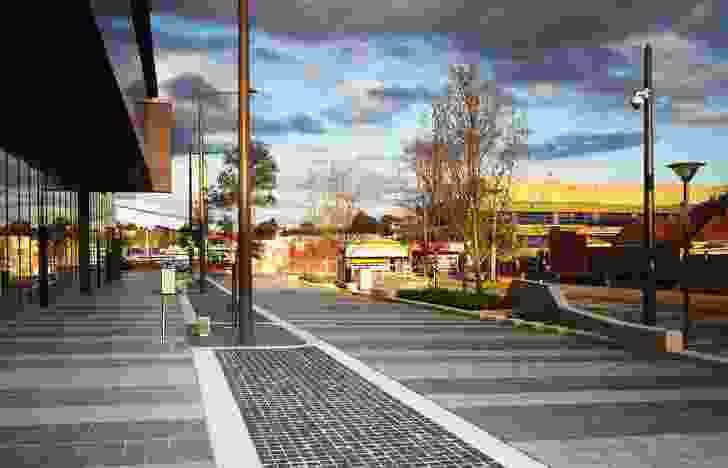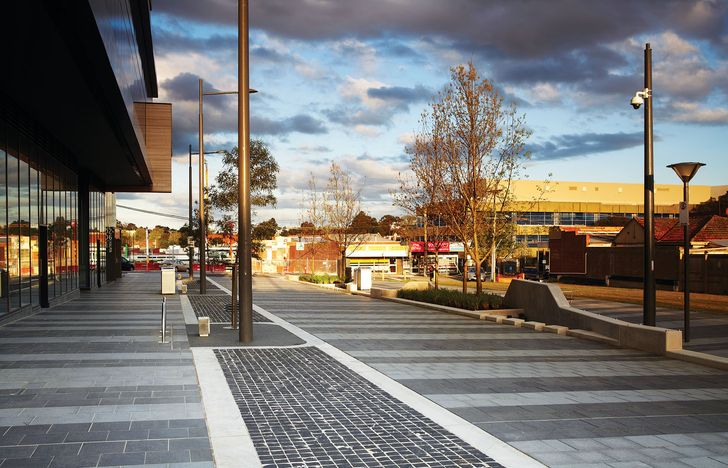 The vision for Halpin Way was to provide a contemporary urban space that prioritizes use by pedestrians and is made distinct by its greenery and engaging street life. Halpin Way links the public realms of Dandenong Railway Station and the city. Settlers Square provides an impressive entrance to central Dandenong – its contemporary design and functionality demonstrate the new spirit of the city and Dandenong's rich social culture. Public art is fully integrated into the streetscape design.
Credits
Architect

BKK Architects
Melbourne, Vic, Australia
Project Team

Simon Knott, Michael Roper, Michael White, Perry Lethlean, Scott Adams, Lisa Howard, Noelle Teh, Lin Tan, Kate Cullity, Andrew Blight
Architect

Taylor Cullity Lethlean Melbourne
Australia
Consultants

Arborist Steve Fitzgerald
Artist David Sequera
Builder Canteri Bros Constructions
Civil and structural consultant KLM (Langhorn Plaza)
Civil and structural engineer Argot Consultants
Civil engineer KPG
Construction Canteri Bros Constructions
DDA Access Design Solutions
Geosciences Hans – Dieter Hensel
Horticulture Paul Thompson
Irrigation LIS
Lighting design Electrolight
Project manager Places Victoria
Road safety audits Road Safety Authority
Services and civil engineering Arup Melbourne
Soil Peter May
Traffic engineers Hyder Consulting
WSUD Design Flow

Site Details

Location Dandenong, Melbourne, Vic, Australia

Project Details

Status Built
Design, documentation 12 months
Construction 18 months
Category Landscape / urban
Type Public / civic, Refurbishment

Client

Client name Places Victoria
Website places.vic.gov.au

Source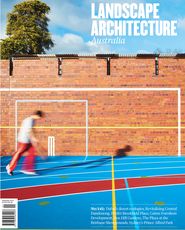 Review
Published online: 3 May 2016
Words: Beau Beza
Images: Andrew Lloyd, Chris Erskine, Courtesy of Hassell, Courtesy of Rush\Wright Associates, Image by Aspect Studios courtesy of Places Victoria and Aspect Studios., John Gollings
Issue
Landscape Architecture Australia, February 2014
Related topics