The Oldest Foods on Earth
A review of John Newton's latest book, The oldest foods on earth: a history of Australian native foods, with recipes.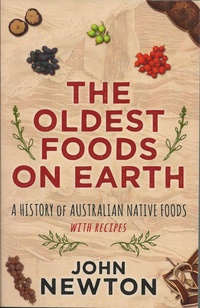 Twenty years ago John Newton, novelist and food journalist, wrote Wogfood, a winning celebration of European immigrant culinary cultures. He argued that these migrants taught Australians how to eat. I would argue that the experience of these cultures in situ by travelling Anglo-Saxon Australians was what opened our hearts and stomachs to Mediterranean and Western European cuisines, and that this opened our eyes to the good dishes the immigrants brought with them. Whatever one's take on it, Wogfood is a lovely, inclusive argument for pluralism, for multiculturalism if you like.
Now Newton has chosen to address our ignorance of, and lack of use of the thousands of edible plants and animals that he calls 'the oldest foods on earth'. He tells a story of culinary blindness, and the book is an addendum to the revisionist histories told by Bill Gammage in The biggest estate on earth: how Aborigines made Australia, and by Bruce Pascoe in Dark emu, black seeds: agriculture or accident?
Newton's style is conversational ('about bloody time') but the tone is more that of a preacher, with hindsight as his bible. This is not to detract from his well-wrought arguments and neatly précised history lessons. Good journalist and researcher that he is, the interviews with growers, producers and chefs provide evidence and argument for the use of the foods that the Aborigines, for up to 50,000 years, have used and understood: kakadu plum or gubinge, riberry, wattleseed, pepper berry are only a few of the better known (but still hard to purchase in their raw state) of the thousands of indigenous plants that provide nutrition and flavour.
The chapter on the producers is especially good, and the summary of arguments around what he calls 'cultural conundrums' is essential. Interviews with chefs who have broken 'new' ground by championing indigenous foods are fascinating. It is good to find Jean-Paul Bruneteau celebrated (it took a French Australian, born in 1955, to call the attitude we have inherited from the first settlers a form of 'food racism'), also Vic Cherikoff, an early, intrepid researcher and champion of native plants.
A couple of quibbles: a lazy editor allowed fear of the new to be called 'neophilia' (p 89) and most of the recipes provided by chefs are much too complex to make an argument for the widespread use of these foods. It's that old learning from the top down conundrum that is the blight of what is still Australia's gawky culinary adolescence. A good book, even an important book.
John Newton (2016) The oldest foods on earth: a history of Australian native foods, with recipes, New South, paperback, 272 pp, RRP $29.99
This article was originally published in Australian Garden History, volume 27 no 4, April 2016.