Redfern Park Upgrade by Spackman Mossop Michaels in collaboration with BVN and City of Sydney
Jury comment
The jury's decision to move this project to the Urban Design category was based on the view that it is an outstanding example of how a smaller scale urban intervention can, in fact, impact and reshape an urban precinct. With the reconfiguration of the football stadium and the lowering of the playing field, significant 3D changes were produced in the relationship of the park to its surrounding context. With these moves, the designers were able to re-establish locally significant vistas and axes, shifting the visual and physical access into and throughout the park and setting up new patterns of movement and social interaction.
This is surely what urban design is about. Collaboration with renowned Aboriginal artist Fiona Foley in the design of a playground feature links the contemporary social identity of Redfern with the Aboriginal heritage of the site, bolstering the social benefits of the park.
For further coverage see Landscape Architecture Australia 122, May 2009.
Source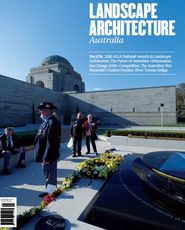 Issue
Landscape Architecture Australia, November 2010
Related topics