Australian architectural practitioner Phoebe Goodwin has, since her time as a student at the University of Sydney almost a decade ago, steadfastly pursued a career in humanitarian and development design. Driven by a desire to make a positive impact on those most in need, she has worked as a site planner for the UNHCR, the UN Refugee Agency, at refugee camps all over the world, including in Greece, in the Democratic Republic of the Congo and in Bangladesh, where more than 500,000 Rohingya refugees fled from Myanmar between August and December 2017.
To mark World Refugee Day on 20 June, Phoebe speaks to Joshua Harris and provides insights on her humanitarian work, discussing, among other things, the vital importance of adequate shelter and living conditions and the remarkable resilience and design ingenuity of refugees.
Josh Harris: How do you view the relationship between architecture and humanitarian work?
Phoebe Goodwin: There is a very special and important relationship between architecture and humanitarian work which is often unrecognized, even by fellow humanitarians. Providing protection and assistance to people in a humanitarian crisis will always involve ensuring that they have access to adequate shelter. Shelter equals architecture.
The siting of this shelter in a particular context has a major impact on how people affected by a crisis can access the services and support that they require (for example, food, water, health and legal aid). A trained architect has the appropriate skill set to design these shelters and develop the site plans for where they are located. Shelter is the tangible form of protection for refugees, asylum seekers and other people of concern.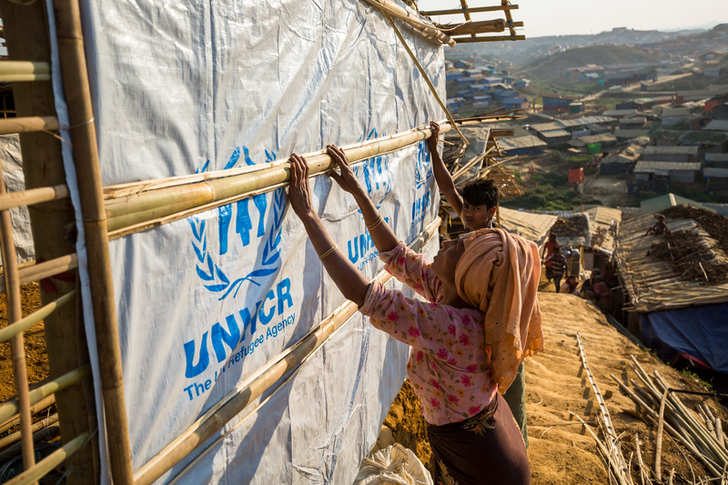 JH: I understand you have worked in refugee camps in Bangladesh. The sheer number of Rohingya refugees that have arrived in Bangladesh in the past year alone is as incomprehensible as it is tragic. What role did you play in working to creating safe refuge for such an influx of people?
PG: The Bangladesh operation was definitely the most challenging of all humanitarian contexts I have found myself in. I was sent from Jordan on emergency mission at the start of October 2017, while the influx was still ongoing (although the high rate of daily arrivals from Myanmar then soon dropped in November/December). I was the sole site planner for UNHCR for five months, covering all site planning activities for the organization.
Needless to say, I didn't sleep much and there was no such thing as a real weekend. I have no regrets though whatsoever and was privileged to work with a stellar team in Cox's Bazar.
I developed site plans for all extension areas of the Rohingya settlements under UNHCR's area of responsibility, providing detailed layouts of household shelters, circulation paths/stairs/bridges, WASH (water, sanitation and hygiene) services (such as communal water tap stands, tube wells, latrines and showers), communal facilities (health posts, community centres, education centres etc.). The site plans were then implemented on the ground by various humanitarian actors and I was tasked with monitoring the works to ensure they respected these layouts.
During the peak of new arrivals in late 2017, we had to temporarily house hundreds of families in existing schools and so I assisted with the relocation of these families to undeveloped extension areas in the main Kutupalong-Balukhali (KTP-BLK) settlement. I physically carried household belongings and guided families from these schools through the winding paths of KTP-BLK to their new land. It was very rewarding to see the smiles and witness these families swiftly construct their new shelters, using the emergency kits we distributed.
JH: What were the conditions like in the refugee camps and what were the challenges in housing those refugees?
PG: In the Rohingya refugee settlements, the conditions, overall, were very substandard. It must be noted that we were dealing with an influx of over 600,000 refugees in a period of only a few months, where one in three families were extremely vulnerable, into a developing nation that itself is relatively impoverished and under-developed.
The humanitarian operation was definitely doing all it could to respond to the vast needs of these refugees and it continues to do so today. However, the physical conditions in these settlements sadly reminded me of some of the informal urban settlements where I've worked in the past on development projects (in South Africa, India and Kenya).
The extreme overcrowding in the sprawling Rohingya settlements is of grave concern from a health, protection and security perspective. The provision of additional land has been a massive challenge but, thankfully, just prior to my departure in early April, the Bangladeshi government approved the main settlement to expand a further 800 acres to the west.
There is still much more additional land required because thousands of refugees are currently sheltered in areas at risk of landslides and/or flooding. The shelters themselves, built by refugees with materials distributed by UNHCR and other agencies, will not last more than six to 12 months maximum as they are simply bamboo frames clad in plastic sheeting. Nonetheless, agencies are slowly but surely reaching minimum international humanitarian standards with the number of WASH services and communal facilities available per population catchment. The provision of adequate and formalized solid waste management and faecal sludge management systems remain huge challenges, with big impacts on site planning due to the large sites required for such facilities.
JH: Refugee camps are, by their nature, temporary – or at least they should be. How do you mediate the tension between the temporal, emergency nature of the camps and the fact that many refugees can spend years in these places?
PG: Indeed, refugee camps should only be temporal and their inhabitants ought to be able to either return home, integrate into the host country or be resettled in another country within one to two years at the most. However, the current average lifespan of a refugee camp is 17 years and so clearly temporality is not the norm.
Nonetheless, UNHCR is striving to advocate for its "alternative to camps" policy, whereby refugees are housed, upon arrival, in more integrated contexts where there are shared services and facilities between the host communities and the hosted refugee populations (schools, health centres etc.). Isolated camps that are dependent on constant humanitarian aid and have controlled access are not sustainable nor conducive to refugees maintaining independence, dignity and self-worth.
With all this in mind, it is important for site planners to incorporate, from day one of an emergency response, a longer-term vision for the refugee settlements and shelters they are designing. Without delaying the delivery of emergency shelter assistance to newly displaced populations, it is crucial to consider how this shelter may be upgraded to more durable and sustainable housing (for instance, can the plastic sheeting be easily replaced with a more permanent cladding system?). In terms of site planning, one must remember to allow for population growth and the ability for emergency infrastructure/services to transition to more permanent fixtures (shifting from emergency water trucking, for example, to establishing boreholes with a gravity-fed water supply network).
JH: Can architecture and/or site planning do more than simply provide secure shelter?
PG: Yes, it absolutely can do more than that and it does in humanitarian response contexts. If considered from all angles and at both the micro and macro scale (from household level to city/country level), providing secure shelter can have a positive impact on refugees' physical and mental health (proper sanitation, feeling safe/secure), access to education and livelihoods, independence and dignity ("home-making" personalization and self-expression).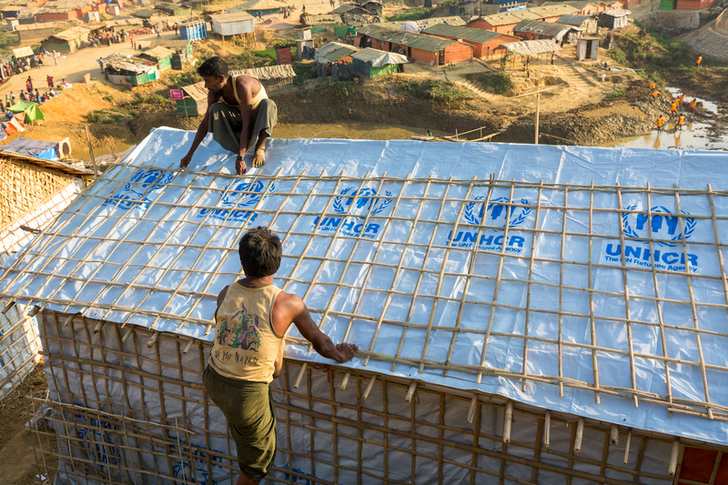 JH: What projects have you worked on that have had a particularly tangible impact and/or a transformative effect?
PG: When I was working for UNHCR in Greece as a roving site planner and the National and Regional Shelter and NFI Working Group Coordinator, I led the creation of a multi-sector, inter-agency communal kitchens strategy and established minimum design standards for such temporal kitchen facilities.
The refugees and asylum seekers throughout Greece had been receiving pre-packaged meal distributions from army contractors, which were incredibly unhealthy (processed junk food such as croissants and rice with ketchup). As more time passed with these refugees stuck in transit in accommodation sites (due to the closure of borders and limited asylum processing capacity), there were many complaints about the food and much daily wastage.
Providing communal kitchens to enable refugees to cook for themselves not only had a positive health impact (ability to prepare fresh, culturally-appropriate meals), but also increased their independence and self-worth.
Just as I left Greece to commence a new position with UNHCR in Jordan, pre-fabricated containers as communal kitchens were being fabricated and delivered to refugee/asylum seeker sites across Greece.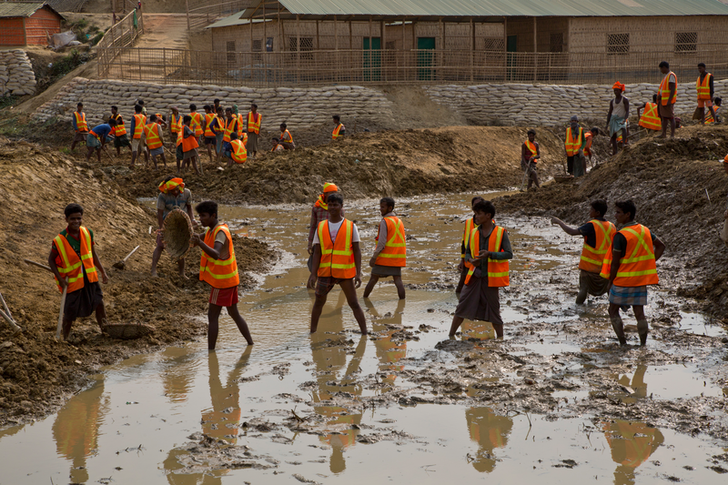 JH: In your experiences with the UN Refugee Agency, what's made the most lasting impression on you that the wider architectural profession should take notice of?
PG: I think what has had the most lasting impression on me is the incredible resilience and innovation of refugees worldwide, especially in terms of their ability to construct improvised homes with such personalized design flair and ingenuity.
I have worked with UNHCR in Africa, Europe, the Middle East and Asia. Yet, regardless of the context, it never ceases to amaze me that in every humanitarian operation it is the refugees who spearhead improvements to their shelters. There remains, of course, a very important role for architects to play within this humanitarian context, in terms of shelter and site planning support to ensure minimum international standards are met and adequate shelter is achieved.
However, when it comes to upgrading and personalizing shelters after residing in host countries for lengthy periods, it is the refugees themselves who tend to take the lead. Zaatari refugee camp in Mafraq, Jordan (currently home to around 75,000 Syrian refugees) is a great example of how the inhabitants have creatively and colourfully modified their pre-fabricated containers to create real homes. Families have recycled all kinds of scrap materials to create mezzanine levels, entry porches, small gardens, pathways, boundary fences and fountains as water features. One household even built a small swimming pool inside their plot.
For the wider architectural profession, this is a humble reminder that you don't actually have to be a qualified architect to design beautiful spaces and nor do you even require a standard palette of materials/tools. Despite all the suffering that refugees from conflict crises endure to reach a host country, they are still able to rebuild their lives with very little means. It is beyond inspiring to anyone who is lucky enough to witness such developments.
JH: Where would you like to go from here with your career?
PG: That is a very good question and one that I ask myself on a regular basis! I do know for certain that I don't want my career to go back towards the private sector of architecture. I seem to take each job opportunity as it comes and I do not have a set goal in terms of career advancement. UNHCR does have a clear hierarchical structure, as per all bureaucratic UN agencies, with a professional ladder that one can attempt or succeed to climb. However, this does not interest me in the slightest. All that matters is that I continue to work on projects where I feel I am making a positive impact, even very small, on the lives and living conditions of those most in need in this crazy war-torn world. I seek rewarding challenges where I never stop learning and continue to explore new territories and different cultures.
Phoebe Goodwin graduated with a Master of Architecture from the University of Sydney in 2011. In Australia she has worked for Eeles Trelease, BVN, and Architects Johannsen and Associates. After graduation, she relocated to Switzerland where she worked for a small private practice in Zurich before taking an unpaid internship in the UN's Shelter for Settlement section in Geneva.