Pollution concerns over planned veloway
A planned "veloway" along Footscray Road in Melbourne could expose cyclists to more air pollution than they would encounter on the busiest suburban roads, the Herald Sun has reported.
The 2.5 km veloway will be suspended under a new elevated roadway between Shepherd Bridge in Footscray and Dudley Street in Docklands.
Visualizations released by the Victorian government show that the veloway's ceiling will open up to the elevated roadway's median strip, while its sides will be open to the airspace above Footscray Road. Both roads are expected to carry heavy vehicle traffic to and from the Port of Melbourne.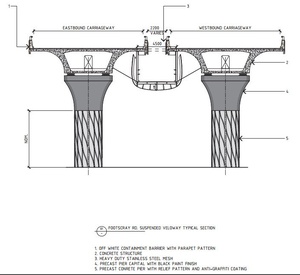 Royal Melbourne Hospital respiratory medicine director Lou Irving told the Herald Sun that cyclists are exposed to greater levels of pollutants around busy roads or freeways.
"This veloway needs to be designed to minimise exposure," Dr Irving said.
"If that is not done then cyclists could be breathing in more pollutants than they would on the busiest suburban road."
The cycleway forms part of the $5.5 billion West Gate Tunnel project (formerly known as the Western Distributor) put forward by toll-road operator Transurban and adopted and expanded by the current Victorian state government.
Architects Wood Marsh and landscape architects Tract Consultants are part of the consortium delivering the project and were involved in the design of the veloway, as reported by Landscape Australia in April.
In response to questions put by Landscape Australia about pollution concerns, a spokesperson for the Western Distributor Authority said the veloway will be "open at the top and have perforated panels to let light and breeze into the structure – providing essentially the same conditions as riding on a bike path next to the road."
"A thorough and independent Environment Effects Statement assessment into the effects of the project is currently underway to make sure we get the best possible outcome for the community."