While the loss of life and property from bushfires is a recurring problem for Australian communities, the use of planning and building regulation as a means of preventative risk mitigation is a relatively recent development.
Planning and building for bushfire
Tasmania, and South-East Australia more broadly, is particularly prone to bushfires. Risk mitigation involves a range of government interventions across the Prevention, Preparedness, Response and Recovery spectrum. Within this context, planning and building regulation is now recognised as a critically important tool at our disposal if we wish to facilitate more resilient and sustainable communities. Bushfire requirements are applied to use and development for the purpose of ensuring a tolerable level of residual risk is achieved where the untreated risk is considered unacceptably high. Regulation of this type is a market intervention that seeks to achieve a better outcome for society than the market would otherwise deliver.
The adoption of planning and building regulation for bushfire protection is relatively recent across Australia: historically it has taken major disasters and loss of life to generate the required awareness, research and political will to implement change. Australian Standard 3959 – which provides construction standards for bushfire – was first published in 1991 and was subsequently called up as a Deemed-to-Satisfy solution in the Building Code of Australia (BCA). It wasn't until after the 2009 Victorian Bushfires Royal Commission, in 2012, that Tasmania adopted a state-wide planning provision for bushfire protection. In 2016, bushfire requirements for a range of development types was shifted from the planning system into the building regulations.
Performance based approaches
Planning and building regulation for bushfire protection in Tasmania exist within a development control environment that accommodates performance-based approaches. The benefits of flexible, performance-based codes are widely recognised, both domestically and internationally. They provide for innovation and enable designers to consider and account for site-specific conditions and constraints. They often provide for more economical, functional or aesthetic solutions than strict adherence to prescriptive codes would allow. For these reasons, the BCA has been a fully performance-based code since 1996: the relevant Performance Requirements are the only requirements that a building solution must comply with, and this can be demonstrated through either a Deemed-to-Satisfy (DTS) Solution or a Performance Solution. Tasmanian planning schemes are also largely performance-based, although not to the same degree as the BCA. The majority of developments in bushfire-prone areas are generally able to comply with the prescriptive Acceptable Solutions (at planning) or Deemed-to-Satisfy provisions (at building), each of which comprise a combination of minimum standards for building construction, water supplies, access, hazard management areas and (for certain land uses) emergency planning. However, there are often valid reasons why compliance with the prescriptive standards is not possible, feasible, or desirable and a Performance Solution should be considered. This is particularly true for developments within the eco-tourism sector, which can and does generate significant economic activity for Tasmania, but requires proximity to natural assets that can be hazardous while also minimising ecological impact.
If we look to building fire engineering, it is clear that following the introduction of performance based building provisions in the '90s, much progress was made in terms of performance methodology, culminating in the International Fire Engineering Guidelines now used in Australia, New Zealand, USA and Canada. The Guidelines provide a widely accepted technical resource for practitioners to develop Performance Solutions for building fire protection in a way that will satisfy the BCA Performance Requirements. By comparison, due to the emerging nature of the bushfire safety industry, there are currently no formal guidelines or methodology for industry to rely on in developing Performance Solutions for bushfire protection, and industry expertise in this area is scarce. Developing a Performance Solution for bushfire is further complicated by the need to consider objectives that fall outside of the remit of the building system, such as natural or scenic values. This naturally contributes to a lack of certainty for developers and places significant pressure on the Tasmania Fire Service to provide guidance to industry and permit authorities. There is much to be done to bring the bushfire safety industry to maturity in the same way as building fire engineering has developed.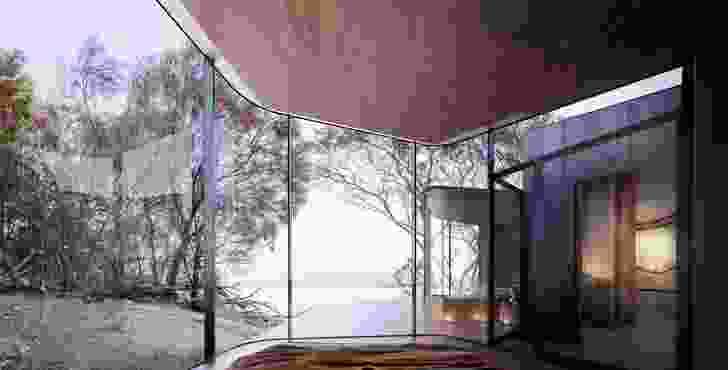 Case study: Freycinet Lodge renewal
The Freycinet Lodge Renewal project provides an example of preparing a Performance Solution that may have relevance to other similar projects. The relevant bushfire requirements for the development were applied through the building regulations, as opposed to planning. Freycinet Lodge is an existing eco-tourism development that has operated since the 1930s from its unique position at the base of The Hazards mountain range within the Freycinet National Park. The facility features the main 'Lodge' building (admin, restaurant, and bistro) and 52 timberclad accommodation buildings that are nestled within the surrounding bushland. The key attraction for visitors is undoubtedly the site's spectacular location and proximity to natural assets. Earlier this year RACT proposed improvements to the site aimed to better cater for demand, and to improve visitor experience. This included construction of new accommodation units and modification of existing buildings, with a resultant increase in guest capacity from 152 to 194. The development presented numerous challenges with respect to bushfire protection. These included occupant characteristics (vulnerability), the existing site, the need to update bushfire emergency procedures, and the site's reliance on its single, lengthy access that passes through extensive bushland. The existing buildings sit within dense native vegetation that is recognised as holding high value ecological and aesthetic values, meaning no significant disturbance would be possible.
Given the site constraints, it was not feasible for the development to comply with the relevant Deemed-to-Satisfy provisions under the building regulations. The BCA Performance Requirements are stated in qualitative terms and the level of safety provided by the BCA is not quantified, meaning a Performance Solution must rely on expert judgement and evidence-based justification to demonstrate that the proposed residual risk is acceptable. Determining what would constitute an acceptable Performance Solution was therefore not immediately clear, particularly in the absence of established methodologies or precedent. It was therefore necessary to develop a process by which to approach the task at hand. An approach was prepared, based on principles adopted from the International Fire Engineering Guidelines. An outline of the approach proposed and accepted by the TFS is shown conceptually below. At each stage, it was necessary to engage with the developer and the TFS to ensure shared support for the solution as it was developed.
The Bushfire Risk Assessment utilised the National Emergency Risk Assessment Guidelines as a framework within which risk could be objectively examined. Importantly, this step concluded with a concept treatment strategy that would demonstrably reduce risk levels to the facility as a whole. Stakeholder acceptance of the concept risk treatment strategy and residual risk formed the basis for the next stages.
The next stages involved fleshing out the conceptual bushfire safety system as a series of interrelated sub-systems and articulating how they would work together and interact with a range of theoretical bushfire scenarios. The sub-systems included Bushfire Behaviour, Emergency Planning, Occupants, Siting and Landscaping, Fire Fighting, and Building Design and Construction. The proposed solution was developed and refined iteratively as various options were considered.
The key component of the conceptual bushfire safety system was emergency planning procedures, and this element therefore required the most analysis and rigour. This meant examining the existing Parks and Wildlife Service emergency procedures and developing site-specific procedures that would integrate with their procedures and align with defined trigger points. The procedures also needed to integrate with Freycinet Lodge's existing operational procedures, organisational structure and infrastructure. Assessment of available and required evacuation time under different scenarios informed the emergency procedures and supporting infrastructure.
Early evacuation was found to be the best option and, as such, careful consideration was given to how best to maximise the likelihood that this would be successful. A range of measures were developed to maximise situational awareness amongst guests and staff during high risk periods. Pre-emptive actions were identified, including communication with the Parks and Wildlife Service, and guest briefings on arrival during periods of high fire risk danger. Alerting and coordinating large numbers of guests – many from non-English speaking backgrounds – was an important consideration.
A multi-faceted alert system was devised in consultation with the project's engineers that included centrally activated fire alarms, in-room LED alerts, and outdoor pre-recorded, multilingual message broadcasts. A process was developed for staff to quickly account for occupants using existing software capabilities. Options for onsite refuge in the event site evacuation was not possible were also examined. The use of a nearby beach for this purpose was evaluated by modelling potential radiant heat exposure to occupants in the open in a worst-case scenario. The preferred option was to retrofit the Lodge building and surrounding landscaping and developing procedures to support its use as a refuge.
A tailored solution
The end result was a tailored solution that was supported by the Tasmania Fire Service and the developer that will demonstrably reduce risk to life safety while enabling economic development and retention of the site's ecological and social values. The process adopted demonstrates one approach to developing Performance Solutions for bushfire protection. It is expected that demand for Performance Solutions will continue, particularly with growth in the tourism sector. Ultimately there is a need for a comprehensive guideline for bushfire safety professionals to utilise when formulating and evaluating solutions via a performance based approach.
Freycinet Lodge is now in the process of rolling out its bushfire hazard management plan, as well as progressively updating other fire protection measures as part of the Lodge upgrades.
Tom O'Connor MPIA is a Planning Officer at the Tasmania Fire Service and can be contacted at tom.oconnor@fire.tas.gov.au. The case study presented in this article relates to a project from his previous role as a consultant planner.
This article was originally published in Planning News, Vol 43 No. 8, September 2017.

Related topics