The traffic jams each morning on the Bruce Highway north of Brisbane may reflect Queensland's lamentable public transport investment record, but they also provide a clear picture of the extraordinary recent growth of this part of South East Queensland. At the centre of this growth are two well-known and commercially successful masterplanned communities: North Lakes and Fitzgibbon Chase.
North Lakes, developed over the past ten years by Stockland, predicts some twenty-five thousand residents at completion. Fitzgibbon Chase is a relatively new, smaller development on a 122-hectare site, being developed by the state government. North Lakes has an impressive provision of barbecue shelters, playgrounds and open parkland areas, but its homogeneity of housing typologies delivers little distinctive urban character. Without a memorable built form, it is left up to the public realm, open space and landscape to do the heavy lifting in creating neighbourhood individuality. Moreover, much of this relies on the central golf course landscape, a private land-use that restricts movement and limits the full value of this space to the whole community.
At Fitzgibbon Chase a more conspicuous variety of form, together with a simpler grid-based road layout, and orientation of key streets, vistas and open space around retained landscape features, creates a series of places that are easier to navigate. Road geometry is less dominant, and stormwater management is celebrated with conspicuous rain gardens and wetlands. And yes, when I visited kids were playing in the back lanes as well as in the designated play areas. While Fitzgibbon successfully achieves a more seamless integration of development and the surrounding environment, at both sites birdlife teems around the less accessible wetland areas, where well-structured landscapes are developing.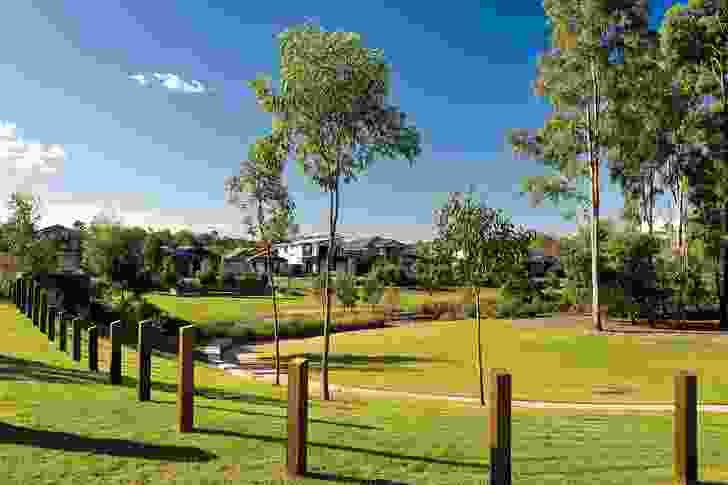 Fitzgibbon values "inclusiveness," has an affordability and diversity agenda that reflects the remit of state agencies, and offers "everything now." Private sector-led North Lakes similarly makes claim to "everything that you need right on your doorstep," offering "engagement" and "easy living." North Lakes talks of its many established community groups, and newer Fitzgibbon – like the forced informality of a prime minister in a t-shirt – tries to shortcut the slow process of a place becoming fond and familiar by having us call it "Fitz."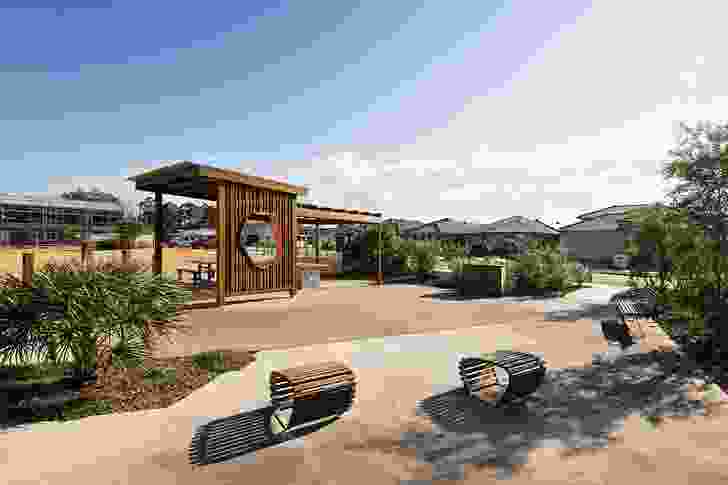 Creating a community from scratch is a daunting responsibility. Survey pegs direct society. Key early design decisions define limits and possibilities, and set in place definitive values. The extent and layout of public spaces, roads, parks and wetlands establishes a land-use pattern based on values and aspirations expressed in the vision for each development. The danger is that short-term marketing forces, emphasizing property values and managing investment risk, define the soul of the future community, driving conformity rather than diversity. Marketing sells instant community without messy evolution: "everything now."
While the differences between these developments reflect changes in design approach over the last ten years, and closer collaboration within the design team, the "everything now" mantra does not equip them well for growth and evolution over time. Little room is left for change in these tightly programmed developments. How will they adjust to differing environmental conditions and community values, and to changing economic and social conditions in the years ahead?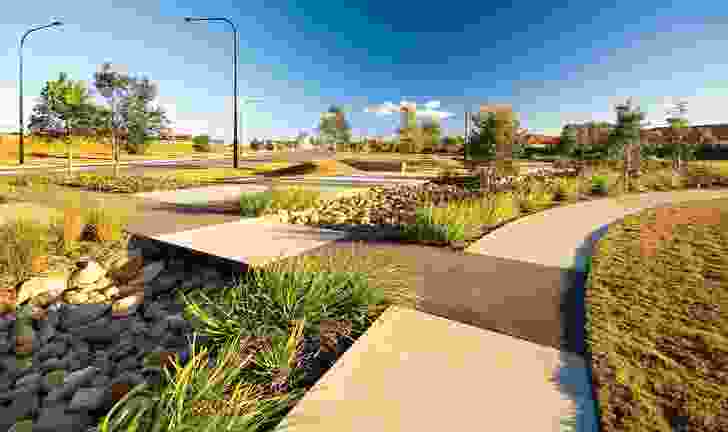 Can the ambiguous curves of North Lakes' existing road system ever be reworked as shared, walkable streets, directly addressing desire lines? Can parkland spaces be adapted to an ageing, denser or culturally more diverse population mix with different access and open space needs? Who will invest in anticipating these future changes? Are local authorities able to take on this role after the developer moves on? What elements must be protected and nurtured in order to create a long-term landscape structure? With large backyard trees becoming a thing of the past, can we achieve a mature, structured landscape with street trees that currently struggle to find space within neighbourhoods dense with housing, fencing and driveways?
In nature, flexibility and resilience rely on redundancy, duplication and variety. But designers need to deliver certainty to the master developer and a concerned local authority that will inherit the community. So perhaps there is a need for a third party: an empowered, objective group with the authority to uphold, challenge and adapt a vision over time. Maybe a long-term trust model offers such a structure: a financially disinterested "higher court" that would provide a platform to see beyond short-term economic drivers, and be able, if necessary, to forcefully argue an unpopular long-term perspective uncompromised by shorter-term considerations.
However it is achieved, a stronger champion is needed for the proposition that we should be seeking not so much "everything now" as "everything in fifty years' time." That's a landscape I'd like to see.
Credits
Developer

Economic Development Queensland
Qld, Australia
Consultants

Current consultants JVA, Brown Consulting, Urbis, WRM, Bligh Tanner, Wolter Consulting Group, Land Partners
Past consultants RPS Group, ETS Engineering, DegenhartSHEDD, TTM

Site Details

Location Carseldine, Brisbane, Qld, Australia

Project Details

Status Built
Website fitzgibbonchase.com.au

Credits
Developer

Stockland
Australia
Site Details

Location North Lakes, Qld, Australia

Project Details

Status Built
Website northlakes.com.au
Category Landscape / urban, Residential
Type Outdoor / gardens, Parks

Source
Issue
Landscape Architecture Australia, November 2013
Related topics