One January afternoon in 1974 geologist Jim Bowler was conducting field research, riding his motorbike through the sandy lunettes that surround Lake Mungo in south-western New South Wales. He spotted bones buried in a dry lake bed, exposed by shifting sand dunes.
His discovery of the remains of an Indigenous male, designated Lake Mungo III and later dubbed "Mungo Man," was to rewrite the history of human occupation of Australia and challenge the ideas that white Australians held toward Aboriginal people and how they lived prior to European colonization.
But in exhuming and relocating the remains, Bowler and his colleague Alan Thorne, an anthropologist, had inflicted great pain on local Indigenous peoples who were never consulted nor asked for permission for the remains to be taken from their lands.
After decades of campaigning, Mungo Man was finally returned to traditional owners in November 2017. He was welcomed back in a moving ceremony of dance and song. Bowler and his family were instrumental in facilitating the repatriation of the remains.
An injustice to traditional owners
Today there are three Indigenous peoples, the Barkantji, Mutthi Mutthi and Ngiyampaa, who are recognized for their traditional association with the Willandra Lakes Region and ancestral connection with the ancient Mungo people. These three tribal groups are actively involved in the management of Mungo National Park and have always protested the removal of Mungo Man from their Country.
The disturbance of the spirit of Mungo Man through the removal of remains has caused great pain to their communities and has been seen as an injustice, one now recognized by the scientific community. According to Barkantji woman Sophia Pearce, whose parents were involved in the process of bringing Mungo Man home, the return was of profound importance and will leave a lasting legacy.
"When I stood in my own Country and considered that Mungo Man's spirit was finally going to be resting in his own Country too, after forty-two-years of disturbance, it was very moving," she said.
"He's contributed enough to the world of science, his spirit needs to rest now."
According to Pearce, the campaign to return Mungo Man was not just about ownership of the remains. "It's about being recognized as the first peoples of Mungo. Having our determination in native title [June 2015], and then two years later Mungo Man comes home, it's like the world is suddenly turning to address the issues of how Aboriginal people were treated in this country, being considered as less than human."
The significance of Mungo Man
The discovery of Mungo Man stretched the history of Australia back by some 20,000 years. Before his emergence, another set of remains from the same area were also discovered by Bowler, and dubbed "Lake Mungo I" or "Mungo Lady." They were dated at 20–26,000 years, then the oldest in Australia.
Mungo Lady's bones had been burnt, and that discovery is still the oldest evidence of cremation in the world. The age of her remains, however, was to be eclipsed in 1968. Scientists concluded that Mungo Man was aged around 42,000 years, that he was 170 cm tall and about fifty years of age at the time of his death. They could even see he had suffered from severe arthritis.
Mungo Man lived in the time of megafauna and his remains are the oldest to ever have been found in Australia. Giant marsupials – kangaroos, wombats and emus – roamed the edges of a then-verdant aquatic landscape.
His remains are not only significant for their great age, but also because they were buried with extraordinary ritual, suggesting Mungo Man was an important community leader. Bowler and Thorne uncovered a man whose limbs were stretched out, his hands crossed over his groin and his body covered in blood red ochre that had been brought from more than 200 kilometres away. It is the world's oldest evidence of a human ritual burial.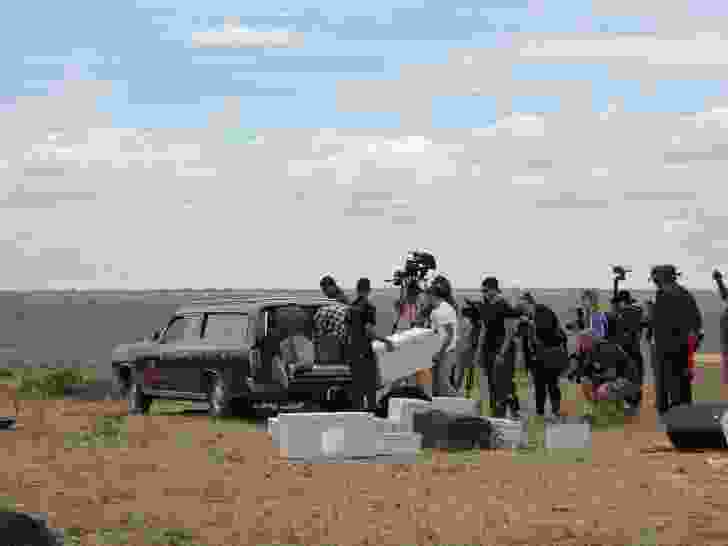 The return home
Following the repatriation of Mungo Lady in 2002, it took a further fifteen years of negotiations between scientific institutions and traditional owners to arrange the return of Mungo Man. On 17 November 2017, a public ceremony was held at the Mungo lake shore, where Mungo Man's remains solemnly arrived in a 1976 black Chrysler Valiant hearse emblazoned with the Aboriginal flag on its side.
Speakers overwhelmingly expressed a desire that the event might mark a turning point for the whole country in its recognition of Indigenous peoples.
"The feeling of being in the crowd and seeing the dark clouds that came over when the red soil was put on top of the wooden casket to release his spirit, it was unforgettable," said Pearce.
"Hopefully Mungo Man coming home is the point where Australia as a nation can start having healing," said Mutthi Mutthi man Jason Kelly.
Present at the ceremony was a multidisciplinary group of RMIT University landscape architecture and design students, led by landscape architecture lecturer Jock Gilbert, who were invited by traditional owners through an ongoing collaborative relationship they have with the Barkantji people. According to Gilbert, it's important that the landscape architecture discipline participates in such events to better understand and engage with Aboriginal "ways of knowing" the Australian landscape.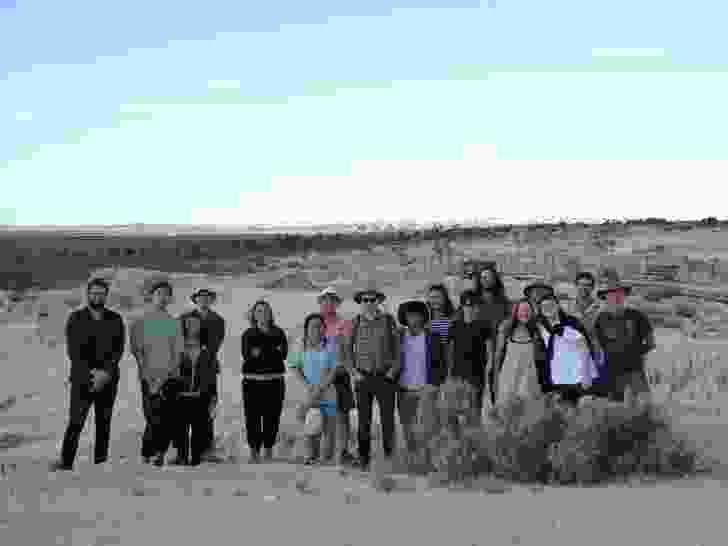 RMIT University landscape architecture students Millicent Gunner and Louella Exton, who collaborated in the organization of the trip, stated: "It was an honour and privilege to have been part of the return to Country ceremony at Lake Mungo … to cherish and honor our relationships with the Barkandji community … to be a part of the sharing of knowledge, the listening and the walking of and on Country was a very special experience."
"To see so many young non-Aboriginal people there, to see them want to be involved in such a process, and to be involved from the heart, that tells me that this is a turning point in how [non-Indigenous people] think of land in this country," said Pearce
The next challenge will be in returning Mungo Man to the earth for final resting. There is still no proper memorial place agreed on, which is something of a sticky topic. Local Indigenous groups believe the final resting place must be kept secret, as the bones are not safe from those who would steal or destroy them.
Bowler was an enthusiastic supporter of the return but maintains that if he and his colleague had not removed the remains back in 1974, "the wind-swept slopes of the Lake Mungo dune would have ensured their destruction within a single year." Bowler believes that Mungo Man's return "unites land and culture," perhaps defining what it means to be Australian.1
For Gilbert, the return of Mungo Man could serve as a turning point in the way non-Indigenous Australia views land and culture as separate entities. For the profession of landscape architecture, this is both a tremendous opportunity and a great responsibility.
"Aboriginal understanding of landscape as Country has been well described in terms of relationship and interconnectedness through time and space – relationships and connections that are not abstract but form the lived experience of the land," said Gilbert.
He believes that it's a powerful form of knowledge informed by a process that goes beyond sustaining land to a cultural nourishing of and through land.
"In terms of what it means for us as landscape architects, it affords our profession the potential to shape our place in this landscape in ways that allow us to come together and thrive as Australian people."
Related topics