It's not just a garden. It's a painting in progress. I'm talking about the landscape created by Jim Sinatra around a house outside Victoria's beachside suburb of Mount Eliza, where his imaginative design concept – undulating waves of textured planting and blocks of clean empty space, axial lines to artworks and broad views out to the sea – takes shape towards the end of more than a decade of heavy drought.
Then the drought breaks. Water races down the slopes, pooling above and below the inhospitable soil, changing the scene and the future scenario. Practicality is an important part of creating gardens in Australia, Sinatra says, but suddenly it becomes even more necessary.
"Before starting to do beautiful things, I had to do practical things. Re-draining the site, for instance. I decided we were going to go with what I knew would work in the conditions, especially the plants. I stayed with my big picture, but modified some of the detail. As such, it's a garden in the making. One that will take a few years to prove itself."
Sinatra's perspective is based on wide experience. As a child in the United States he played in parks and by the New York City waterfront. After receiving tertiary degrees in New York, Georgia and Pennsylvania, he practised and taught landscape architecture in Iowa. Then in 1981 he moved to Australia to head the new landscape architecture course at Royal Melbourne Institute of Technology (RMIT), where he remains an emeritus professor.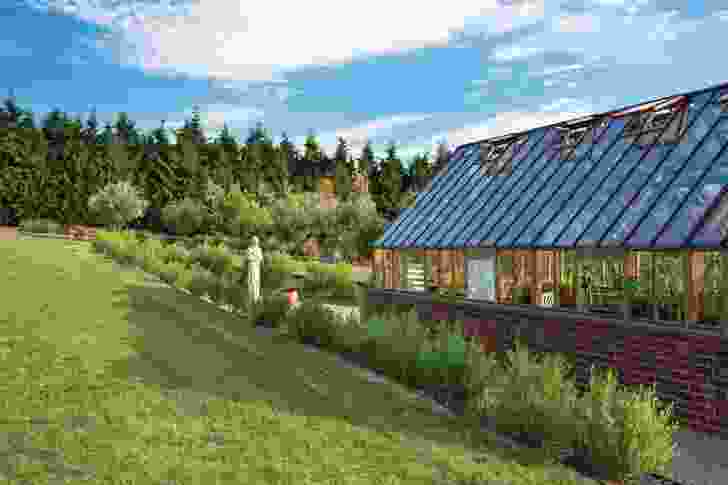 Believing landscape design should be broadly based rather than city-based, he took his RMIT students to distant parts of Australia to look at country and to interact with Indigenous inhabitants, farmers and other people who understood and valued the natural qualities of their land. This widened the students' perspective – and his own.
He realized that in Australia, creating gardens is not only an artistic process but one that should emerge from a sense of caring for country and for its culture. Individual gardens need to be beautiful, he says, but they must also contribute to the spirit of the landscape, with its amazing strength and fragility. "Look at nature as an artistic medium and it will give you a repertoire of ideas. Then develop them with care and maintain respect."
This belief remains integral to the work of Sinatra's firm, Sinatra Murphy (set up in 1991 with Phin Murphy). It was foremost in his mind in late 2008 as he walked around the four-hectare Mount Eliza site. He saw an expanse of open grassed land with a few old trees – cypresses and an oak beside which a house designed by John Wardle Architects was to be built. He soaked up the sea views and tried to dodge the strong winds. "The hardest part here is the windy location. I knew the plants I chose would have to be tough as nails."
Sinatra wanted the house to stand proud, set off and surrounded by a flat expanse of lawn across which people would walk out to enjoy the garden and the landscape, defined by a semicircle at one end "to give it a sense of presence." Because the site was so expansive, he decided that it could be broken up into a series of elegant spaces and felt that it needed articulation – a winding entrance drive, paths to curve around newly created landforms, areas of flat terrain adjoining the slopes.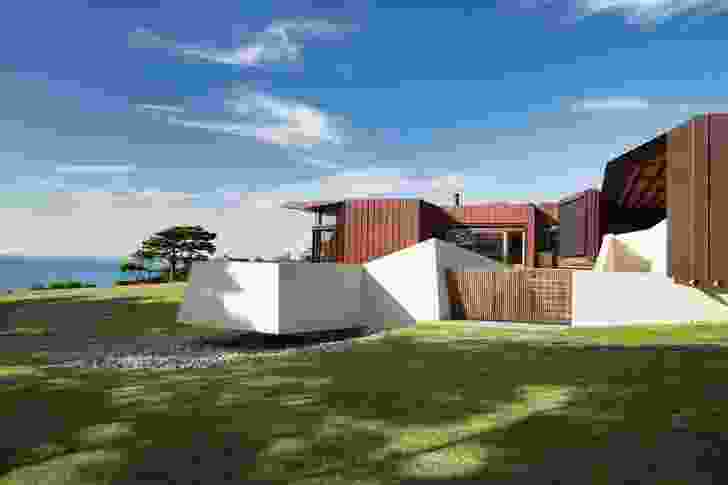 The result, even in these early days, is a feast of varied experience. At the higher point of the land, a flat oval created above the entrance drive displays lines of olive trees – and the occasional cypress – in a layout based on the Southern Cross. These offer different shades
of green, and form and texture that will increase as the years roll by.
Walking down towards the elegant house, you pass under towering cypress trees from which planting beds curve away in blocks of form and colour. A huge triangular produce garden is set high looking out to the sea, with steel planters holding a cornucopia of vegetables and fruit.
Next is a water feature where circular ponds house dramatic rocks, their rough surfaces polished flat in places by sculptor Ashika Ostapkowicz. The mound in which they sit is set off by dragon trees, monkey-puzzle trees and grevilleas, which, eventually, will be sheared "like an airplane wing" as a graphic statement and to help protect the produce garden. Bees drone out from nearby hives. "They love sitting on the left-hand sloping rock," Sinatra notes.
Below this (and beyond a clear space left open for a possible helicopter landing site) emerge king-size waves of succulents, grasses and native and exotic plants. Sweeping and generous, these bend across the land like the legs of an octopus, negating the steep slope so that you barely notice it as you stroll along the grassed walkways in between. Then you climb up the side border through burgeoning Norfolk Island pines, to meet up with the soft green lawn, the old oak tree and the venerable cypresses.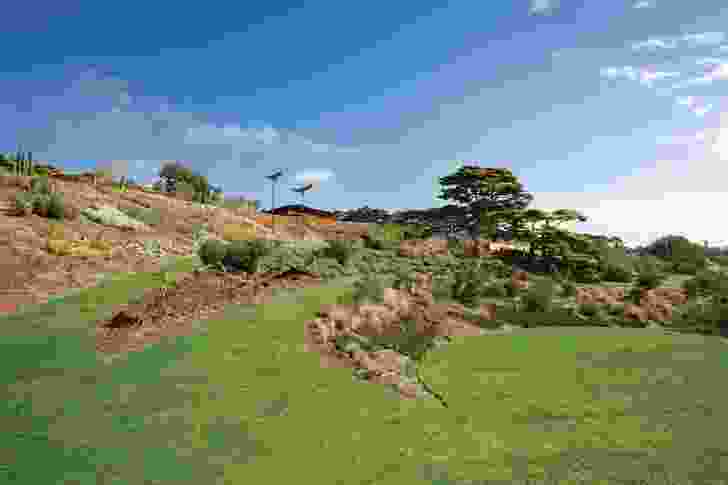 In this garden the spaces and the way they are articulated create a rare experience, enriched by the views, the ground-cover materials and the planting. This last is minimalist but carefully selected. "There's hardly a plant that I didn't see and touch before it came here," says Sinatra.
For him, though, the place is also about people. It is about the owners, who gave him free rein and who understand that a garden is a work in progress, and about the team who built it – contractors and engineers, soil experts and earthmovers, artists, nursery workers and gardeners, led by Rod Cull, master builder. With support from the owners, volunteer workers come each week from a community nursery. "With a large site there should be lots of people putting in," Sinatra says. "I sit back as they discuss. I listen and where necessary I lead. This has been a team effort all the way through."
And it's about the big picture as well as the detail. "You can't design a garden like this one unless you can see it whole in your head. That can take a while, because you want it to be of a quality that people will enjoy over time."
Credits
Practice

Sinatra Murphy
Melbourne, Vic, Australia
Project Team

Jim Sinatra, Phin Murphy
Consultants

Arborist Reynolds Tree Care
Architect John Wardle Architects
Builder Artform, Rod Cull Master Builder
Excavation May Excavations, Kerr Excavations
Fountain installation Calverley Landscape
Freestanding sculptures & fountain Embraceart Studio
Gardeners Lou Larrieu, Michael Swseeney, Fred Purnell, Mornington Peninsula Shire Youth Services
Greenhouse Woodpecker Joinery (brickwork by Alan Glover)
Irrigation Eastern Irrigation
Landscape contractor Wilmark Landscape Construction
Lighting Light on Landscape
Lighting control system Connected Living
Plant supply Metro Trees, Glenvue Wholesale Nursery

Site Details
Project Details

Status Built
Design, documentation 6 months
Construction 42 months
Category Landscape / urban
Type Outdoor / gardens

Source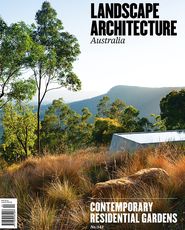 Issue
Landscape Architecture Australia, May 2014
Related topics