The Museum of Old and New Art (MONA) has unveiled its vision for a major redevelopment of Macquarie Point in Hobart, Tasmania.
In November 2015, MONA was appointed by the Tasmanian government to shape the public space component of a masterplan to transform a 9.3-hectare former industrial site on Hobart's waterfront into a dynamic, mixed-use precinct. The team behind the masterplan, which was made public in June 2015, includes John Wardle Architects, 1+2 Architecture, Leigh Woolley Architecture & Urban Design, Inspiring Place, Taylor Cullity Lethlean, Village Well and Navire.
MONA's proposal, designed by Fender Katsalidis Architects and Rush Wright Associates, centres around a 650-metre-long reconciliation art park that acknowledges and memorializes Tasmania's "dark history," including violent conflict between the colonial settlers and the Indigenous people during the Black War (1824–31).
"It emerged from a brief that the government gave to MONA to study the public spaces of the existing masterplan and test what might be possible within it," said Michael Wright, a director of Rush Wright Associates. "They also gave MONA the project really to say, 'come and throw some madness at it.' I think they were looking for provocation."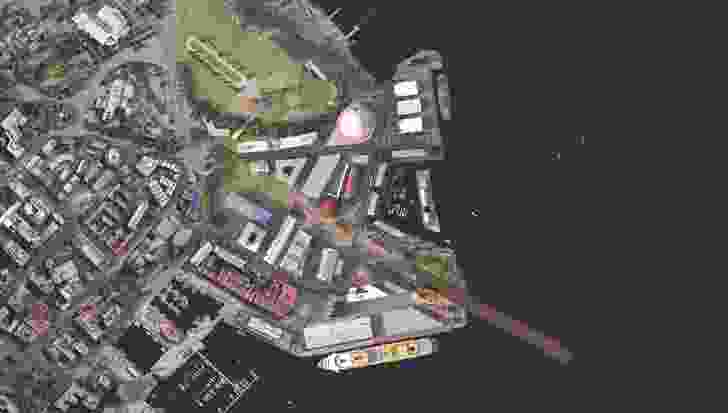 MONA has been working with Tasmanian Aboriginal writer Greg Lehman, who initiated this approach.
"It is 20 years since Governor-General Sir William Deane called for a memorial to 'Aborigines slaughtered in the black wars,'" Lehman said. "Tasmania is where colonial conflict was most intense, where attempts were made to exterminate Aborigines completely. It is therefore the most important place to begin a process of national healing. This will require acknowledgement, mourning and forgiveness."
Leigh Carmichael, creative director of MONA said: "Unfortunately, we have a dark history, and as a society we are yet to fully acknowledge it. We believe Macquarie Point can be the location of Australia's first major public acknowledgment for part of our history that no-one wants to talk about, but ultimately made us who we are."
MONA's proposed 75-metre-wide reconciliation art park is a continuation of Brooker Highway that stretches out over the water. The long linear park bisects the site, creating a new entry threshold linking Hobart, the ports and the Queens Domain.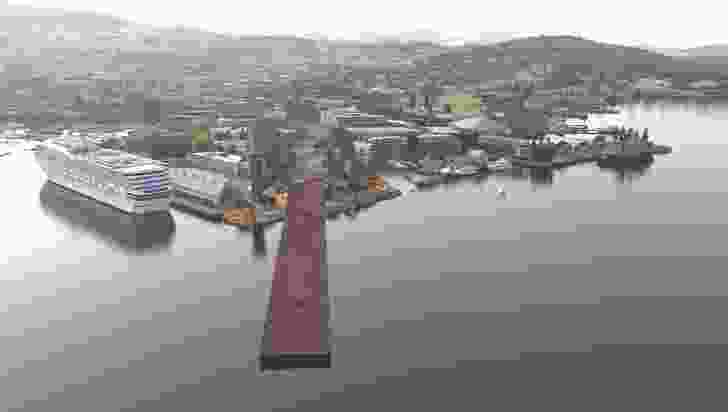 "This important first gesture became the primary organizing principle for interconnected art and cultural experiences, bonded together in a way that provides a public space which honours and respects Aboriginal people and their culture," said Fender Katsalidis Architects in a design statement.
At the centre of the space is a series of sandstone outcrops that creates informal meeting spaces, with public fire pits, framed by Tasmanian trees.
The pavement itself is conceived as a large-scale artwork – "a painting in stone" as Wright describes it– which tells the stories of land, sea, sky and ancient wisdom.
"The idea that you have a major demonstration of Aboriginal cultural heritage as the centrepiece of a possible new public space is potentially a powerful one," Wright said.
The design also features pre-existing contour lines of the site expressed in the ground plane "like scars," Wright said. "This is disturbed ground so we decided the contours of the site [could be] a proposition about disturbed land."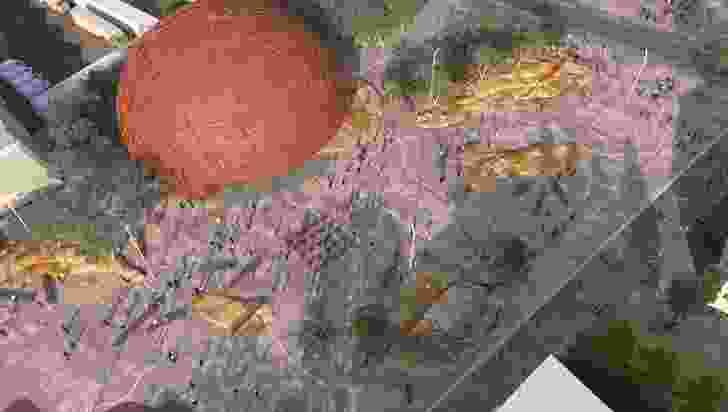 The proposed central public space is flanked by a dome-shaped building that could be home to a new Tasmanian Aboriginal history centre and living culture centre with a library and education facilities. Other proposed buildings in the development include a contemporary gallery and art space, an antarctic science and research centre, a produce market, a hotel, residential developments, a conference and exhibition centre, retail facilities, a music bowl and a light rail utilizing the existing rail lines.
The proposal has already attracted controversy. Hobart's lord mayor Sue Hickey told ABC Hobart she was concerned that a strong focus on the state's Aboriginal history could result in a "guilt-ridden" place.
Tasmanian premier Will Hodgman replied, "This is exactly what we expected, a conversation off the back of a bold and brilliant vision."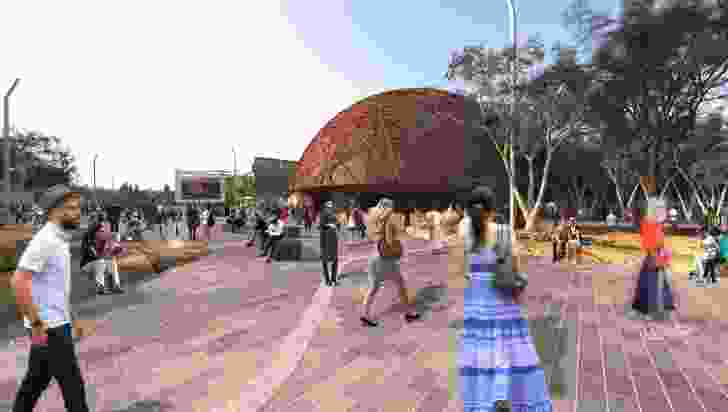 Cassandra Chilton, principal of Rush Wright Associates, said the reconciliation park would not necessarily be a sombre place. "There's now a tradition of memorials to horrific incidents that are positive and that allow those conversations about what happened in the past to occur. [We want to] create a meeting place for the right kind of conversation, to encourage the right kind of interaction between people of different views. That's what we're aiming for."
Announcing MONA's proposal for Macquarie Point, Tasmanian premier Will Hodgman said the government was "resetting the vision [to] ensure the project's full potential can be realized."
"The Government has directed the Macquarie Point Development Corporation to prepare a new plan for development at Macquarie Point based on the vision," he continued.
MONA's proposal will be delivered in three stages with the public space to be focus of the first stage, as well as the development of commercial, exhibition and accommodation spaces.
Stage includes conference facilities, a Tasmanian Aboriginal history centre and Indigenous archive and research centre. Stage three would focus on the area next to the water.
Premier Hodgman has speculated that a project of this scale could cost $2 billion and could take up to three decades to complete.
Michael Wright and Cassandra Chilton from Rush Wright Associates spoke with LandscapeAustralia about the vision. Read the full interview here.
Related topics