We're excited to welcome our keynote speakers to Melbourne on 11 May for the
Landscape Australia Conference. We're anticipating much debate unfolding over the course of the event, which we hope will spur further conversation into the emerging possibilities of landscape practice within Australia and beyond.
Our excitement has spilled onto the pages of this issue. On the cover we feature a project by Sanitas Pradittasnee, one of our 2019 Landscape Australia Conference keynote speakers. Pradittasnee, founder of Bangkok-based Sanitas Studio, works in the crossover between art and landscape architecture, creating designs that provoke wonder and curiosity, and offer the chance for solo reflection. The particularly evocative work highlighted by our cover image (and discussed further in our interview on page 62) captures the essence of Pradittasnee's belief that landscape practice can be instrumental not only in progressing ideas of how to build sustainably, but also in changing minds.
We continue to be inspired by the wealth of established and emerging practices in Asia that are pushing innovation in the social and technological realms. In the work of energetic young Thai studio Shma (a keynote at our 2018 conference), Ricky Ray Ricardo finds a practice that is "not only participating in the public conversation about their city's future, but … also leading it" (see page 55).
Closer to home, this issue presents reviews of two contrasting projects. Julian Bull visits the Victorian Comprehensive Cancer Centre's rooftop areas by Rush Wright Associates, to discover an array of biodiverse spaces that cater for the varying needs of their users (see page 26). Sarah Hicks drops by the National Gallery of Victoria and encounters a playful yet elegant interpretation of the building's history in Muir and Openwork's installation for the 2018 NGV Architecture Commission, Doubleground (see page 20).
The intertwining of the human and the natural world is a thread that unites many of the articles in this issue. Cultural geographer Tim Edensor reflects on the artist James Geurts, whose works reveal the often invisible yet potent forces around us, that we shape and that shape us (see page 42). Jock Gilbert and Sophia Pearce critique the separation of humans from nature (see page 17) and Alistair Kirkpatrick explores the potential benefits of weeds (see page 35). Together, the articles in this issue call for us to acknowledge the entangling of the human and the natural, with a view to how this might inform a more holistic – and less anthropocentric – approach to practice.
In understanding the interconnectedness and dependency that we share with our environment, we can embrace the agency of landscape practice with renewed ambition.
– Emily Wong, editor
In this issue:
The landscape of country. Rethinking landscape as Country can provide new perspectives on practice. Essay by Sophia Pearce and Jock Gilbert.
Doubleground. Muir and Openwork's installation for the 2018 NGV Architecture Commission layers time, memory and place. Review by Sarah Hicks.
Elevating the botanical. The rooftop gardens of the Victorian Comprehensive Cancer Centre take climatically sensitive planting diversity to new heights. Review by Julian Bull.
Designing for novel ecologies. Accepting our role in the spread of plant species can help us design more resilient environments. Article by Alistair Kirkpatrick.
Caring for country, shifting camp. This project is building better understandings of Gumbaynggirr culture. Essay by Aunty Shaa Smith and Yandaarra.
Sites unseen. The artwork of James Geurts visualizes the dynamic forces that surround us. Article by Tim Edensor.
Beyond resiliency. Five leading practitioners consider how to design for resilience. Interview by Rosalea Monacella.
Advocacy through design. Bangkok-based practice Shma is thinking outside the box to transform the city's public realm. Profile by Ricky Ray Ricardo.
Immaterial worlds. Thai landscape architect and artist Sanitas Pradittasnee, a keynote at the 2019 Landscape Australia Conference, discusses social space and designing for environmental awareness.
Arcadian spirit. Sydney-based landscape designer Hugh Main crafts evocative, sculptural gardens with a sense of calm. Profile by Howard Tanner.
Overgrown. Exploring Julian Raxworthy's recent book which calls for a renewed relationship between landscape architecture and gardening. Review by Catherin Bull.
Constructed Ecologies. Margaret Grose's book calls for a shift in how we approach landscape architectural research and practice. Review by Jacky Bowring.
Endnote. Mark Jacques and Amy Muir reflect on Doubleground, their recent installation for the 2018 NGV Architecture Commission.
Subscribe to Landscape Architecture Australia from only $53 per year for print (four issues) and $12.95 digitally.
Follow Landscape Architecture Australia on Twitter, Facebook and Instagram.
Email me at landscape@archmedia.com.au
Source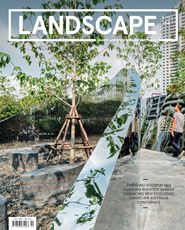 News
Published online: 8 May 2019
Words: Emily Wong

Issue
Landscape Architecture Australia, May 2019
Related topics