Work has begun on the conversion of a carpark in the Melbourne suburb of Prahran into a 9,000-square-metre public park.
Designed by Lyons Architecture and Aspect Studios, the park – unofficially titled Cato Square – will be separated into nine distinct areas arranged around a central square featuring a fountain.
The design also includes ecologically sensitive features, including solar energy generation and stormwater capture and management.
The site is bounded by Izett, Wattle, Chatham and Cato Streets, and sits directly to the east of Grattan Gardens. It sits between the corners of Chapel Street and Commercial Road, and Chapel Street and Greville Street.
Early works, managed by Kane Constructions, began on 15 January. The carpark, which is used by two supermarkets neighbouring the site, will be unusable until at least 2019. An underground parking structure to be installed beneath the park will eventually increase current capacity by 20 percent.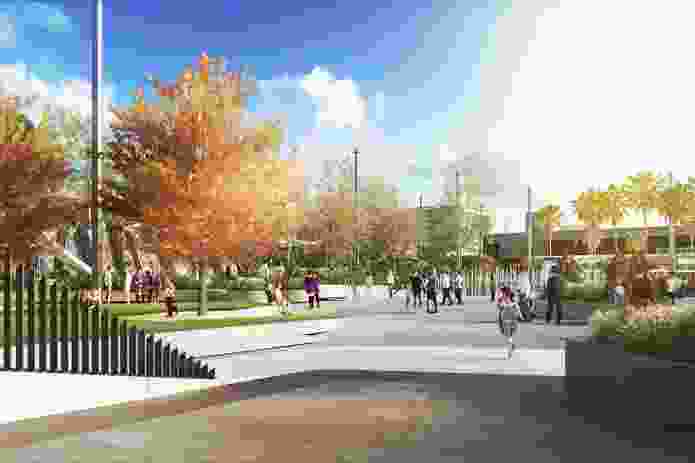 Stonnington mayor Steve Stefanopoulos said, "Our vision is for this site to be recognized as a world-class public space that can be enjoyed by everyone. We will achieve this by transforming the existing car park into an active, vibrant, safe and exciting public open space."
The park is intended to relieve pressure on other public spaces nearby as the local population increases. The City of Stonnington estimates an increase of 30,000 new residents by 2036, 58 percent of which will be in the Chapel Street area.
Stonnington has the second-lowest amount of open public space per capita of all Victorian council areas after Glen Eira City Council, according to a report prepared for the City of Stonnington by planning firm SGS Economics and Planning in 2011.
The creation of a park near Chapel Street was included in the 2013 Chapel Street Masterplan, prepared by Hansen Partnership, which laid out a plan to define and establish a "village square" at each of the precincts through which Chapel Street travels. Other "village squares" in the masterplan were located in South Yarra, Windsor and Forest Hill and dealt with already public spaces.
Related topics