Is highrise living bad for you?
With highrise apartment tower approvals increasing exponentially in Australian cities, it's important that designers and developers engage with post-occupancy research.
The number of highrise towers is increasing exponentially in Australia. With this, public debate on whether they are good for the city and the residents who live in them intensifies. Some concerned about highrise living see it as a dehumanizing and dystopian experience that has poor social and psychological outcomes for the residents. At the same time, highrise luxury apartments are fetching multimillion-dollar prices in our capital cities.
Yet only a very small percentage of Australians currently live in highrise apartments (buildings of more than four storeys), so it's reasonable to assume that many who hold such concerns have never lived in a highrise building. Much of the stigma of highrise housing emerged when tower living was embraced to deliver public housing in the 1960s. Concerns regarding crime, health and safety, and children's welfare were central to the critique of these towers. In 1971, Canadian psychologist Daniel Cappon bemoaned the lack of evidence to prove their ill effects: "We must have the incontrovertible evidence and the mechanism whereby the highrise leads to the low fall of urban humanity. Meanwhile, we must not go on blindly building these vertical coffins for the premature death of our civilization."1 By the 1990s, however, the discourse had dramatically changed, with private highrise developments now associated with a lifestyle choice and privilege, although their unsuitability as family-friendly living has persisted.2
So, is highrise living bad for you? The short answer is that we don't really know, but the limited evidence leans towards it being less beneficial than low-rise living. Extricating causal relationships between the dwelling type or form and impacts on the individual is very complex. Complicating our understanding of tower living further, many of the studies of highrise living have been undertaken with residents who didn't necessarily choose their housing form, for example students or public housing tenants, which could distort the way residents felt about their experience. Moderating factors such as income levels, life cycle stage, gender or culture that influence residents' experiences must also be considered.
As environmental psychologist Robert Gifford notes, "presumably, highrise buildings influence
residents' moods, thinking, imagination, spatial cognition and perceptions … Unfortunately, these are unanswered questions."3 Clearly we need a better user-based understanding of what it's like to live in these highrise environments.
Gifford provides a useful overview of the consequences of highrise living, including a number of examples.4 He notes that the one clear consensus in the research is that highrise housing is not perceived to be suitable for children. All studies of behavioural problems, for example tantrums or hyperactivity, identify higher rates of incidence among children living in highrises. Research shows that access to green space may ameliorate these behaviours.
Pro social behaviour (measured by the rate of helping others) is lower in highrise buildings. In one study shared by Gifford, stamped, addressed letters with no return address were left in college dormitory hallways. More residents in the low-rise buildings chose to mail the letters out. One study shows that highrise residents typically encounter, know of or know about more people but have fewer friends than those in low-rise developments. Another found that those on higher floors had more relationships with people in the building, but that these residents weren't as close to their neighbours as those on lower floors. Not surprisingly, relationships between residents typically occur with those on one's floor.
In some studies, levels of stress were found to be higher for those living on higher floors, while other studies found no correlation at all. A study in the Bronx found that high rise residents felt more crowded than low-rise residents. Conversely, in another study, residents on higher floors within a highrise felt less crowded than those on lower floors. There is also some evidence to show that depression is experienced more in highrise housing. Issues such as noise, poor layouts, inadequate space and poor security have been cited as causes. Interestingly, these are not necessarily traits related to the height of the building, but related to the quality of the design.
What people are fearful of tells us a lot about the perception of living at heights. In Australia, the top five concerns regarding highrise living are who you have as a neighbour, lack of facilities, power failure, fire risk and time in the lift.5 Recent apartment design consultation in Victoria, however, identified far more everyday concerns as top priorities, such as access to daylight, insufficient storage and noise.6
Despite these tentative findings, very high levels of satisfaction with highrise living have been recorded in many studies conducted in different cities around the world and increasing numbers of people are voluntarily choosing this type of housing. An obvious but important conclusion that can be drawn from most studies is that highrise living works when people choose and want to live there. As Gifford notes, "the more congruent the residence is with one's stage in the life cycle and role in the family, the more satisfied one is likely to be."7 This is true of all housing, so why would highrise living be any different?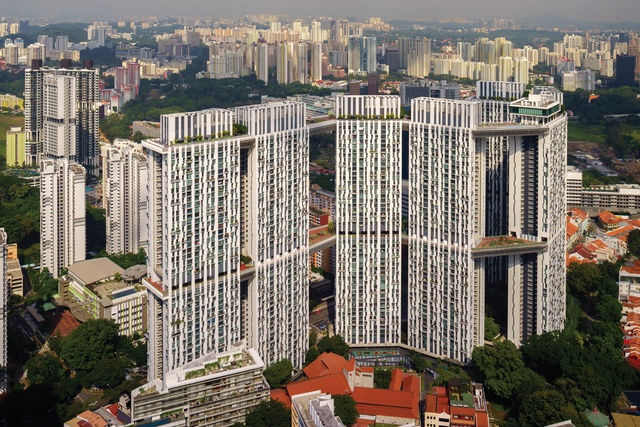 The Pinnacle@Duxton complex in Singapore includes sky gardens (open green spaces) that are linked via a jogging track that connects seven fifty-storey towers at the twenty-sixth and fiftieth floors. Researchers observed how sky parks on the twenty-sixth floor were used and conducted interviews with residents. These outdoor recreational spaces were highly valued; however, residents resented the degree to which they were also highly regulated, with rules set up on "how to use the space." For example, the rules preclude "social events" in the space and visitors into these shared spaces must be accompanied at all times. These experimental designs, however, do perhaps hold the key for how highrise living may best evolve. In particular, when designing for families (with children), green open space becomes very important. Creating a sense of place in these highrise communities will require more freedom in the use of these spaces.8 This means that not only the design of the buildings, but how they are managed and the degree to which the residents can have a say over their environment are critical.
In reconsidering highrise living, it's important that the design and development industry engage further with these early findings. It lacks common sense to develop large areas of a city in ways that only suit a limited portion of the population for a limited time in their lives. It's a wasted opportunity, particularly when apartment towers are generally located in some of the best city locations, with shops, cafes, parks and good transport options nearby. The priority should be designing highrise living environments that are more suitable for a greater range of people, including families. This will help support the creation of more diverse communities who can enjoy the benefits of living in these vibrant, walkable neighbourhoods.
The supply of this housing type continues to increase in Australia and internationally, and examples of highrise housing being demolished are extremely rare. This housing type is here to stay – it is essential that those designing, approving and managing these developments ensure they meet the longer-term housing needs in our cities.
1. Daniel Cappon, "Mental Health in the High-Rise," Canadian Journal of Public Health, vol 62 no 5, Sept/Oct 1971, 426–431.
2. Lauren Costello, "From Prisons to Penthouses: The Changing Images of High-Rise Living in Melbourne," Housing Studies,
vol 20 no 1, 2005, 49–62.
3. Robert Gifford, "The Consequences of Living in High-Rise Buildings," Architectural Science Review, vol 50 no 1, 2007, 2–17.
4. Robert Gifford, "The Consequences of Living in High-Rise Buildings," 2–17.
5. Belinda Yuen, Anthony Yeh, Stephen John Appold, George Earl, John Ting and Lanny Kurnianingrum Kwee, "High-rise Living in Singapore Public Housing," Urban Studies, vol 43 no 3, 2006, 583–600.
6. Victorian State Government, Department of Environment, Land, Water and Planning and the Office of the Victorian Government Architect, "Better Apartments: Public Engagement Summary," 2015.
7. Robert Gifford, "Environmental Psychology," Encyclopedia of Human Behavior (second edition), (San Diego: Academic Press, 2012), 54–60.
8. Yuri Hadi, Timothy Heath and Philip Oldfield, "Vertical Public Realms: Creating Urban Spaces in the Sky," Council on Tall Buildings and Urban Habitat Shanghai Conference (Shanghai: Council on Tall Buildings and Urban Habitat, 2014).